Even the well heeled in metros find it difficult to go completely digital. Cash withdrawals from ATMs are back at the same level as they were before demonetisation
Illustration: Dominic Xavier/Rediff.com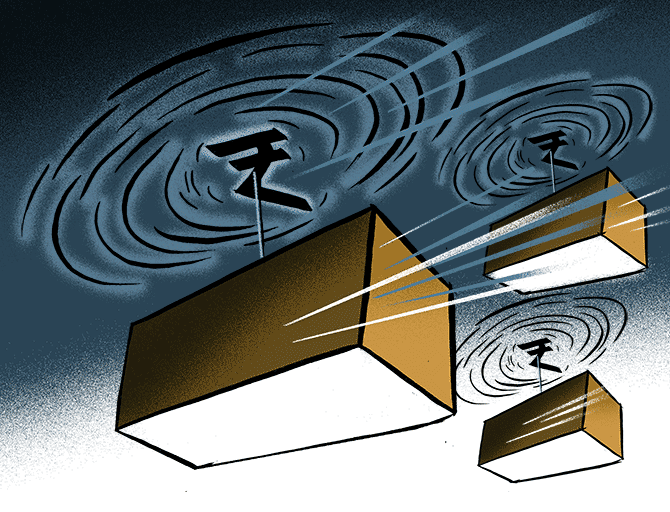 It has been 11 months since demonetisation was carried out to give India, among other things, a digital push. The results, at best, have been mixed. And, cash continues to rule.
In Delhi, purchasing a 55-inch television at a prominent electronic shop in Mayur Vihar Phase 1 means a levy of 2.5 per cent for swiping the card. But, there is a cashback of five per cent.
Your net benefit: 2.5 per cent. Pay in cash and the shopkeeper is happy to give you an additional five per cent discount. On a product that costs Rs 89,000, this translates into a significant saving.
In Mumbai, things aren't, too, different.
Cash continues to rule at restaurants. Arya Bhavan, a popular eatery in Matunga, charges a flat fee of Rs 10 from any customer who chooses to pay by card.
Says Vishwanath P, cashier at Modern Café, Worli: "There was a spike in digital transactions during demonetisation but it has returned to pre-demonetisation levels. Most customers prefer to pay in cash now."
The numbers support the view. The money withdrawn from ATMs stood at Rs 2,54,781 crore in October 2016.
It is now almost back to that pre-demonetisation level and stood at Rs 2,26,842 crore at the end of July.
Mobile wallet transactions were at Rs 3,306 crore in November last year.
After soaring to Rs 8,353 crore in January, they stood at a lower level of Rs 6,934 crore at the end of July.
Credit card usage at points-of-sale was up 13.3 per cent by July, above the pre-demonetisation level of October 2016.
Cash makes a quiet comeback: Users of cash app-based taxi services, too, have fallen back to using cash.
Business Standard spoke to several Ola and Uber drivers who said that during demonetisation one in 15-20 customers paid in cash.
Now, they said, the proportion of cash to digital transactions is almost equal. Says Faruque Sheik, who drives a Uber cab: "About 40 per cent of my customers pay by cash and the rest via mobile wallet. It was the same before demonetisation. During demonetisation, payment through wallet had increased."
However, it is not just customers who prefer paying in cash. Many times customers have found Ola and Uber drivers insisting on cash for various reasons, such as the need to fill diesel.
In cities like Patna, it is rare to find a driver, whether Ola, Uber or a private player, who will take card payment. Most insist on cash, and worse still, refuse to accept Rs 2,000 notes.
Household expenses without cash almost impossible: Says Dr Richa Angik, a Jamshedpur-based dentist: "You can't do without cash. My kirana store owner from whom I buy my monthly ration demands that half the payment be made in cash.
At the weekly bazaar, where I shop for fresh fruit and vegetables, the vendors don't accept anything but cash. Payments to maid servants and drivers, too, have to be made in cash."
She adds that cash can't be avoided whenever one is dealing with the unorganised sector. And Indians, she adds, like dealing with this segment because of their low costs.
In addition, many vendors threaten the customer with a one or two per cent charge on usage of cards.
Businesses prefer cash: Earlier, business owners gave a discount on cash as they would not disclose the transaction when filing income tax returns.
But, with the advent of the goods and services tax (GST), hiding transactions has become difficult, as there is a trail. When a business owner orders goods, the supplier deducts GST.
This is reflected against the buyer's GST number. He, therefore, needs to account for the units purchased against the units sold.
But, businessmen are finding ways to circumvent the rules.
"There are loopholes in GST laws that business persons can exploit. Due to this, the cash economy still persists, though not at the same level as prior to the implementation of GST," says a chartered accountant with a multinational tax and advisory firm.
Businesses with a turnover of Rs 20 lakh or below don't need to register for GST. Business owners, thus, restrict their turnover to below the threshold limit and continue to deal in cash.
For this, some have started doing business through multiple companies, keeping the turnover below Rs 20 lakh in each.
Digital payments rise slowly: In a few spheres, however, the shift to digital is taking place. According to RBI's monthly figures, Indians seem to have taken to debit card transactions in a big way.
If the figure for debit card transactions stood at Rs 21,941 crore in October 2016, it had risen 57.55 per cent to Rs 34,568 crore by July 2017.
Immediate Payment Service (IMPS) transactions too were up 76 per cent by July compared to October last year.
Says S G Raja Sekharan, who teaches Wealth Management at Christ University, Bengaluru: "In many spheres, you do see people relying more on credit and debit cards nowadays.
To get your fuel tank topped up can cost you anywhere from Rs 2,000 to Rs 5,000, depending on cars. Most people have started using cards at petrol pumps.
In supermarkets, where people do their monthly shopping and run up large bills, they increasingly pay via cards."