Airlines will also get tax incentives for operating on unserved routes under the regional connectivity scheme.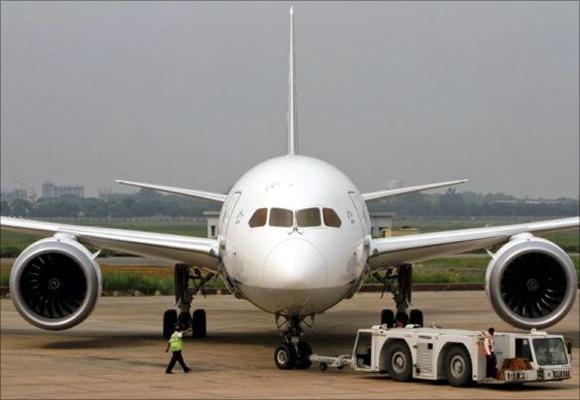 In a major reform of the aviation sector, government on Wednesday scrapped the 5/20 overseas flying norm for domestic carriers in its new civil aviation policy while capping fares at Rs 2,500 for one-hour flights and imposing a "small levy" on passengers towards regional connectivity fund.
The new policy which got approval from the Union Cabinet was aimed at ease of doing business for airline operators, and "affordable, convenient and cheaper" travel for fliers at large, Civil Aviation Minister Ashok Gajapathi Raju told the media.
As part of the policy, the ministry will come out with initiatives to develop new airports, separate regulations for helicopters and measures to boost skill development in the aviation sector.
Airlines will also get tax incentives for operating on unserved routes under the regional connectivity scheme.
The government has scrapped the decade-long controversial 5/20 norm and now any domestic airline can fly overseas provided they deploy 20 planes or 20 per cent of their total capacity for domestic operations.
There has been a high decibel debate over the continuance of 5/20 norm--whereby only local airlines having at least five years of operational experience and a fleet of minimum 20 aircraft are allowed to fly overseas.
About the decision to scrap the rule, Union minister Ravi Shankar Prasad said, "A questionable legacy has been thrown into the dustbin."
Amid concerns over an earlier proposal to auction additional bilateral rights, the government has also decided that a final call on additional rights would be taken by a committee headed by the Cabinet Secretary.
The new measures are expected to benefit about 220 millions passengers in the next five years.
The Ministry said the 5/20 norm is being replaced by a "formulation which provides a level playing field and allows airlines, both new and old, to commence international operations provided they continue to meet some obligations for domestic operation".
In efforts to increase air traffic into the country and ensure improve ease of doing business, the regime of bilateral rights and code share agreements would be liberalised.
"Open skies will be implemented on a reciprocal basis for SAARC countries and countries beyond 5,000 km from Delhi," the ministry said in a release.
A committee headed by the Cabinet Secretary would decide on allotment of additional capacity entitlements for overseas carriers wherever designated Indian airlines have not utilised 80 per cent of their bilateral rights but the foreign counterparts have utilised their quota and are looking for more. Seeking to provide a boost for the Maintenance, Repair and Overhaul (MRO) segment, the Ministry would persuade state governments not to levy VAT on such activities.
"Airport royalty and additional charges will not be levied on MRO service providers for a period of five years from the date of approval of the policy," the release said.
The Route Dispersal Guidelines (RDG) have been rationalised by making the criteria for declaring a route as Category I (trunk route) more transparent.
"The criteria proposed for a Category I route are a flying distance of more than 700 km, average seat factor of more than 70 per cent and annual traffic of 5 lakh passengers," the release said.
According to the Ministry, the percentage of Category III would be reduced in view of regional connectivity scheme coming into operation. Choubey said the idea is to enhance regional connectivity through fiscal support and infrastructure development.
Besides, regulator DGCA would be given necessary administrative and financial flexibility to ensure that an effective aviation oversight system is in place. A transparent single window system for all aviation safety-related issues would also be set up.
Choubey said the aim is to increase domestic passenger ticketing to 300 million in five years from current level of 80 million.
At present, India is the fastest growing aviation market in the world with 22 per cent growth recorded in 2015-16.
As part of efforts to ensure overall development of the domestic aviation sector, AAI would continue to develop and modernise its airports.
"Airports Authority of India (AAI) will be suitably compensated in case a new greenfield airport is approved in future within 150 kilometre radius of an existing AAI airport which is not yet saturated," the release said.
Development of airports by way of public private partnerships would also be encouraged.
The image is used for representational purpose only. Photograph: Mansi Thapliyal/Reuters