There is discrimination against women in insurance cover.
As a flood of insurance companies tap the capital markets with public issues, there is, however, hardly any reference to this asymmetry. Subhomoy Bhattacharjee reports.
Illustration: Uttam Ghosh/Rediff.com.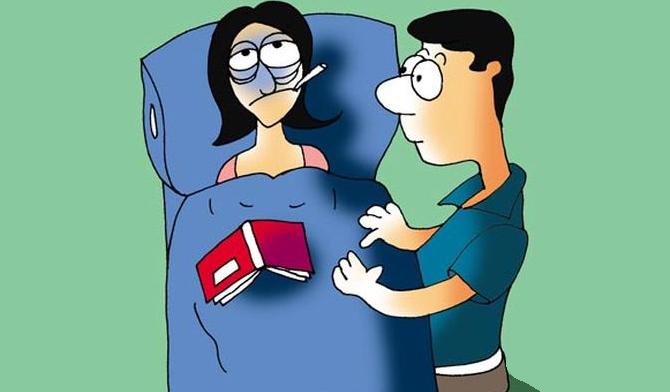 There is discrimination against women in the insurance sector, claim some of its industry leaders, especially in crafting of covers meant for them.
Except those that are mandated by government policy in India, none reach out to women, which severely limits their choices, the sector regulator's record shows.
Again, in the last couple of years, there has been a torrent of reports from consultancy firms on the insurance sector, but all of them has been "gender blind".
The sales data on insurance shows the impact of this omission. A study by Birla Sun Life in 2017 shows even among urban women with access to internet only 50 per cent of them have bought a life insurance cover for themselves.
The corresponding figure for men is 72 per cent.
Women, by and large, do not access the insurance market in India. There is no corresponding figure on general insurance.
As a flood of insurance companies tap the capital markets with public issues, there is however, hardly any reference to this asymmetry.
Sian Fisher, CEO of UK based Chartered Insurance Institute (CII) that offers insurance sector professionals globally the stamp of respectability, who was in Mumbai recently said the inability to reach out to women with insurance products is not unique to India.
"We have had a long struggle with this in Europe too," she said at an event arranged around the theme, 'Why Bother with Diversity'.
But the impact is telling and particularly in critical areas like health insurance.
While India has not walked the recent US government plan to raise the cost of health insurance cover for women, it has also not made it easy for her sisters here to buy the same for themselves.
More, as Usha Ramaswamy, general manager of GIC Re, noted at the same event, "Women rarely make the decision to buy an insurance cover in a family". This keeps her under insured.
Fisher adds that this skew has raised income inequality.
A paper in the flagship journal of the Insurance Regulatory Development Authority notes that it will be necessary for the states and central governments to "convince households about the greater health risks faced by women and the importance of getting female family members covered", unlike Jan Dhan bank savings accounts that targets poor households as one unit.
Yet, it too is the only one paper in the past several years of the journal that even tangentially refers to the insurance needs of women. The regulator has never made any study of the insurance needs of women in India.
An internet search of the regulator's data base shows the word "women" does not pop up in the last two years' data set of papers submitted to it.
According to Praveen Gupta, deputy chair of CII's Diversity Action Group, "the lack of study on women's need for insurance confirms we are far behind in India about accommodating their needs. There is a lot to be learned".
The absence is telling.
A data set from the Insurance Information Bureau of India shows women's health related cases form one of the top ten insurance medical claims in India.
The Bureau supports Irda with industry level data "to enable data-based and scientific decision making including pricing and framing of business strategies".
Of the total claims for the sector paid out for FY14, less than 30 per cent went to women policy holders. Since it is the male member who pays for the policy even for those concerning women, the choices as Ramaswamy says, are tilted against the women.
A public sector general insurance company's senior executive pinned the reason for lower coverage of women's insurance especially in rural areas on to the states.
"The race is to pay the lowest premium for securing cover for the maximum number of people", the officer who is involved in this business,said. So there is a tendency to secure the premium for the household where the needs of the bread earner, typically the male get primacy.
Gupta, who is also the CEO & MD of Raheja QBE General Insurance said going beyond health, securing insurance cover for women that put themselves, their family and the income that supports them is still a long way off in India.
That there is no data about what should be the cost of such covers makes it a grey area.
As an example he points to the financial risks women run when they are the sole caregiver for aged relatives.
As of now all general insurance companies provide the same policies that are gender blind. But as Fisher pointed out most women face several starts and stops in their income path over their careers which makes it costly for them to buy those policies.