Since the early years of liberalisation, Reddy has worked to reform the economy.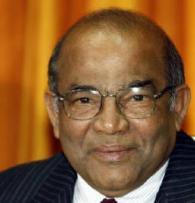 When Yaga Venugopal Reddy was approached for an interview by a journalist after the 14th Finance Commission's recommendations were put in the public domain on Tuesday, his response was, "I will not comment on the report that I have drafted, but tell me what are your views?"
Reddy abhors repeating himself. As governor of the Reserve Bank of India, or RBI, from 2003 to 2008, he often came to North Block to confer with the finance minister.

On his way out, the media would bombard him with questions on fiscal deficit, the economy and other macroeconomics issues.

He would politely point them to a recent interview that he had given or a report he had authored. "Read my speech. I wrote it myself," he was prone to tell them.
Many would have been surprised by the recent recommendation of the panel he headed, devolving 42 per cent of Central taxes to states, but not those familiar with the way he functioned.

Since the early years of liberalisation, Reddy has worked to reform the economy. In 1992, when he was with the finance ministry, he spearheaded the efforts for the Liberalised Exchange Rate Management System to fix the rupee's value against foreign currencies.

Under this, 40 per cent of foreign exchange earnings had to be surrendered at the official exchange rate determined by RBI, while the remaining 60 per cent could be converted at market-determined rates. It was a precursor to the market-related exchange rate system that was introduced a year later.
Reddy, a 1964-batch officer of the Indian Administrative Service, joined RBI as a deputy governor in 1996 after quitting from the civil service.
Budget 2015: Complete Coverage

When the East Asian currency crisis struck in 1997 after the meltdown of Thailand's baht, he guided RBI's response through a partially sterilised intervention via open market operations, liberalisation of capital outflows, raising of reserve requirements and deepening of the foreign exchange market by routing increased volumes of transactions through the market.

To prevent the appreciation of the rupee, and to maintain international competitiveness, RBI made substantial purchases of the dollar from the market.
Reddy laid a lot of importance on maintaining adequate forex reserves. In 1997, RBI intervened in the spot and forward markets, both in the outright and swap segments. By August that year, the central bank had accumulated $3.9 billion of foreign currency assets.

The foreign exchange reserves rose to $29.8 billion by August 1, 1997 - equivalent to seven months of imports. It was a feat of sorts, given India's abysmal forex reserves, at one time in 1991, enough only to finance less than a month's imports, triggering a balance of payments crisis.
In a speech in Goa that year, he pointed out that as the economy became more open, external shocks needed a cushion that came solely from adequate reserves.

This thinking proved handy when India was hit by the global financial crisis in 2008, aggravated by the collapse of US financial services icon Lehman Brothers in September that year.

Besides saving India from any grave impact of the crisis, Reddy is also credited with introducing a quarterly review of monetary policy from 2005-06 to provide frequent assessment by the central bank on the state of the economy.
He was appointed RBI governor in September 2003 by the then National Democratic Alliance government for an initial term of five years. With the exception of IG Patel in 1997, RBI governors are usually appointed for three years, and their terms are extended if required.
On his appointment, Reddy had explained that security of tenure enhanced institutional autonomy. It was over this issue of autonomy that differences emerged between Mint Road and North Block later.

It was further exacerbated by the finance ministry's proposal to set up the Financial Stability and Development Council, a body of the country's financial regulators with the finance minister as the chairman.

Differences also surfaced over the debate on economic growth versus macroeconomic stability, rupee appreciation and fiscal consolidation, though it was Reddy's successor, D Subbarao, who had the worst of it, with then finance minister P Chidambaram even saying that he would walk alone if need be.
Reddy has always been forthright with his views. He has minced no words to caution the government against mechanically reducing the fiscal deficit numbers.

"In an economy like ours, which requires structural transformation and investment in social and financial infrastructure, we should strive for an appropriate level of fiscal activity ... rather than aim for a mechanical reduction in fiscal and revenue deficits at a lower level of fiscal activity," he advised.
Ahead of the Budget, these words should still be a caution for the government, which seems bent on somehow maintaining the numbers laid out in the fiscal consolidation road map.