A day after Finance Minister P Chidambaram presented Budget 2013-14, Planning Commission Deputy Chairman Montek Singh Ahluwalia answers diverse queries on it and related matters, at a press briefing. Edited excerpts:
On the marginal rise in 2013-14 Plan expenditure, as against the 2012-13 budget estimate
It's not a secret that we (Planning Commission) had asked for more but that was not keeping in mind the revised estimate (RE) for 2012-13. In my discussions with the finance minister (FM), it came up that ministries had not been able to spend the allocated amount for 2012-13, so there was no point in allocating them 40 per cent more than the RE.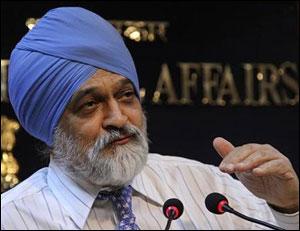 Yes, what has been cut is bad, as it would have led to benefits somewhere, but, I think it would be irresponsible on the part of the Commission to start posturing on the Plan in a period when the fiscal deficit has to be brought under control. And, frankly, if we had allowed that (high Plan expenditure for 2013-14), we would not have survived without a crisis.
On whether the Budget does enough to help UPA-2 come back to power.
I do not believe that you would have a booming economy when you go into elections if you had a budget which did not answer the fiscal deficit concerns. A giveaway budget might have won the FM some political support in the short term. Hopefully, the UPA wants to go into general elections saying, look, people had lost confidence in the UPA because of the poor performance of 2012 but in 2013-14, you come back to 6.5 per cent economic growth. I do not believe that would have been possible if the budget was very populist.
On the impact of Budget 2013-14 on foreign investors.

I think the action the FM has taken on General Anti Avoidance Rules (GAAR), by postponing it till 2016-17, is extremely supportive of foreign investors. The provisions under GAAR have also been made much clearer in favour of foreign investors.
On the 'super-rich tax'
What P Chidambaram has said is, there is nothing wrong in basic rates, these are not going to change, but we need a little bit of money. So, taking money from people who earn more than Rs 1 crore (annually) is not a bad idea and it's just 10 per cent of the tax.
On the Food Security Bill getting Rs 10,000 crore extra despite the fiscal constraints.
My view is the Bill should be the first charge on subsidy and if it turns out that there is a fiscal problem and we can't afford subsidies, we should cut the other subsidies. We can cut fertiliser subsidies by half and put it back into agriculture, and the petroleum subsidy should be eliminated as soon as possible because it's damaging, unjustified and does not help the poor.
On whether a target of 6.5 per cent growth in 2013-14 is realistic enough.
We should definitely be getting back to the trend and 6.5 per cent in 2013-14 looks possible, particularly now, when we are looking at the problem for some time.
We are clear in our minds as to what the solution is and we have set up mechanisms that will resolve the problems.