On the other hand, 16 or half of all states and Union Territories account for only 3 per cent of all exports.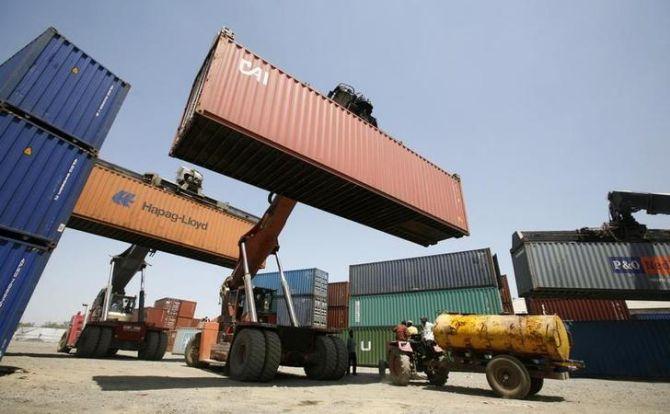 Using international trade figures at the state level for the first time, the government has found severe disparity among states in terms of exports as well as the scattered nature of exporting firms.
Tabled by Finance Minister Arun Jaitley on Monday, the Economic Survey revealed that five states - Maharashtra, Gujarat, Karnataka, Tamil Nadu, and Telangana - together account for 70 per cent of India's exports.
On the other hand, 16 or half of all states and Union Territories account for only 3 per cent of all exports.
While it has been conventional knowledge that a handful of states account for majority of India's outbound trade, the latest data is an attempt by the government to set the next set of policies in the sector from stateside.
Commerce and Industry Minister Suresh Prabhu last month asked all states to frame their export policies.
The Survey also said the largest firms account for a much smaller share of exports than in other comparable countries.
The top 1 per cent of Indian firms accounts only for 38 per cent of exports unlike in other countries where they account for a substantially greater share.
This is bad news for the sector, as having larger consolidated businesses create comparative advantage and improve long-term prospects, the Survey suggests.
While firm level data is currently collected by government trade intelligence agencies, it has only recently been possible to paint a larger, more detailed picture of the sector, owing to availability of the Goods and Services Tax (GST) filings by traders.
The Centre has also focused on interstate trade identifying gaps in the ease of doing business.
Last year, the Survey had estimated that interstate merchandise trade was 30-50 per cent of gross domestic product (GDP).
But armed with the latest GST data, the government has now revealed that India's internal trade in both goods and services, excluding non-GST items, is about 60 per cent of GDP.
The Survey also hinted that further rationalisation of export incentives may be on the cards.
It pointed out that the rebate of state levies provided to exporters has increased exports of readymade garments by about 16 per cent. However, the same hasn't been true for other goods.
On services trade, the Survey paints a hopeful picture whereby India held on to the eighth-largest exporter in commercial services in the world in 2016, with a share of 3.4 per cent, double that of merchandise exports at 1.7 per cent.
"The expansion of services trade, despite rising protectionism by importing nations, is based on inherent strengths in the sector as well as extensive streamlining," a senior official from industry body Nasscom said.
Export growth of the sector during the period April-September 2017-18 was robust at 16.2 per cent, up from 5.7 per cent in 2016-17.
But imports also rose by 17.4 per cent. Net services receipts rose by 14.6 per cent during this period.
Photograph: Reuters