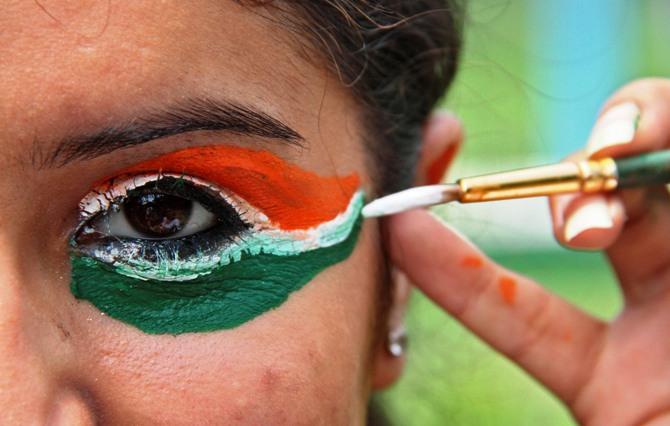 The government unveiled a Budget for the poor on Monday, announcing new rural aid schemes and skimping on a bank bailout, in a strategy shift that seeks to boost Prime Minister Narendra Modi's ruling party in coming state elections.
Finance Minister Arun Jaitley's spending plan sought to cast Modi as a leader who cares after the premier came under sustained opposition fire for being too close to business and spending too much time hobnobbing with foreign leaders.
Presenting his third Budget, Jaitley said the government wanted to spread the benefits of growth more widely among India's 1.3 billion people, but gave an assurance that it could do so without increasing borrowing.
"We have a shared responsibility to spend prudently and wisely for the people, especially for the poor and downtrodden," the 63-year-old finance minister, who wore a powder-blue jacket, told lawmakers.
India holds several state elections this year, including in the farming state of West Bengal, with the country's most populous state, Uttar Pradesh, going to the polls in 2017.
A strong showing will be vital to Modi's chances of a second term, with doubts still hanging over the impact of economic reforms undertaken since his government swept to power almost two years ago.
The spending package for the 2016/17 fiscal year from April 1 mapped out by Jaitley marked a shift from an earlier focus on investing in infrastructure that had tried to kick-start private-sector investment, which still remains weak.
Jaitley described his three priorities as: strengthening India's firewalls by ensuring macroeconomic stability and prudent fiscal management; driving growth through domestic demand; and reforms to boost economic opportunity.
HOLDING THE LINE
Importantly, Jaitley said he would stick to the government's existing fiscal deficit target for the coming year, at 3.5 per cent of gross domestic product, down from 3.9 per cent in the fiscal year just ending.
That news lifted government bonds and the rupee as market fears that Jaitley would backslide on the deficit were not borne out.
Reflecting tough fiscal constraints, the government will set aside Rs 250 billion ($3.6 billion) to recapitalise state banks.
That is less than expected by markets and below the needs identified by finance ministry adviser Arvind Subramanian in his pre-Budget report.
"We stand solidly behind these banks," Jaitley said. "Our public sector banks will be strong and well supported."
The news hit banking stocks in trading on the Mumbai stock exchange, although infrastructure firms rallied on Jaitley's announcement that the government would allocate $32 billion for infrastructure development in 2016/17.
India would build 10,000 km of new national highways and upgrade another 50,000 km.
BUDGET FOR THE POOR
Modi's landslide election victory in 2014 raised hopes he would draw a line under India's socialist past, cut welfare and reduce the government's role in business.
In its first two years in power, his government splurged on roads and railways at the expense of welfare programmes in the hope of creating economic stimulus.
Modi's gamble was that infrastructure investment would yield dividends for the poor and the rural communities. Four in 10 Indians rely directly on farming for their livelihoods, the government estimates.
Rising rural distress after back-to-back droughts and a recent heavy election defeat in a largely agricultural state have upset that calculus.
It has also left Modi's nationalist ruling party open to attacks by the opposition, who use a Hindi phrase to deride Modi for leading a "suit and boot" government that only works in the interest of the rich.
Jaitley's reeled off a list of $16 billion in measures targeted at the countryside, including spending on a job creation scheme, farmers' welfare and building of rural roads.
He targeted a total of $130 billion in credit to farmers.
Image: A college girl gets her eye painted in tri-colours of India's national flag. Photograph: Ajay Verma/Reuters