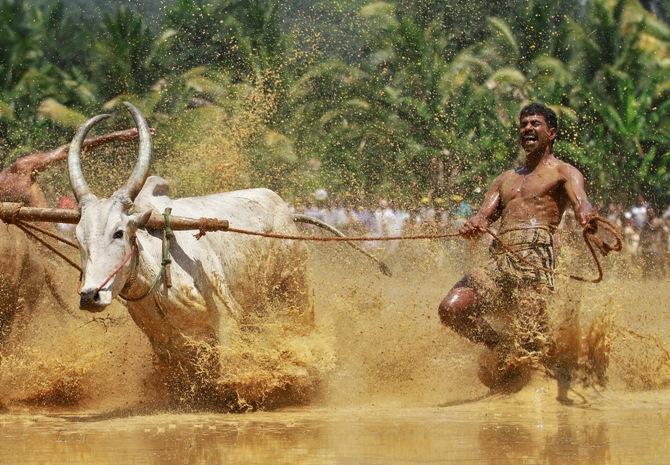 'Indian agriculture, in a way, a victim of its own past success -- especially the green revolution.'
Stating that Indian agriculture has become a 'victim' of its own success, the Economic Survey has favoured the use of hybrid and genetically modified seeds along with better maximum selling price, irrigation and national market facilities to boost crop yields and for bringing in major transformation in the sector.
The survey said safety concerns related to hybrid and genetically modified seeds need to be debated and tested so that their introduction is facilitated in the next six months.
It also said the regulatory process needs to be evolved to address safety concerns of GM crops.
The Economic Survey for 2015-16, which was tabled in Parliament on Friday suggested the policies must incentivise raising of production of pulses and oilseeds, for which the country is heavily dependent on imports.
"Indian agriculture, in a way, a victim of its own past success -- especially the green revolution.
"It has become cereal-centric and as a result, regionally biased and input intensive. "Rapid industrialisation and climate change are raising the scarcity value of land and water, respectively," the survey observed.
It said agriculture requires a 'new paradigm' shift by focusing on raising yields with less inputs, prioritising cultivation of less water intensive crops, especially pulses and oilseeds, supported by favourable MSP regime and backed by better procurement system and research.
Pointing out deep segmentation in agri-market, the survey said unified national market would boost farmers income.
On controversial GM crops, it said: "Concerns about affordability of hybrids and GM seeds, environmental and ethical issues in cultivation of GM crops, risk to the food chain, diseases spread and cross pollination have resulted in their non-introduction.
"These issues needs to be debated, tested, evaluated, so that introduction of hybrids is facilitated in the next six months."
The adoption of hybrid and high yielding variety seeds is one definite pathway to raising productivity in Indian agriculture, it added.
Stating that a host of studies have demonstrated significant net benefit of GM crops, the survey said, "Nonetheless there are good reasons for some of the public apprehensions on GMOs.
"Therefore, the regulatory process in India needs to evolve so as to address the concerns in a way that does not come in the way adapting high yielding technologies and rapidly moving towards the world's agro-technological frontier."
The government has allowed only Bt cotton for commercial cultivation and there is a moratorium on Bt brinjal.
Currently, it is examining a proposal on GM mustard seed despite there being severe opposition to it among green activists.
Airing concerns over declining farm growth owing to last two consecutive drought years, the survey said: "Although agriculture is likely to register low growth for a second year in a row on account of weak monsoons, it has performed better than last year."
Going forward, it said, "India cannot afford to neglect its agriculture. . . the agriculture sector needs a transformation to ensure sustainable livelihoods for farmers and food security for the population" by investing in efficient irrigation technologies, and efficient use of all inputs.
Asserting that there is a need to address the problem of availability of credit on several fronts, the survey said: "In respect of high interest rates, Direct Benefit Transfer may be considered to replace subvention of interest rates."
The intermediation and refinance model to promote agri-credit needs to be revisited and replaced with DBT that should subsidise the interest paid by the farmer, instead of subsidising refinance to financial institution, it said.
Small and marginal farmers with Kisan Credit Cards can also avail the benefit of interest subvention scheme extended for upto six months (post-harvest) against Negotiable Warehouse Receipts at the same rate as available to crop loan to discourage distress sale of crops by small farmers, it added.
Emphasising the need to improve irrigation facilities to raise agri-productivity, the survey called for expansion of the acreage under irrigation along with adoption of right technologies for efficient utilisation of water.
"There is need to arrest the declining trend in efficient utilisation of irrigation potential and also reverse it in the next two three years," it said, while suggesting that funds under the Mahatama Gandhi National Rural Employment Guarantee Act and other employment generating schemes for improving irrigation facilities.
The survey also called for use of micro irrigation facilities like drip and sprinkler irrigation.
On farm mechanisation, the survey said India requires more to be done in terms of introduction of better equipment for each farming operation in order to reduce drudgery, to improve efficiency by saving on time and labour, improve yields, minimise wastage and reduce labour costs.
With increasing fragmentation of landholdings and low rates of tractor penetration among small farmers, there is need for a market in tractor rentals, akin to cars and road construction equipment, driven by private sector, it noted.
Expressing concern over shortage of quality seeds, the survey said, "While there is a demand for banning non-certified seeds, certification per-se does not ensure quality seeds.
"Ideally, facilitating more players (private and public) and competition in the market for seeds would improve availability of quality seeds at lower prices."
Noting that inadequate research and genetic engineering has been a constraint in the development of seeds in major crops during the past few decades in India, the survey said, "There is need to encourage development of seeds/seed technologies in both private and public sectors to initiate another round of Green revaluation."
According to the survey, there is a great scope for enhancing the use of organic fertilisers as 67 per cent of Indian soil characterised by low organic carbon.
It also said that judicious use of chemical fertilisers, bio-fertilisers and locally available organic manures based on soil testing is necessary to maintain soil health and productivity.
On pesticides, the survey said farmers need to be educated about the classification of insecticides on the basis of their toxicity.
They should also be advised whether specific pesticides are suitable for aerial application.
Being environment friendly, non-toxic and cost effective, bio-pesticides need to be promoted among small farmers to improve productivity in agriculture, it said.
On agri-extension service, the survey said there needs to be a shift to demand-driven agricultural advisory services that will cater to farmer, region and crop-specific needs.
This can be done through a virtual connect, using IT (mobile and internet), integration of agricultural extension services with all stakeholders.
Image: A farmer with his oxen on a paddy field at Kakkoor village in Kerala. Photograph: Sivaram V/Reuters