Consumer durables contributes more than 5.5% to the Index of Industrial Production. The market for consumer durables is estimated at Rs. 300 billion and is expected to reach Rs. 500 billion by 2015. The urban consumer durables market is growing at an annual rate of 9-12% and that of rural durables market is growing at over 30% annually. Around 35% of the total sales of consumer durable items come from rural and semi-urban markets, which are expected to grow by 40- 45% in the near future.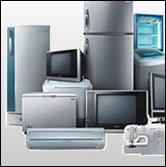 This industry is wide spread and covers all the products of White Goods, Brown Goods and Consumer Electronics which also include home utensils like pressure cookers, Micro ovens, Grinders, Electronic fans, washing machines, refrigerators, Air conditioners, watches, TV's, PC's, DVD's and Camcorders etc. Driven by a young population with access to increasing disposable income and easy finance options, consumer durable market is throwing up staggering figures. Among the different products, Air conditioners and LCD's are expected to have a higher growth rate for next few years in the industry.
Most of the segments in this sector are faced by intense competition with MNC's and domestic companies. MNCs hold an edge over their Indian counterparts in terms of superior technology combined with a steady flow of capital, while domestic companies compete on the basis of their well-acknowledged brands, an extensive distribution network and an insight in local market conditions. The largest MNCs incorporated in India are Whirlpool India, LG India, Samsung India and Sony India and homegrown brands are Videocon, Godrej Industries, Blue Star, Voltas etc.
Higher interest cost coupled with spike in inflation has pulled the steam there by lowering the demand growth of this industry in the current financial year. However, the industry has not lost hope on the growth trends of emerging Indian market and continues to invest in technology and add spent and also launched new variants across all the products. While the competent and cash rich MNC's played aggressively to garner market share by increasing add spends in the tough competitive air conditioner and LCD/LED markets, domestic players have to also maintain the spends effecting the financial performance.
The industry has been reporting a lull show CII – apex body for the Indian industries and Consumer Electronics and Appliances Manufacturers Association (CEAMA) have represented this sector and recommended the following to be implemented in the upcoming union budget 2012/13.
Recommendations from Industry:
Necessary provision may be made to charge service tax on a specified percentage value of the contract amount in case of comprehensive annual maintenance contracts covering labor and replacement of parts for consumer durables such as air-conditioner, refrigerator, computer, water purifier, vacuum cleaner etc.
Window/wall type self contained air-conditioners and household compression type refrigerators are included in the list of Early Harvest Scheme of India-Thailand Agreement and attract NIL customs duty since 1st September 2006. However, there are no provisions to import inputs at NIL customs duty. This has resulted in increase in imports from Thailand. Customs duty on compressors and other inputs is either 7.5% or 10%. The current customs duty structure on inputs tantamount to inverted duty structure and discourage local manufacturing and local value addition since it is cheaper to import the finished products under FTA. Parts of air-conditioners falling under tariff heading 8415 90 00 attract customs duty of 10%. So, this needs to be brought down to 7.5%.
Excise duty is exempted on 22 specified equipment mentioned in list 4 of central excise notification 6/2006 – sl no. 5 when used for installation of cold storage, cold room or refrigerated vehicles for preservation, storage or transport of agricultural produce etc. Include insulated composite panels and cold store door to the above list.
Reduce excise duty from 5% to NIL on parts of optical disc drives to encourage indigenous manufacturing.
Necessary provision may be made to charge service tax on specified percentage of the value of contract in case of comprehensive annual maintenance contracts.
Under the Free Trade Agreement with Thailand LCD & LED TV are imported at zero duty while the LCD panel which is the most important part of the LCD TV is imported at 5% basic customs duty. Thus, Customs Duty on Panels for LCD & LED TVs should be brought down to 0% from existing 5%.
Customs Duty on Set Top Boxes should be increased to 10% from the present level of duty of 5% to encourage local manufacturing.
Remove SAD levy on imported products which are both trading and manufacturing items.
Customs duty on R&D products should be reduced to 0% so as to encourage R&D efforts by Indian and Air-conditioning & Refrigeration and Electronics Industry
Reduce customs duty on Magnetron from current 5% to 0% so as to result in competitive pricing of Microwaves
CST rate was meant to reduce each year in order to pave way for GST. Reduce CST from current existing level of 2% to 1%. It is also suggested that the CST Rate without Statutory form should be fixed at lower from highest to the average i.e. 10% for registered dealers.
MRP based assessment for Home Appliance products should be increased to at least 45% from the current level to Home Appliances. The existing abatement rate for different products is as under:
 

Abatement under Central Excise

Description of Goods

Existing

Recommended

Monitor

20%

45%

Air Conditioner

25%

45%

LCD Television

30%

45%

Plasma Television

30%

45%

GSM Mobile Phones

35%

45%

Refrigerator

35%

45%
Companies to watch for:
Blue star, Voltas, Videocon Industries, MIRC Electronics, Hitachi Home Life Solutions etc
Outlook:
Domestic white goods Industry are facing stiff competition with the international players particularly with Japan and Korean companies. Any benefit for improving technology and also cut in customs duty on parts or components in line with the finished goods will help the domestic companies. Any increase in abatement under central excise will lower the MRP to that extent in the competitive pricing market. The growth prospects of Indian economy were not altered despite slow down in the GDP numbers for current fiscal to 7%. With increasing disposable income and young population consumer durables industry is expected to be one of the key driver of economic growth of India in coming years.