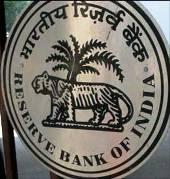 The Reserve Bank of India on Tuesday said that Finance Minister Pranab Mukherjee's Budget proposals will help in moderating inflation which is hovering at 6-7 per cent.

"Food prices are going to play a role as we have some stabilisation and even softening, either because of monsoon in the short term or because of initiatives of the government made quite explicit in the Budget that would also help to contain inflation. . .," RBI Deputy Governor Subir Gokarn said on the sidelines of an IMF-ICRIER event.

He also said, "Higher oil prices clearly play a role as does the currency movement, but there is also the growth moderation which we are seeing, which might actually help contain inflation from demand side."

Crude oil prices have surged to $125 a barrel on concerns over Middle East supplies as well as on signs of stabilisation in the world economy.

It is also speculated that the government may raise price of petroleum products on account of high global crude oil prices, which may put pressure on inflation.

Even the Finance Minister admitted that the tax proposal could have some inflationary bearing.

However, government policies announced with regard to increasing agriculture productivity in the Budget would have
soothing effect on the food prices.
On the new consumer price index becoming a benchmark for policy action, he said, "I think we cannot make policy judgement on the basis of 2-months of new series.
"This is a series that shows some promise as the benchmark of inflation management, but it is too early in life to decide that we have put a heavy weight on it," he added.
He further said, "We are monitoring it. We are also analysing its dynamics in relation to other indices and at this point, it will become more important benchmark for us. It is too early to make a transition".
Gokarn also said full capital account convertibility would take place in years to come.
"On internationalisation of rupee, I don't really see it at this point of time explicit strategic objective. . . I think the focus of at least in short-to-medium-term policy on capital account management is gradual liberalisation, but with cognisance and action to mitigate the risk associated with it.
"So I would not say that internationalisation (of rupee) is the explicit goal of policy. It may be an outcome somewhere down the road," Gokarn said.
Union Budget 2012-13: Complete coverage