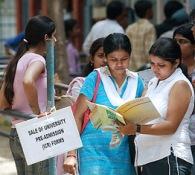 In the pre-budget Economic Survey 2010-11, the Union finance ministry made a strong pitch for the pro-growth impact of investment in human capital adding, "fortunately, there is awareness of this in India and efforts are afoot in terms of budgetary allocation and actual initiatives to boost the development of skill and human capital."
Given this leading comment, it was only natural that Union finance minister Pranab Mukherjee laid special emphasis on the 24 per cent hike in the budgetary allocations for education as a whole and the 40 per cent hike in allocations for Sarva Shiksha Abhiyan, with total spending of Rs 21,000 crore.
Total spending on education in the current fiscal is targeted at Rs 57,660 crore, split between "general education" (Rs 52,000 crore) and "technical education" (Rs 5,660 crore). "school education and literacy" directed towards primary and secondary education has been sanctioned three fourths of the General Education Budget (Rs 38,957 crore) while the rest goes to "higher education" (Rs 13, 100 crore).
The decision to target primary and secondary education comes not a day too early. Indian education policy since independence has been justifiably criticised for favouring higher education to the detriment of primary and secondary education. 
Considerations of equity aside, the neglect of secondary education has had tangible ramifications, most notably impeding the growth of a robust manufacturing sector. It is equally heartening that programmes like the Sarva Shiksha Abhiyan, launched to universalise education and the Mid-Day Meal Scheme have boosted enrollments and lowered dropout rates in primary schools.
The Rashtriya Madhyamik Shiksha Abhiyan (RMSA) launched in response to the increased demand for secondary education indicates an increase in school life (the number of years of education an average student receives).
The 36
per cent increase for technical education is impressive and will clearly have to be persisted with.  India lags far behind China in the number of technical training institutes, where imparting technical education was an important element of development strategy.
However, it is important to focus on improving the quality of education imparted in technical institutes. Studies across the board have pointed to serious shortcomings in the nature of training, which forces employers to spend considerable resources in retraining fresh hires.
The government must avail of offers by the private sector to participate in training, by way of curriculum design, internships and other mentoring programmes so that graduates hit the ground running.
Both for reasons of economic growth and social mobility and equity, investment in education is vital. Even India's official literacy rate of 70 per cent compares unfavourably with its BRIC peers.
While Russia has universal literacy, the corresponding figure for Brazil and China is slightly over 90 per cent. The picture is even less flattering when the absolute number of people without basic literacy is considered.
Current expenditures on education at 5 per cent of GDP are comparable in India, China and Brazil, while Russia invests close to 8 per cent of its GDP on education. No modern industrial nation has less than 80 per cent literacy. Thankfully, this Budget fills a bit of the resources gap.