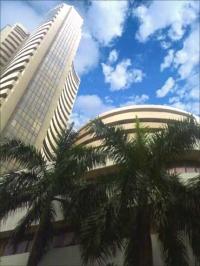 The markets may have initially cheered the FM's static borrowing numbers, but the picture may not be as rosy.
Soon after Finance Minister Pranab Mukherjee finished his Budget speech, a senior investment banker summed up the Budget exercise by saying, "Budgets are more about television rating points and less about GDP numbers now."
Unfortunately, the stock market discovered this rather late into the trading session.
The Sensex, which started the session at 17,811, edged higher after-Budget announcement to hit the day's high of 18,297. But, as the day progressed, it trimmed gains to close at 17,823.
By then, it was apparent that Budget 2011-12 was high on promises and low on deliverables. The FM stayed away on any big-ticket reform and crushed all hopes of an announcement of allowing foreign direct investment in retail.
The FM set the tone of his speech by projecting the economy in 2011-12 to grow anywhere between 8.75 per cent and 9.25 per cent. But what came as music to the ears was a fiscal deficit estimate of 4.6 per cent and the government's borrowing programme of Rs. 3,43,000 crore.
Clearly, the government has chosen to believe that the food, fertiliser and petroleum subsidies will remain static in FY12, even as the geo-political instability is spooking the markets.
Vikas Khemani, head of equities, Edelweiss Capital, said: "We expect the government to overshoot its subsidy estimation by at least Rs. 50,000 crore (Rs. 500 billion) and the fiscal deficit may be missed by 30-40 basis points.
"If the government has to meet its fiscal deficit, it will have to pass on all price increases in oil and food to the consumers."
If the FM chooses to stick to fiscal discipline, he could well ratchet up inflation. It's a no-win situation.
This mood was reflected in the markets broadly and especially in FIIs buying and selling.
While one top foreign brokerage bought 5.2 million shares of ITC another dumped Sesa Goa. With FM not increasing the excise duties, as was expected, autos and cigarette stocks gained initially.
However, the star of the market was ITC, which rose by 8.23 per cent, as the government didn't increase excise duty.
Other top gainers include TVS Motor Company (5.95 per cent) and Procter & Gamble Hygiene & Health Care jumped (5.92 per cent).
Almost all major large-cap stocks closed lower. The top three losers were Glenmark Pharmaceuticals (down 10.20 per cent), BGR Energy (down 8.73 per cent) and Sesa Goa (dropped 7.31 per cent).
Ramit Bhasin, MD and head of markets at RBS India, says: "Both oil and inflation will moderate over a period of time. However, we hoped for more reforms, but that did not happen."