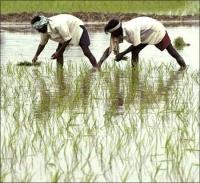 The agriculture sector in India was expecting some concrete direction from the Budget, which remained untouched unfortunately.
We needed an action to bring down the price difference between a farmer and a consumer.
For example, an onion farmer gets only Rs. 2 - 2.5 per kg, while consumers pay Rs. 25-30 per kg for the same, leaving thereby enormous room to bring down the price of other spice variety.
In case of sugar, however, cane price to farmers plus conversion cost, logistics and a marginal profit is the cost of sugar which a consumer needs to pay.
Hence, this transparency requires to be adopted for other sectors including foods and vegetables also.
The budget required to tackle this deficiency to bring down the food cost and thereby, food inflation which the finance minister did not look into.
We have been talking about entry of foreign institutional investors in retail which may bring some transparency.
The government should open organised sector players in food sector also. But, where is action?
Although, raising income tax exemption limit for individual from Rs. 1.6 lakh to Rs. 1.8 lakh was good news, yet a number of areas are still there that required the government's urgent attention.
(The writer is Managing Director, Balrampur Chini)