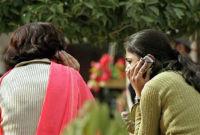 Bharat Sanchar Nigam Ltd and Mahanagar Telephone Nigam Ltd, the two government telecom companies, have a new problem, while facing the heat of intense competition and falling rates.
The new facility to consumers to change their operator while keeping their telephone number is hitting both.
Mobile number portability was introduced on January 20. Since then, BSNL has been among the top three net losers in terms of subscribers. MTNL, which operates in only the Delhi and Mumbai circles, has lost, too.
From January 20 to March 2, as many as 323,000 BSNL subscribers gave requests for shifting to other service providers, while 131,000 gave requests to switch to its GSM network.
This led to a net loss of 192,000 users, making it the second-largest loser in terms of subscribers after Reliance Communications with a net loss of 277,000 users.
At the end of February, BSNL had a total subscriber base of 85 million.
During the same period, MTNL lost 15,898 subscribers. Those who went out numbered 21,153, while 5,255 joined their network. It had a subscriber base of 5.18 million at the end of February.
Customer satisfaction lacking


There are 12-14 operators in every circle. KPMG's executive director and head of telecom, Romal Shetty, said: "Both BSNL and MTNL need to really work hard on branding and customer-centric services.
"They have a huge network, which is not being leveraged properly. The government also needs to relax some norms to give some autonomy to them."
Coverage is not an issue with BSNL and MTNL, but the key reasons for losing on MNP were definitely customer satisfaction and branding, he said. And, that both companies needed to improve visibility.
BSNL and MTNL also could not take advantage of third-generation mobile services, despite both having a first-mover advantage, with the government allotting them the spectrum a year ahead of the auction for private companies.
Increased competition and dipping rates in the sector had impacted the overall industry but BSNL and MTNL have been losing revenue and market share without respite.
For the first time since its inception in 2000, BSNL had posted a loss, of Rs. 1,823 crore (Rs. 18.23 billion) in  financial year 2009-10.
MTNL has posted a loss of Rs. 671 crore (Rs. 6.71 billion) for the third quarter ended December 31, 2010.
MTNL's net continues to be dragged down by retirement benefits, increase in dearness relief of pension and high wages.
DoT for larger prop


The Department of Telecom proposes to give an annual subsidy of Rs. 3,000 crore (Rs. 30 billion) to both companies to sustain their operations.
For BSNL, to support operations in rural and far-flung areas from the Universal Service Obligation Fund; MTNL will be given support for its higher pension and other retirement payouts from the license and spectrum fees which both companies give the government.
Initial estimates by the department suggests BSNL incurs a loss of about Rs. 2,000-2,500 crore (Rs. 20-25 billion) from its landline business, a majority of which are social commitments in rural and far-flung areas and MTNL's pension amount is Rs. 300-350 crore (Rs. 3-3.5 billion) annually.
DoT plans to implement the proposal by this year.
Due to the deteriorating performance of both companies, the department has also revived its earlier proposal to merge the two.
Earlier, BSNL was getting support from the Access Deficit Charge, under which all operators were paying 0.75 per cent of total revenue.
ADC was used to support BSNL's unviable landline business in rural areas. However, ADC was withdrawn from April 1, 2008.
Subsequently, the government had decided to give a subsidy of Rs. 2,000 crore (Rs. 20 billion) per annum for the next three years to BSNL from USOF.