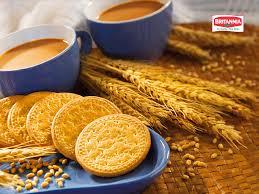 After colas and burgers, biscuits are the latest in the fast moving consumer goods category to consider a test launch on e-commerce platforms, ahead of their entry into physical stores.

Britannia Industries, the bakery and dairy major, has tied up with e-tailer Amazon India for a pilot launch of Good Day Chunkies, a new chocolate chip cookie, for 15 days.
The offer is currently on and closes on December 5, after which the product goes to offline (normal retail) stores.

Britannia is the first biscuit company in the country to leverage e-commerce for brand promotions, ahead of competitors such as Parle Products and Mondelez.

Speaking to Business Standard, the company's marketing director, Ali Harris Shere, said: "Digital is emerging as a big platform and we want to be the first one to explore it, rather than being a follower."

This launch comes on the heels of another one, Nutrichoice Heavens, also a super-premium offering, earlier this month by the company.
The current product is Britannia's third cookie launch in three months.
In September, the company had marked its entry into the mass cookie space with Tiger Butter Krunch.

Shere said Amazon had positioned the new product in its gourmet and speciality foods store.
"They have also displayed it on the landing page of their website," he said, pointing to the mileage the product would derive from this.
He declined to indicate how much the company had garnered in sales since launch of the exclusive offer.

It is this mileage and buzz that is prompting marketers to consider e-commerce for an exclusive test launch.
This September, beverage maker Coca-Cola had a limited period offer on Amazon for Coke Zero, its low-calorie drink, before its retail launch in the country.
The exclusive offer was billed as a success, with sales crossing 100,000 cans in 13 days.
American retailer Burger King was the next to go down this road, giving consumers the option to pre-order its 'Whopper Burger' before its Delhi and Mumbai store launches this month. The tie-up was with eBay.
Such was the success that the opening weekend between November 22 and 23 in Mumbai, for instance, saw a crowd of over 10,000 people queuing from 9 am onwards for a bite of the burger, persons in the know said.

Arvind Singhal, chairman, Technopak, says: "Online as a medium works well for those products where there is a high level of involvement and interest, like mobile phones or books.
"When it comes to staples, the involvement of consumers is not too high.
"What we are seeing now in terms of exclusive deals in colas, burgers or biscuits are largely marketing initiatives, which helps in creating the necessary buzz around the brand."

CLICKING FOR A BITE OR A SIP
This is the first time Britannia is launching a product online
In September, Coca-Cola had a limited period offer on Amazon for Coke Zero, its low-calorie drink, before its retail launch in the country.
The exclusive offer was billed as a success, with sales crossing 100,000 cans in 13 days.
American retailer Burger King gave its consumers the option to pre-order its 'Whopper Burger' before its Delhi and Mumbai store launches this month. The tie-up was with eBay