It was found the declarants were persons of suspicious nature and very small means, and the declarations could have been misused.
Business Standard's Dilasha Seth reports from New Delhi.
Illustration: Uttam Ghosh/Rediff.com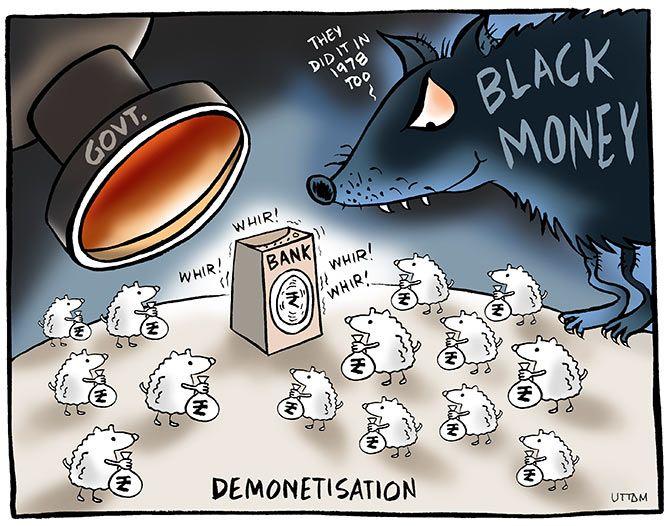 The final figures for disclosure of previous hidden income or wealth under the Income Declaration Scheme are only slightly higher than the provisional estimates.
Two high value declarations of around Rs 2 lakh crore were excluded from the figures declared.
These included Rs 13,000 crore of declarations made by Ahmedabad-based businessman Mahesh Kumar Champaklal Shah, who was detained by tax officials on Saturday.
The finance ministry on Sunday revised upward the disclosures to Rs 67,382 crore (Rs 673.82 billion) from 71,726 declarants against the preliminary Rs 65,250 crore (Rs 652.50 billion) from 64,275 declarants announced on October 1, a day after the window formally closed.
This will lead to tax revenue of a little over Rs 30,000 crore (Rs 300 billion), on account of the 45 per cent tax incidence under the scheme, to be paid in three instalments by September, 2017.
Half the amount will come this financial year.
The additional tax to come from additional revised figures would be just Rs 960 crore (Rs 9.6 billion) compared to what was to come from the provisional numbers.
The ministry's statement came three days after the deadline of November 30 for payment of the first instalment of 25 per cent of tax incidence.
The government is likely to have received Rs 7,500 crore (Rs 75 billion) as first instalment.
The tax department did not take into account a Rs 13,860 crore (Rs 138.60 billion) declaration made by Shah. He had disappeared after disclosing the amount but surfaced on Saturday and apparently threatened to disclose names of politicians and businessmen for whom he was allegedly acting as a front.
'Among the declarations received, there were two sets of high value which were not taken on record figure because they were found to be suspicious in nature, being filed by persons of small means,' said the ministry.
One family of four, residents of Bandra, northwest Mumbai, made a total declaration of Rs 2 lakh crore, but this was rejected by the department, as 3 of the 4 PAN numbers were originally in Ajmer and had switched in September to Mumbai.
'These declarations from Mumbai and Ahmedabad were kept pending for investigation about the genuineness of the same and were not included in the total value of declarations announced on October 1,' it said.
After due enquiry it was found that these declarants were persons of suspicious nature and very small means, and the declarations could have been misused, it said.
The department has commenced enquiries against these declarants.