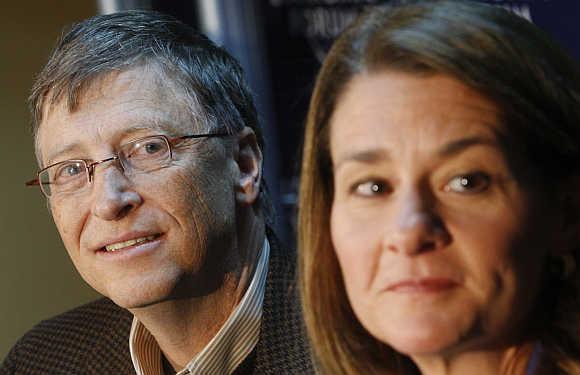 With the objective of addressing sanitation related health concerns, the Urban Development Ministry and the Bill & Milinda Gates Foundation have agreed on a partnership to promote user friendly toilets to ensure universal sanitation in the country.
During a meeting with Urban Development Minister Venkaiah Naidu, Bill Gates enquired about the government's sanitation initiatives.
Naidu apprised Gates about the government's initiatives to ensure housing for all by 2022 and that 'Swachchh Bharat Mission' would be launched on October 2 this year, under which every household is to be enabled with toilet facility by 2019.
Naidu said that under the new housing initiative, every affordable house to be constructed in urban areas would be provided with toilet facilities.
He said at present about 12 million urban households do not have toilet facilities.
Naidu said the government would like to benefit from the initiatives and experience of the Gates Foundation, since about three crore new houses are to be constructed in urban areas alone to address housing shortage, particularly for the economically weaker sections and low income groups.
He said Prime Minister Narendra Modi has accorded top priority to ensuring universal sanitation in the country.
Appreciating India's focus on improving sanitation in the country, Gates said the Foundation's core competency is research and technology promotion, and it would like to share them with the government.
Gates stressed on promoting quality and user friendly toilets to ensure their proper use.
Further to the discussions, it has been agreed that the Ministry and the Gates Foundation would cooperate in four areas - innovative technology demonstration in respect of toilets and sewage management, promoting decentralised sewerage systems that enable disposal of sewage at habitation level rather than pooling of sewage, capacity building in sanitation sector, and promoting use of toilets.
Naidu has complimented Gates for his philanthropic initiatives seeking primarily to address basic needs of the people across the world.
"Acquiring wealth through hard work and enterprise is noteworthy but serving humanity using it is nobler and you are a shining example in this regard," Naidu told Gates.
Image: Bill Gates with his wife Melinda Gates.
Photograph: Arnd Wiegmann/Reuters