In the Silicon Valley of India, one can use the cryptocurrency to pay for food, buy bus tickets, order stuff online, and even get a haircut, Aditi Phadnis discovers.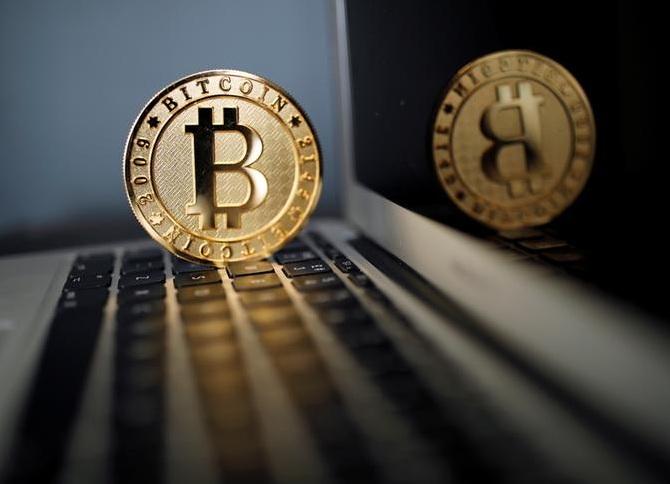 IMAGE: You can trade, hold and sell your bitcoins through Unocoin for a 1 per cent commission that the company charges when you convert bitcoins into Indian rupees.
Photograph:

Benoit Tessier/Reuters

.
There is nothing about Indiranagar, Bengaluru's middle class suburb, to suggest subversion might be brewing here. Least of all at the Suryawanshi restaurant, an open-air dhaba-type establishment, which serves authentic Maharashtrian food: misal-pav, fragrant lavender-coloured sol kadi and batata vada.
You can pay using good ol' cash, credit card, mobile wallet... and also bitcoin. Suyawanshi reported its first bitcoin transaction last month.
"A group of people came. They had a mutton thali, prawn sukka masala, misal-pav and some other items. The bill came to around Rs 1,700. They wanted to pay in bitcoin," said Prafesh, part owner and server at Suryawanshi. "I went to the Net and deposited it through Zebpay (a company that trades in bitcoin). The Net was a bit slow. The transaction went through the next day, quite smoothly."
Though the restaurant announced nearly two years ago that it was ready to accept bitcoin, the first transaction took place in June 2017.
Prafesh said he would never forget it.
The Reserve Bank of India might be issuing warnings about the use of bitcoin, and scratching its head over regulation of this cryptocurrency. But in Bengaluru its use is widespread. You can buy bus tickets, a meal, order e-shopping vouchers of companies such as Amazon online, get a haircut (though for that you might have to go to Marathahalli, nearly an hour from Bengaluru, for that's where the beauty parlour and salon is) and order stuff online from nafa.in -- all using bitcoin.
Unocoin is the company that operates bitcoin accounts. You can trade, hold and sell your bitcoins through this company for a 1 per cent commission that Unocoin charges when you convert bitcoins into Indian rupees. (In delicious irony, it is located on the first floor of a building that houses a branch of the State Bank of India on the ground floor).
The CEO, Sathvik Vishwanath, also co-founded the company. He explained that he felt ripped off, when for every foreign currency transaction -- whether USD or GBP or euro -- intermediaries would shave off as much as 6 per cent in exchange.
He used to work online for an American company and figured out that ultimately, all financial transactions over the internet, when broken down, meant only passage of information. So, if no physical money was changing hands in this vast international financial transaction, why not trade in virtual currency?
"Bitcoin is the currency for the internet," Vishwanath said. "If the internet were a country, then the currency for that country would be bitcoin. It allows users to do fast and free transactions and without the need for middlemen to process the transaction. Unocoin is the trading platform for bitcoins where Indians can securely buy, sell, store, use and accept bitcoin. It has more than 200,000 users and processes more than 200 million INR every month."
What about taxes -- income tax, capital gains, goods and services tax?
He looked slightly shocked at the suggestion that trading in bitcoin meant his clients were doing something vaguely illegal.
"We pay tax like any other company, though I am not sure how capital gains apply to us," Vishwanath said. "We follow strict KYC norms. We are just a company like any other. We follow each and every rule. Of course, if there are no regulations, it doesn't mean the transaction is illegal. After all, plying taxicabs was also unregulated. But it fulfils a felt need."
Actually, bitcoin is a bit behind the times now. There are other currencies, for example, etherium, or the Linden dollar (255 linden dollars equal $1).
Unocoin has had some foreign investment. Last year, it netted $1.75 million from Blume Ventures, the company that runs TaxiForSure.
"This is not a very loss-making venture like Ola and Uber," said Vishwanath. It is not hard to see why. Trading without borders rarely is.
But doesn't he worry about safety? What if a client's computer were hacked and someone just made off with all the bitcoins? After all, there was nothing backing the currency except, well, air and space.
Vishwanath looked quizzically. "Anybody can be robbed," he said softly. "Anything can be robbed."
What if there was a crash in the bitcoin market?
Now he smiled wolfishly, and said, "I am a trader. I don't worry about crashes."
Brick and mortar summons arrived. The network had broken down and systems were running slow. He left a number on the table. If someone had bought bitcoins worth $1,000 in January 2017, in June it was worth $2,280.
Unocoin has 280,000 customers. The number is growing.