The centre eyes airport-specific digital solution and ties up with start-ups to solve problem unique to BIAL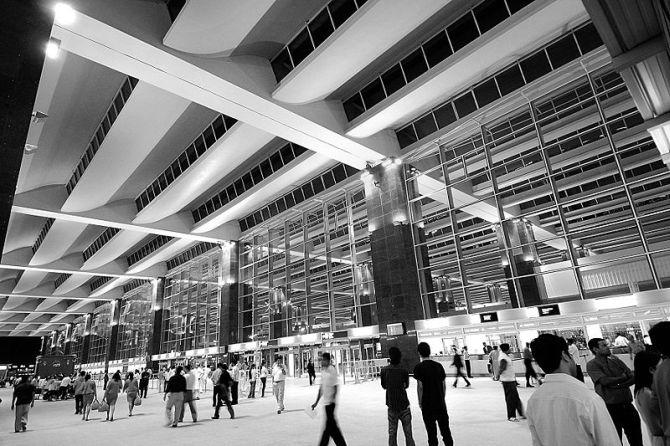 Bangalore International Airport Ltd (BIAL) over the past two years is facing a puzzle - the forecast on the number of flyers is not matching.
While the airport had projected a growth rate of 32 per cent in 2013, it is growing at close to 40 per cent.
The saturation of Delhi and Mumbai airports has forced airlines to grow out of Bangalore.
IndiGo, the largest Indian carrier, has more than 100 departures and both full service carrier Jet Airways and Vistara is eyeing Bangalore as their alternative hub.
The airport needed to create more infrastructure for this growth.
"Space is becoming premium. The number of flyers is growing much faster. But infrastructure takes time to be built. And time is not something that Indian airports have in hand with this kind of growth," BIAL chief operating officer Javed Malik said.
By 2020, the growing demand for air travel is expected to create a 15 per cent deficit of the critical infrastructure needed to cater to travel, according to the Airport Council International (ACI).
Under Malik, the airport has taken up an ambitious project of finding technology to solve this problem.
"We germinate in terms of byte and not bricks," said Malik, referring to the importance of technology over physical infrastructure.
Malik said in the competitive world, airports would have to fight to make themselves attractive to airlines.
"Faster and hassle-free check-in is the major component which increases the value of an airport to flyers, it also means more business for the airlines and the airports as more passengers can be processed faster," he said.
He said BIAL had been able to cut average check-in time from 90 seconds to 15 seconds through solutions like self-check in and self-bag drop system.
To implement this, BIAL tied up with IT major Accenture to set up an innovation centre.
The centre eyes airport-specific digital solution and ties up with start-ups to solve problem unique to BIAL.
Satyaki Raghunath, chief strategy and development officer, BIAL who joined early this year to lead the digital push says the mandate is to invent solutions from global examples but modify them to India's needs.
"Using technology is ok but in a country like India, where there are lot of first time flyers, technology has to be simple," he says.
For instance, last week the airport signed an agreement to implement a technology which would allow passengers to check in through facial recognition.
This technology used by major global airports will identify the flyer by their face and stop the requirement of presenting boarding card cutting down the check-in time.
Raghunath said that BIAL worked on the project for two years before selecting the facial recognition method.
"We tried different solution rather than having it through core biometric solution like iris or finger print where there can be a concern over privacy, we tried hand waving technology but we realised that's complex because waving is not something a person does naturally," he said.
BIAL's is also working on technology which can help the airlines to fasten the security check-in process.
"Some of our innovations may not be visible to the flyer directly but behind the scene it improves efficiency of the system which would benefit the flyer," he says.
For instance it has implemented an automatic tray retrieval system which reduces the role of security officials during the baggage screening process as the baggage and the separated valuables placed on the trays will reach the other end without the manual involvement of Central Industry Security Force officials.
There is also a diversion in the conveyor belt for bags that are found to have suspicious content and need to be checked by hand.
This is to make sure that the conveyer belt does not have to stop at any time.
This is allowing the airport to handle 470 trays per hour as compared to 350 before.
Malik also sees a scope of revenue growth for the airport from the reduced check-in time.
"The shorter time a flyer spends doing routine check-in process, the more time he would spend at the coffee shop, buy something as they have more choice.
"This also increases the scope of revenue generation for us,'' he says.
Photograph: Utkarsh Jha/Wikimedia Commons