In 2009, ArcelorMittal had picked up a stake in Uttam Galva Steels. But the new Section 29A of the IBC prohibits promoters of companies with NPAs of more than a year from bidding for these companies.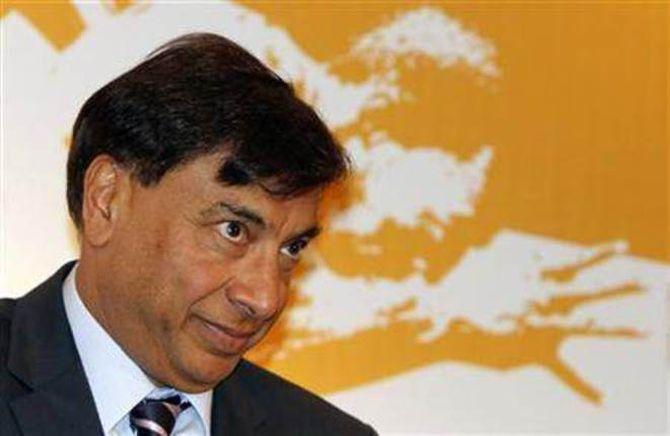 Amendments to the Insolvency and Bankruptcy Code (IBC) have not only practically debarred promoters from reacquiring their own assets but have also put the world's largest steelmaker ArcelorMittal's prospective bid for stressed steel assets -- Bhushan Steel, Bhushan Power & Steel, and Essar Steel -- in trouble.
According to the new Section 29A of the IBC, a person shall not be eligible to submit a resolution plan if such person, or any other person acting jointly with such person, or any person who is a promoter or in the management control of such person, is an undischarged insolvent.
This prohibits promoters or sister concerns of companies with non-performing assets (NPAs) of more than a year from bidding for these companies.
In 2009, ArcelorMittal had picked up a stake in Uttam Galva Steels.
The move, after some abortive attempts to set up mega greenfield plants, had paved the global steel company's entry into India.
The glitch is that last September, Uttam Galva Steels was classified as an NPA, which means that it's been more than a year since the account became an NPA.
That may raise questions on ArcelorMittal's eligibility to submit a resolution proposal for the stressed steel assets. ArcelorMittal didn't respond to an email sent by Business Standard.
According to the shareholding pattern filed with the BSE, ArcelorMittal Netherlands BV, which is classified as a promoter group company of Uttam Galva Steels, holds a 29.05 per cent stake in it.
However, ArcelorMittal doesn't have any board or management representation in the company and is a passive shareholder, said sources.
Sources close to the development said Uttam Galva Steels was in the Reserve Bank of India's (RBI's) second list of NPAs.
A restructuring proposal was in the works, and rating agencies ICRA and Crisil had been appointed to vet the proposal.
If a resolution is not worked out for Uttam Galva Steels by December 13, then it would head to the National Company Law Tribunal (NCLT).
However, sources indicated that if it was restructured by December 13, then there was a possibility that ArcelorMittal might be able to submit a resolution proposal for the steel assets.
A company becomes a standard asset if interest due is paid, some experts said. Other experts said that since ArcelorMittal was an AAA rated company, one could interpret the code in a different manner.
"Just because the company is associated with an NPA, their creditworthiness does not get affected," they said.
The global steel major was in the process of conducting due diligence for Bhushan Steel, Essar Steel, and Bhushan Power & Steel.
ArcelorMittal was a late entrant to the list of bidders for Bhushan Power & Steel, as it had submitted the expression of interest (EOI) late.
So was Liberty House. However, the credit committee decided to accept both the companies. Mahender Kumar Khandelwal, insolvency professional for Bhushan Power, and leader and partner of business restructuring at BDO India LLP, declined to comment.
Industry sources said it would be unfortunate if ArcelorMittal was not allowed to bid, especially since SBI Capital Markets -- an advisor to lenders on restructuring packages for some of the companies -- first made a visit to London in July to make a pitch for stressed steel assets.
Also, ArcelorMittal has been trying to gain a major foothold in India through greenfield projects since 2005.
In 2005, it came to India with grand plans of setting up a mega steel plant. It signed a memorandum of understanding (MoU) with the Jharkhand government for setting up a 12-mt plant in the state.
A year later, the company signed another MoU with the Odisha government for a similar-sized plant.
It had even signed an MoU with the Karnataka government for a 6-mt plant. But none of the projects had made any headway.
Image: Lakshmi Mittal, chairman and CEO of ArcelorMittal. Photograph: B Mathur/Reuters.