There is not much bank employees can do, but some words of encouragement from the management would have helped.
Stretched working hours and the tense atmosphere is taking a toll on their health.
Anup Roy and Abhijit Lele report.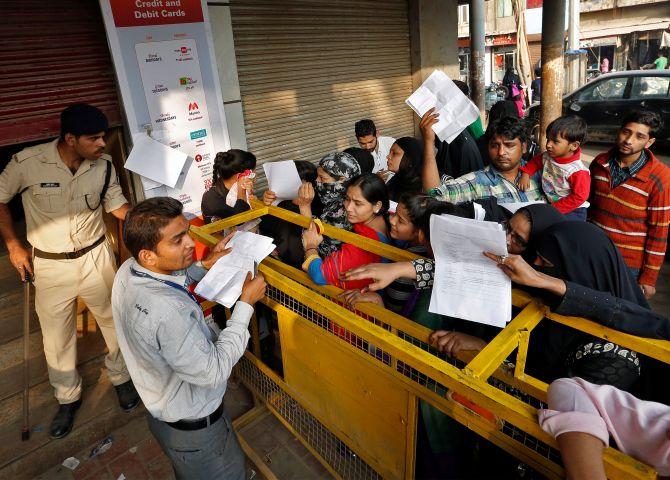 IMAGE: A bank employee hands out request slips for the exchange of old high denomination bank notes at a bank in Old Delhi. Photograph: Cathal McNaughton/Reuters
Bank managements are doing little to boost the morale of employees at branches who are meeting the hectic demands of demonetisation, handling angry customers in queues, making do with limited cash from currency chests, and forgoing year-end leave.
The old notes they are accepting and the entries in their books and accounts are subject to multi-layer monitoring.
First, the bank's internal auditors are checking these and then supervisors from the Reserve Bank of India are working on them.
Sometimes, investigative agencies are sweeping in, demanding to check books and the cash stock.
There is not much bank employees can do, but some words of encouragement from the management would have helped.
What they get in reality is stern warnings from the management about the consequences should anything wrong be detected.
As Axis Bank's name pops up almost every day, employees of other private sector banks are also stressed.
In most cases, branches are manned by young employees, just a few years into their profession.
Mostly management graduates, they were hired to push various products of banks.
Experienced hands in cash and counters, for whom procedure and regulations were more important than business growth, have been fired as banks chased growth.
Now those young and semi-experienced employees are finding themselves sitting behind counters and spending their evening sorting the paperwork.
Most of the other activities in banks have gone for a toss, says a bank employee in his late twenties.
The situation in public sector banks is even worse. Most of their branches in non-metro areas are manned by not more than five or six employees.
According to the branch manager of a public sector bank in Uttarpara, West Bengal, there has been no word of encouragement from the management, but there is a threat that if any mistake is found, even unintentional, the employee and the branch manager will be taken to task.
"Work is given to you, if you can't do it, you are inefficient. That's the veiled message," says the branch manager who does not wish to be named.
The branch is run by six employees as most clerks have retired.
In the initial days of demonetisation, the bank had taken the help of some retired staff, but the employees are on their own now.
Banks are still not receiving enough cash from currency chests and branches have to ration whatever is available to customers waiting in queues.
Most cash vending machines are dispensing only Rs 2,000 notes as the Rs 100 note is not returning to banks.
Initially, there were some monetary incentives for overtime. Now that is gone. However, the work pressure has lessened considerably.
Senior bankers plead helplessness. "About 80% to 85% of a bank's staff are employed in retail. They all are doing this job. How can we incentivise all?" says an executive director with a Mumbai-based public sector bank. The banker, however, adds the management regularly engages with employees.
Bankers say the stress levels have gone up due to customer resentment and uncertainty about the cash supply. However, the public resentment will ease as the government prints more notes, they add.
Besides remaining in continuous communication with employees, banks have also been in touch with union leaders, says the managing director and CEO of a public sector bank.
"We are encouraging employees to blow the whistle where they suspect foul play. This is one way to provide encouragement at work," he adds.
C H Venkatachalam, general secretary, All India Bank Employees Federation, says bank managements empathise with the long hours and stress, but they point out demonetisation is government work.
There has been rise in medical complaints in the last few days among bank staff.
Stretched working hours and the tense atmosphere is taking a toll on their health, says a mid-level executive at a public sector bank.
If the customer-facing employees are stressed, so are the back-office staff.
The government has asked the RBI to check if there is double counting of deposits and the central bank has asked banks to verify their numbers.
Some amount of double counting is to be expected as many cooperative banks maintain accounts with large banks.
Besides, smaller banks keep their excess cash with large banks.
For example, the State Bank of India may have 20 cooperative banks directly depositing their money. At the end of the day, the SBI sends the figure of its total deposits and the treasury numbers to the RBI.
Cooperative banks and other banks also send the same set of data to the central bank.
According to a source, the RBI now has asked banks to segregate the data under various heads so that double counting is avoided.
This is keeping back-office staff busy because even if the data is stored electronically, a fresh data sheet is being prepared for a recounting exercise, the source adds.