Bandwidth of managements will be challenged over overhaul of subsidiaries, number of branches and HR policies.
Raghu Mohan reports.
Illustration: Dominic Xavier/Rediff.com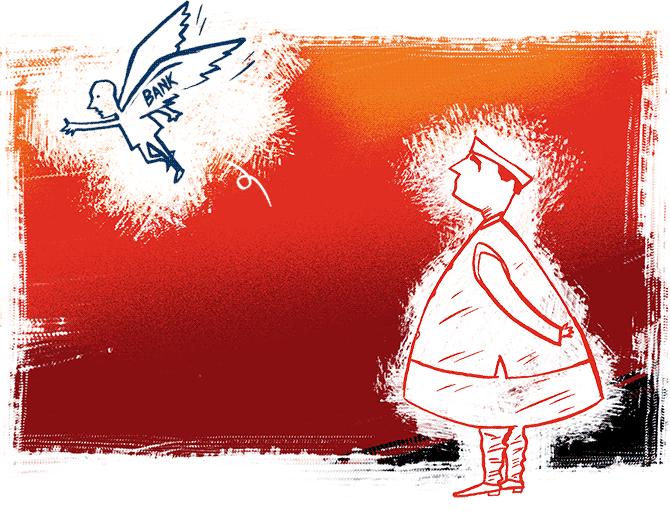 The bank mergers will call for a complete relook at the subsidiaries, branches, and the human resource (HR) policy of the entities involved even as it resets the competitive landscape of the banking sector in the country.
Take for instance, Canara HSBC which is jointly owned by Canara Bank with a 51 per cent stake, Oriental Bank of Commerce (OBC) at 23 per cent and HSBC Insurance (Asia Pacific) Holdings (26 per cent).
It is one of the leading life insurance companies with over a 60 million customer base and a pan-country network of over 8,000 plus branches of Canara Bank, HSBC and OBC.
This merger between Punjab National Bank (PNB), OBC and United Bank of India (United Bank) will also have to take into account the status of Canara HSBC - as Canara Bank and Syndicate Bank are also to merge.
The three-way PNB-OBC-United Bank merger which will lead to the creation of an entity with a business footprint of Rs 18 trillion.
PNB has five subsidiaries - PNB Gilts, PNB Investment Services, PNB Insurance Broking, PNB International, and Druk PNB.
OBC and United Bank do not have subsidiaries, but both have a merchant banking business.
While subsidiaries may not be an issue in this case, the assumption is that PNB's are more mature and significant and it is unlikely to give up on them.
Prakash Agarwal, head, financial institutions at India Ratings and Research (Fitch Group), said: "Bank consolidation is a good move from the government in step towards improving efficiency of these banks.
"Specifically, the measures announced to improve corporate governance and grooming leadership, if followed through with right intent, resources and commitment, can go a long way in addressing the challenges these banks have been facing historically."
It's also possible that the current mergers may face more friction than the Bank of Baroda (BoB)-Dena Bank and Vijaya Bank transaction.
It was pointed out that in the BoB-Dena-Vijaya Bank case, a large, well-capitalised strong bank absorbed two much smaller entities.
"In the present case, the mergers are mostly among larger banks, with the absorbing bank not necessarily in strong health.
"However, given that merged banks are on similar technology platform, the integration should be smoother.
"It is likely that management attention and bandwidth of the entities being merged could get split impacting the loan growth and reduce focus on strengthening asset quality in the short term," said Agarwal.
Branches can also be an issue.
PNB has 6,989 branches of its own plus an additional 2,937 branches as it happens to be the sponsor bank of five regional rural banks in Bihar, Haryana, Himachal Pradesh, Punjab and Uttar Pradesh covering 93 districts.
Standalone, 62 per cent of PNB's branches are in rural and semi-urban areas; it can lead to an overlap with OBC's 2,390 branches with almost50 per cent of them in rural and semi-urban areas as also United Bank's 1,999 branches with in excess answering to the same profile.
The rationalisation of business has the potential to bog down the businesses of these banks.
Anil Gupta, vice-president (financial sector ratings) at ICRA, said: "Precedence shows the amalgamation process takes up to six months and the management bandwidth of the merging banks may get occupied amid this process.
"The choking of management bandwidth should not result in slowdown in credit flow to the economy."
Then there is staffing.
The staffing profile at OBC is not readily available, but at PNB, the officer cadre was at 39.86 per cent, clerical at 37.35 with sub-staff at 22.69 per cent; at United Bank, the same was 52 per cent, 28 per cent and 20 per cent.
While the finance ministry has said that all employees will be accommodated and there will be no layoffs, it remains to be seen how line-functions are to be streamlined.