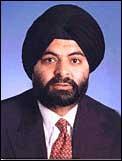 In 1995, Ajay Banga, then PepsiCo's marketing director in India, had to fight with the Delhi Municipal Corporation to keep the doors of the Capital's only Kentucky Fried Chicken restaurant open.
The DMC had served a closure notice on the restaurant after finding two flies in its kitchen and a can of garbage outside the premises.
Eight years down the line, Banga was seen in Flushing, New York, kicking off a 'Gold Roshni' promotion during Diwali for Citibank. He devised a scheme of offering exquisite gold jewellery to the bank's patrons who were opening new accounts.
This is quintessential Banga -- a man who could sell Kentucky Fried Chicken in Delhi, and a Diwali sales scheme in New York with equal ease.
Ajay Banga is Citibank global ops co-head
"He can sell ice to the Eskimos. He is a superb salesman, who also knows banking," says a senior executive of a British Bank, who has been tracking Banga's career quite closely.
Banga, 45, will succeed Marjorie Magner, chairman and chief executive of Citi's global consumer group, who is set to step down October 1 to pursue her long-term interests in areas outside of financial services, including academia and philanthropy.
Banga will co-head the group with Steven J Freiberg, chairman and chief executive officer of Citi Cards NA. He will steer the international operations while Freiberg will look after the North American business (US and Canada).
Both executives will report to Citigroup CEO Charles Prince and join the top rung 13-member Business Head Committee, which runs the bank. Within the Citigroup, there has been no surprise in Banga's elevation.
He is also a seasoned player in mergers and acquisitions and when it comes to integration of businesses, very few Citi executives can match his caliber, says an insider. He has played a major role in the acquisitions of Golden State Bank, Principal Residential Mortgage and First American Bank in Texas in March this year.
However, the key to his success is consumer banking. To prove their point, his friends cite the example of Citibank's Access Account, which Banga pushed forcefully in North America.
It was developed to usher in unbanked consumers to the banking system by developing cheap financial products knocking down entry barriers.
"Nobody in global banking knows better than him how to sell banking products," says an Indian executive with an European bank.
An IIM alumnus from the 1981 batch, Banga began his career as a management trainee with Nestle in 1981. As PepsiCo's marketing director, he was instrumental in the launch of Pizza Hut and KFC in India.
He will be the second high profile Indian Citibanker after Victor J Menezes who was once seen as a possible successor to Citigroup chairman Sanford Weill.
Banga joined the bank in India in 1996 and over the next two years rose to become the division head for the Consumer Bank in Central/Eastern Europe, Middle East, Africa and the Indian subcontinent.
Since early 2002, he has been the president of Retail Banking North America overseeing the expansion of the branch banking business through acquisitions, the creation and successful operation of the commercial business group, and the substantial growth of the bank's mortgage and student lending franchises.
Under him, the retail banking in North America grew 50 per cent in net income from just under $2 billion in 2001 to $3 billion in 2004.
Some of his contemporaries compare Banga with Anne Mulcahy, the CEO of Xerox, who was not interested in anything but sales in her entire career. They are certain that Banga will climb many steps on the corporate ladder within the Citigroup.