Infosys has improved profitability and revenue growth while containing attrition.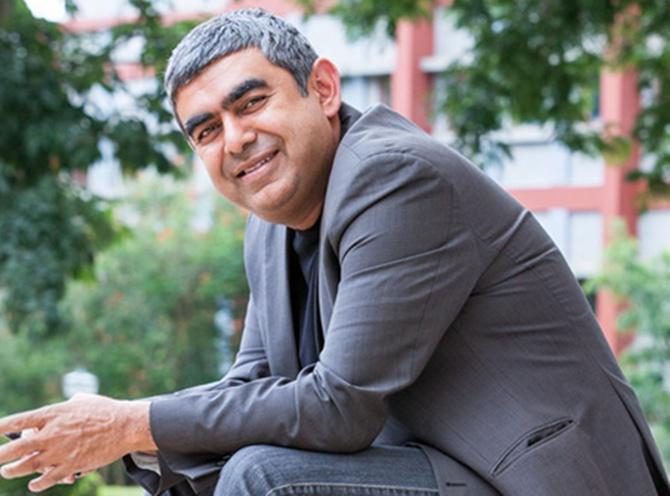 Infosys had made steady progress in embracing automation during the past two quarters which had helped it in redeploying people, thus optimally using human resources, Vishal Sikka, chief executive officer and managing director of the Bengaluru-based company, said.
Delivering the keynote speech at the Oracle OpenWorld held in San Francisco late on Tuesday, Sikka said, "In the last two quarters, the power of automation has led to us removing and saving 1,200 people from our ongoing projects, and we have already seen up to 50 per cent of the works that can be mechanised being replaced by automation.
Infosys has drawn up a vision to position itself as a next generation services company.
Newer technologies like artificial intelligence (AI), big data and analytics and automation will play a big role in this.
"When we look at ourselves, the great renewal of Infosys is fuelled by bringing automation and innovation to everything that we do," Sikka said.
During the past two quarters, Infosys has improved profitability and revenue growth while containing attrition. Sikka said AI would help augment human capabilities in multiple ways. "This applies to every company," he added.
With the change in buying behavior of global clients, Indian IT services players are seen turning to technologies like AI and automation.
Recently, Wipro, another Bengaluru-based IT services company, had said it was expecting its in-house cognitive intelligence platform Holmes to help it improve revenue productivity.
"We are far more confident about handling our margin primarily because of Holmes," Wipro's CEO TK Kurien told Business Standard in an interview last week.
"In the first half (of 2015-16), we have taken 3,000 people to manage our application management and support base, just using Holmes. Every six months, we have seen higher productivity. If you look at the ticket rates, those have not really changed," he added.
Sikka, a PhD in artificial intelligence from Stanford University, said contrary to the perception that AI could replace humans in managing IT projects, he believed it could only be an amplifier.
"My deeply held belief, having studied this for several decades, is that AI can be a great amplifier of our ability and we can, in fact, fuel a great human revolution where our abilities are amplified by intelligent technologies," he added.
In the quarter ended September 30, 2015, Infosys' operating profit margin expanded by 153 basis points (a basis point is a hundredth of a percentage point) over the previous quarter to 25.53 per cent.
Earlier this year, Infosys had launched an initiative to imbibe innovation in every ongoing project. Sikka said more than 78 per cent of the delivery organisation at Infosys was involved in bringing some innovation or the other to every project.