At Infosys and Wipro, 8,200 roles have been impacted in six months, discover Ayan Pramanik and Shivani Shinde Nadhe.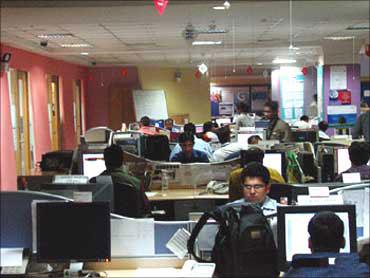 Automation is eating up jobs in the information technology sector of the country.
As two of the largest IT services firms in the country -- Infosys and Wipro -- increasingly use automation to improve productivity and deliver services, jobs are being phased out double quick.
From April to September, Infosys, the country's second largest software exporter has cut nearly 5,000 jobs by using automation as against 4,000 it did in the previous 12 months.
Wipro has already cut 3,200 jobs between April and September, two-thirds of its set target of 4,500 shifts this year.
These cuts are being carried out across the board, not just at lower levels or roles such as testing for bugs in software code or fixing errors in legacy software that IT services firms maintain for clients such as American Express or RBS.
For now, service firms are shifting employees, whose jobs have become redundant because of automation, to projects for other clients.
Many of them are being trained to acquire new skills and improve their presentation.
Analysts said the IT services sector was still witnessing early stages of automation -- use of artificial intelligence and software tools.
"But it could pose fresh challenges when automation reaches a tipping point. In such a scenario, there may be 30 to 40 per cent reduction of work. Companies would be in a position to redeploy them (employees) only if they have many new projects coming in," said Pareekh Jain, vice-president, HFS Research, an analyst firm that tracks technology outsourcing trends.
Domestic firms are losing revenue at a rapid pace from traditional work, such as building applications and maintaining these on huge infrastructure.
The rate is not being offset by growth in emerging areas.
'The current demand for traditional services is driven by a focus on cost-saving on the run side even as the investments in the change side have not picked up at the same pace as expected perhaps due to caution in the context of US elections and Brexit,' said Abidali Neemuchwala, chief executive officer of Wipro at the company's quarter results.
Run side is the existing business; change is the emerging areas of digital and cloud.
Skill levels that emerging areas require are different from what Indian engineers possess at present.
Indian service providers have to adapt, while shifting their business models from a people-driven to software-plus-people model.
At the same time, re-skilling senior employees released from projects would be an uphill task as the hierarchical structures are "broken across Indian IT companies," said analysts.
"Earlier there used to be many management levels such as project manager, senior project manager or group project manager. Now, with automation, so many levels are not needed. Also, companies are reducing hierarchies and encouraging employees to connect directly with clients," Jain said.
The business shift has forced companies to find alternative jobs for engineers internally.
In 2015-2016, Infosys made a net addition of 17,857 people, Wipro added 34,187 professionals, and TCS added 34,187 people.
From April to September, Infosys added 5,785 people; Wipro increased its workforce by 1,326, including contractors.
TCS, the largest IT firm, hired 17,676 professionals.
While Wipro has seen the lowest number of net additions to its workforce, the impact of automation is higher on experienced professionals than on freshers.
"Typically, this pool reduces our lateral requirement. Fresher continue to come. People continue to work for three or four years and their work get automated," Jatin Dalal, chief financial officer, Wipro, told Business Standard, in a recent interview.
Wipro has automated 2,000 core IT activities, helping it target making 4,500 jobs redundant.
India's largest IT services firm TCS has accepted the importance of automation in order to retain its industry-first margin between 26 and 28 per cent.
'For margin improvement, it is a lot of discipline that has gone into the execution and we have leveraged multiple factors. Yes, tools are important, automation is important, the way we execute our fixed price engagements and the way we staff projects, everything -- we have looked at many factors and that is a journey that will continue,' N Chandrasekaran, chief executive officer, TCS, said on October 13.
Infosys, which has doubled the release of employees because of automation said it was as important to achieve its targeted margins of 30 per cent by 2020.
In the September quarter, Infosys saved efforts worth of 2,400 engineers across service linessuch as application maintenance, BPO and infrastructure management.
'Going forward, we will go beyond automation and apply knowledge-based AI capabilities of Mana to more complex scenarios with the focus on increasing productivity,' said Vishal Sikka, chief executive officer and managing director of Infosys, last month.
Image published only for representational reasons.