Logistics, due to road conditions, continues to pose a challenge.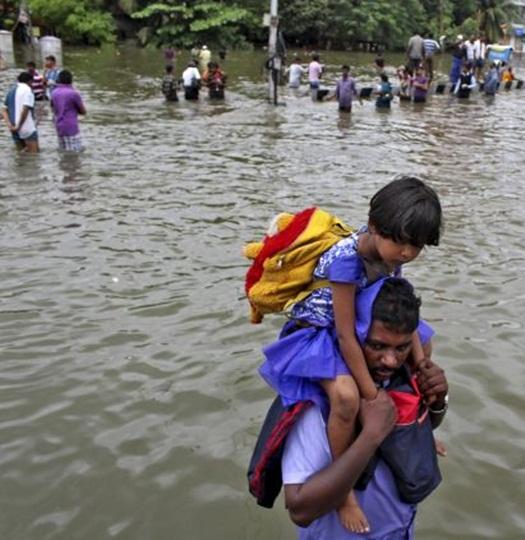 Image: Many companies are facing challenges since supply chains have not been fully restored. Photograph: Reuters
Automobile manufacturers in and around Chennai have suffered heavy losses due to the floods.
While most of the original equipment manufacturers have restored operations, many are facing challenges since supply chains have not been fully restored.

Logistics, due to road conditions, continues to pose a challenge.

While no official numbers were given, industry sources said the production loss could be Rs 800-1,000 crore (Rs 8-10 billion).
South Korean carmaker Hyundai, which has the largest car manufacturing plant around 45 km from Chennai, said daily production stands at 2,200 cars.

In view of the heavy rain and floods, the company had called off the third shift on December 1 and all shifts on December 2, 3 and 4.
The company did not share the exact production loss. However, going by its daily production capacity and the number of shifts and days suspended, production loss could be around 7,300 units.
The company said it would be able to assess the losses only by the end of the month.
Hyundai's normal operations resumed on December 5 and production is now in full swing, the company said.
The damages to roads because of the floods have caused logistics challenges, said a Hyundai spokesperson.

"We are closely working with vendors and supply chain partners to ensure supply of parts is not impacted. That most of our vendors are located close by has helped. On the dispatch side, there could be some temporary impact on deliveries due to road conditions and related infrastructure."

The company is working all shifts and its production teams are working towards resolving the shortfall, the spokesperson added.
Renault-Nissan's manufacturing plant is located at Oragadam, 45-50 km from Chennai.

"Due to extreme weather conditions which made it unsafe for employees to travel, Renault-Nissan Alliance plant suspended operations for four days last week and three days in mid-November. We have not incurred any damage to our plant, facilities or warehousing. We have resumed operations since December 6. We are close to 10,000 cars short of planned production," said Guillaume Sicard, president of Nissan India.

"We will work overtime and also on holidays to ensure we minimise delay of car deliveries," he added.

The company said its spare parts warehouse did not incur any damage and, therefore, parts supply has not been a major problem.

"Some of our smaller suppliers have been adversely affected and we are helping them get back on track. We are also exploring other supplier sources, which we will use if required to meet the production demand. We do not foresee a need for parts import," said Sicard.
US auto major Ford did not share production loss numbers. It said: "Our manufacturing operation in Chennai resumed engine assembly on December 7. The vehicle assembly operations will remain closed until our team can complete an impact assessment of our facilities and those of our suppliers. Our focus remains on the safety of our employees, and we will carefully assess the situation to ensure the safe resumption of operations."
Commercial vehicle majors Ashok Leyland and Daimler India, which have plants in and around Chennai did not share production loss numbers. Florian Laudan, head of corporate communication at Daimler Trucks Asia, said: "As part of our strategy, we keep a production buffer and are working towards compensating the work hours in the coming weeks."
Royal Enfield's production facilities at Thiruvottiyur and Oragadam were shut on December 1 and the company resumed production of motorcycles on December 7.

However, owing to low turnout of employees and some issues with its local suppliers, the facilities are expected to run at their 50 per cent capacity this week.

The company plans expects to come back to 100 per cent capacity by next week.
The firm has reported production loss of 11,200 vehicles owing to the closure of both the facilities, and 4,000 units in November. It may be noted the rains started on November 6 in Chennai.
"Many parts of the supply chain still continue to be affected due to the aftermath of floods," said a Royal Enfield's spokesperson.
TVS Motor said: "Incessant rains for the past three weeks in Chennai have had an adverse effect on company's production during this period. The company suffered sales loss of approximately 15,000 units due to the inclement weather."