For Hero MotoCorp, India's largest two-wheeler company, it's a calculated gambit to revive Harley-Davidson whose ride in India has been anything but easy since it got here.When automotive firms embark on alliances, it's a roll of the dice on how such marriages will play out.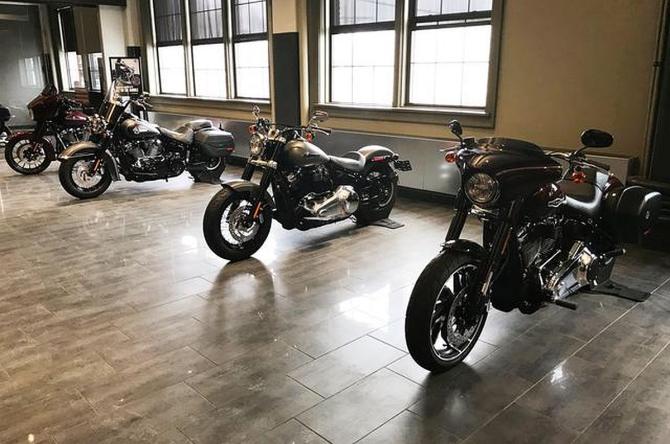 Carmakers have not been victorious at such efforts.
Ford's first tango with Mahindra & Mahindra failed.
Renault's dalliance with M&M went the same way.
Fiat and Tata Motors gave their tie-up their best shot but the play stumbled in the long term.
For Hero MotoCorp, India's largest two-wheeler company, it's a calculated gambit to revive Harley-Davidson whose ride in India has been anything but easy since it got here.
But can both players, who announced the tie-up this October, win in such a deal?
With over $6 billion in market cap, Harley-Davidson has been slowing down over the last decade as young millennials became disengaged from the gasoline-powered bike.
It closed operations in India in September, after 11 years of trying to get sales to grow.
Bikes sold for the entire duration were around 25,000 — a number projected to be sold annually.
Worldwide, Harley announced an exit from as many as 39 markets, with plans to remain in 36 markets with high potential and transition to asset-light distribution and co-development in another 17 markets including India.
On the other hand, Hero MotoCorp, with a market cap of $9 billion and over 50 per cent market share in the country, has always had an eye on bikes and products that are higher up on the value chain.
Hero has also started pushing its premium bike range with new products that include two scooters and five motorcycles (such as the XPulse 200, Xpulse 200T, Xtreme 200S, Xtreme 160R). Four years back, Hero MotoCorp had brought in Malo Le Masson from Infiniti — the luxury car division of Nissan — to head its global product planning, and he conjured up the entire premium line-up of the X-range of motorcycles.
Malo has also recently been given the additional charge of head of strategy.
Hero has even forged plans to set up premium dealerships much like Maruti Suzuki did with its Nexa range of cars, according to an analyst who spoke off the record.
"Hero is actively changing the buying experience that its customer touch-points offer its customers. This is a concerted initiative being rolled out right now," he said.
Hero has 6,500 active touch-points nationwide.
The other part of the strategy is roping in international talent.
Apart from Malo, the company recently appointed Michael Clarke as chief operating officer and chief human resources officer.
He has worked in leadership roles in Delphi and Fiat Spa in the US and Europe.
Kavan Mukhtyar, partner & leader, automotive, PwC India, said foreign companies were once seen as partners who brought in global technology (TVS-Suzuki, Hero-Honda) but that's reversed as their need for local partnerships is integral to winning India.
"For a foreign manufacturer the toughest challenge is asset allocation and getting operational details right," he said.
"When an investor is paring down investment any ensuing tie-up is a brand distribution and support alliance, but even that can be tricky."
The key is pairing operating procedures and management cultures.
"Foreign players must remember that Indian decision-making is centralised and leans on command-and-control versus delegated authority.
"Just because India is English-speaking doesn't mean business here is run the same way as abroad," Mukhtyar said.
The tie-up, according to industry insiders, will specifically get Hero MotoCorp to sell and service Harley-Davidson motorcycles, as well as parts and accessories, general merchandise, riding gear and apparel through a network of brand-exclusive Harley-Davidson dealers and Hero's dealership network in India.
An analyst aware of the deal's details also said some but not all the Harley showrooms will be kept operational, and Hero MotoCorp will develop and sell a range of premium motorcycles under the Harley-Davidson brand name.
"The biggest winners will be existing and potential Harley customers in India who may have been feeling that they have been abandoned," he said.
Right now, according to industry sources close to the development, Hero has roped in around a dozen Harley dealers in India — the American company had around 21 dealers and 33 outlets — before the time line of December 31 when their contracts would have ended.
Hero is in discussion with more dealers to join its network.
Meanwhile, Hero is gearing up to provide service and parts support to customers even where there are no Harley dealerships through its own network, say those aware of the company's plans. Will different cultures make a big difference?
For now, not so much, experts said. Suraj Ghosh, who leads the South Asia division of powertrain and compliance forecasts at IHS Markit, said: "Hero will provide financial support and backend infrastructure."
What of branding, if Harleys are sold through Hero dealerships?
"If the products are the latest and the greatest then it won't make a difference," Ghosh added.
Hero's biggest strength has been its price competitiveness through its supplier base.
Its economies of scale are the big advantage.
While Hero has played beyond the 250 cc segment and stayed under the Rs 200,000 price point, Harley has almost always sold big bikes with 750cc engines, and prices that compare to a premium car.
Will that impede collaboration? Paris-based automotive author Gautam Sen said Harley has to transition from the "Hells Angels" image and into the new electric era.
So, made in Vietnam or USA or India doesn't matter nor does fossil fuel or electric engines.
"The key for Hero is to understand that this could be the beginning of a much deeper relationship.
"Harley-Davidson, which came in with a certain amount of arrogance, got hammered whereas Hero has always been on the lookout for an international two-wheeler firm.
"Could they perhaps even acquire it in totality?" he suggested.
Sen may have a point. Smaller bikes, as Hero has shown in India, are the key to larger volumes.
Will the cult image of Harley-Davidson take a hit?
"Yes, if you go from 750 cc to 350 cc motorcycles overnight, it has to be done gradually," said Sen.
For now, it's a forward step for an international brand to lean on domestic players.
"Broadly, the positioning is good. It gives a rub to the Indian brand and is a bold move for any global firm to tie up here with local companies," Mukhtyar said.
Photograph: Rajesh Kumar Singh/Reuters