But will this dilute Bajaj's strong Indian identity that straddled the rural-urban markets and the Hindi-English divide quite easily?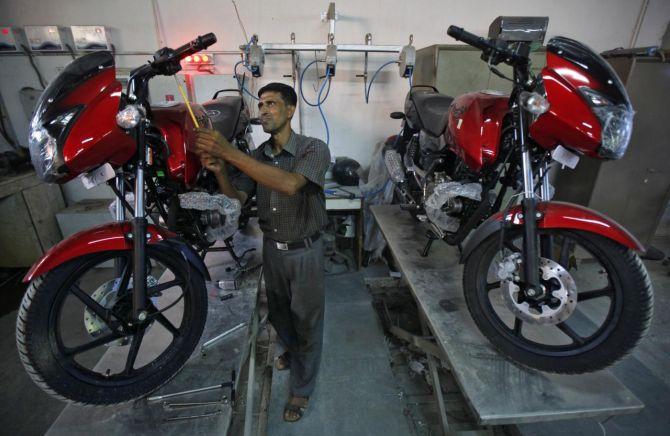 In a media interaction at the launch of the recent corporate campaign for Bajaj Auto, the company's managing director, Rajiv Bajaj said that he wanted people around the world to think Bajaj whenever they thought about motorcycles.
As the country's largest exporter of two-wheelers, he believes that such an ambition is well within the brand's grasp.
The latest corporate campaign positions Brand Bajaj as 'The world's favourite Indian', stepping away from the familiar and popular 'hamara Bajaj' tagline in an attempt to showcase its global credentials.
But is the brand overplaying its global card and could that hit its positioning as a ride made for Indians, in India?
Rajiv Bajaj says that as an Indian bike that is at home in the world, the brand is an ambassador for the government's 'Make in India' initiative.
Besides a corporate campaign, by definition, has to take a brand forward while providing a shiny new umbrella for sub brands.
But will this dilute Bajaj's strong Indian identity that straddled the rural-urban markets and the Hindi-English divide quite easily?
Sumeet Narang, head of the newly formed Urbanite Business Unit, Bajaj Auto says that the brand is aiming to be best-in-class not only by Indian standards but also world standards.
In a way Pulsar was the harbinger of this new strategy and it was followed by other brands such as Discover, Platina, Avenger, CT100, Dominar.
Besides he claims that Bajaj has become the third-largest motorcycle manufacturer in the world, competing with several Japanese and European brands.
And one needed to capture this change in its identity.
The company said that nearly 40 per cent of the revenue is coming in from its international markets.
Bajaj has earned $13 billion of forex in the last 10 years and has sold nearly 15 million motorcycles in over 70 countries.
"The heart of the new campaign is the world's favourite Indian idea, a big departure from Hamara Bajaj.
"My feeling is that while selling in 70+ countries is certainly worth bragging about, Bajaj still has some ground to cover on being the world's favourite Indian.
"That epithet belongs only to the one and only Mahatma Gandhi! Bajaj needs more effort in building a global brand," said Sandeep Goyal, founder Mogae Media. The claim is premature, he added.
The company believes that the positioning change, its first in a decade, will help differentiate its family of brands from the rest in the domestic market.
However, Narang clarifies that the company treats each sub brand as an individual offering because buyers need to see them as distinct identities.
"We have focused our marketing attention to building these brands individually," he said.
The company felt it was time to bring the mother brand to the fore, especially since there was a new story to tell.
In 1970s and the 1980s when Bajaj was still just a scooter maker and its flagship brand was Chetak, both the market and audiences were different.
Hamara Bajaj had to change and Narang said, "We owe it to the customers to provide the new message and story on the Bajaj brand."
What the campaign hopes to do is also build greater confidence in the brand and by ascribing a global stature to the Bajaj brand, it is in a way looking to buy local sanction.
Narang is also clear that unlike other brands that are using legacy to frame their present-day identities, Bajaj wants to strike a different note.
"It does not ask consumers to buy only because it has 50 years of history," he added.
With Brand Bajaj, there is another layer of complexity in its relationship with the consumer. Narang believes that while Bajaj two wheelers have been around for 50 years, it has been a motorcycle company for only 17 years since the birth of Pulsar.
"Today people are buying a Bajaj motorcycle which is a combination of a brand that is trusted for half a century but a product range that is new."
Another difference that Brand Bajaj has with its rivals is that it is still to appoint a celebrity as brand endorser.
"We work harder on our brand building, to build a unique character, personality and meaning to each brand or sub brand.
"We have our own stories to tell. Tomorrow when we have no story to tell we will bring some celebrity," Narang quips.
Photograph: Rupak De Chowdhuri/Reuters