Ather Energy would set up 30 charging points across Bengaluru by the end of May and the number would go up to 60 by the end of the year.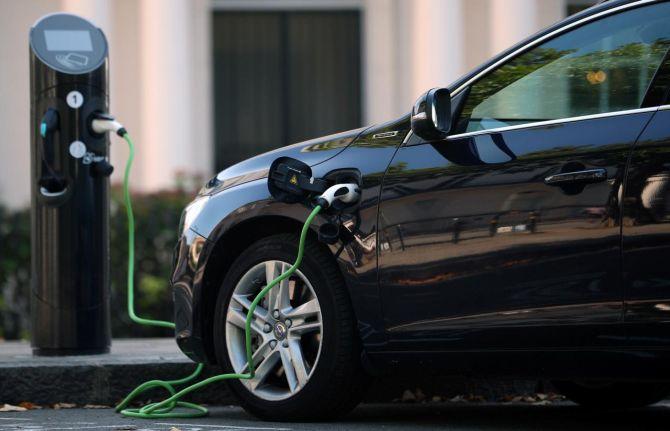 Hero MotoCorp-backed start-up Ather Energy has kicked off its plan to set up charging stations for electric vehicles (EVs) across Bengaluru in the run up to the launch of its electric scooter S340.
Ather Energy announced on Monday it would set up 30 charging points across Bengaluru by the end of May and the number would go up to 60 by the end of the year.
With this, the company said EV owners would have access to a charging point in a radius of 4km from wherever they are.
Dubbed AtherGrid, the charging stations precede the launch of the Ather S340 scooter for which has been delayed for some time but now the company said bookings would open in June.
The charging stations will work with all EVs sold in India.
For the first six months, Ather will not charge customers for using its grid of chargers.
"We don't think charging infrastructure should be a marketing cost for our vehicle.
"It is the refuelling infrastructure of the future and we think it should justify the business case on its own.
"To do that, you need more people to use it and not just depend on your volume, so we've opened it up to everybody," said Tarun Mehta, co-founder and CEO, Ather Energy.
Ather has partnered with malls, cafés, restaurants, tech parks, multiplexes and gyms to open these charging stations.
For now, the company says it has been able to convince these partners to offer them space for free with the upside of getting access to customers who use electric vehicles.
The AtherGrid charging stations have been designed, developed and manufactured completely locally and the company will also handle installation and maintenance once the charging station is installed.
While the number of charging points might seem quite small, the company says it estimates that an EV users will utilise public infra to charge their vehicles only 10 per cent of the time.
"Currently any EV in India can tap into a 5 Amps or 15 Amps charging point, but the biggest challenge for them to do that is that there's no security, no authentication and no protection.
"Our pod takes care of all that and as far as the interface goes, for non-Ather vehicles, we've used the government regulated standard," said Mehta.
While the devices will charge other EVs at a similar speed to a wall plug, it will act as a fast charger for Ather's vehicles, charging the S340's battery from 0-80 per cent in around an hour's time.
Mehta adds that Ather has allocated enough funds to setup a similar charging infrastructure, with a charging point every four kilometers, in both Chennai and Pune.
he company plans to rollout AtherGrid in these cities prior to the launch of its S340 scooter there.
So far the company has identified 600 possible locations just in Bengaluru where it can install the charging stations, and if demand spikes the company says it is well placed to ramp up production of the charging pods.
The investment for now has been largely on designing and developing the charging stations, but it did not break out separate figures for how much it plans to invest in building its charging network.
Photograph: Hannah McKay/Reuters