Industry experts said the scandal could hit VW hard, just as it was emerging from a damaging leadership battle.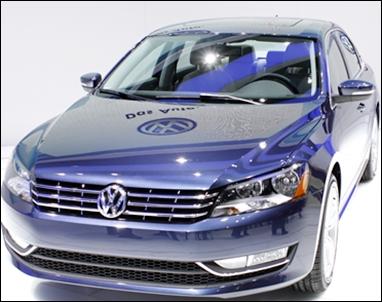 When the International Council for Clean Transportation (ICCT) commissioned researchers at West Virginia University to test diesel car emissions in 2013, the group expected to find that diesel cars sold in the U.S. emitted fewer pollutants than cars sold elsewhere because they had to meet tougher standards, ICCT officials told Reuters on Monday.
Instead, after testing a 2012 Volkswagen Jetta and a 2013 VW Passat, researchers were "surprised" when the results showed the opposite: the two VW models displayed much higher levels of nitrogen oxide emissions than permitted by law, while a third test vehicle, a BMW X5, generally fell within permissible limits.
"Our hypothesis was these cars would all come out clean," said Drew Kodjak, executive director of the ICCT, a non-profit independent research group with offices in Washington, San Francisco and Berlin.
In May 2014, ICCT alerted the Environmental Protection Agency and the California Air Resources Board about their findings.
On Friday, EPA said VW could be liable for up to $18 billion in penalties for using software on almost 500,000 VW and Audi diesel cars that circumvented emissions regulations, unleashing a controversy that threatens long-term damage to VW's finances, leadership and reputation.
VW shares in Europe fell almost 20 percent on Monday, and the company suspended U.S. sales of its diesel cars until it can come up with a fix to satisfy regulators.

The disclosure comes as VW's U.S. sales have lagged the company's performance in other global markets, and could hamper its efforts to boost demand in the American market.
Industry experts said the scandal could hit VW hard, just as it was emerging from a damaging leadership battle.

VW Chief Executive Martin Winterkorn said on Sunday he was "deeply sorry" for the breach of U.S. rules and ordered an investigation.

People including a VW supervisory board member said Winterkorn may have to resign.
The concerns raised by ICCT "prompted CARB to start an investigation and discussions" with VW in 2014, CARB said. Nitrogen oxide emissions have been linked to smog and acid rain.
VW agreed to conduct its own tests to replicate the ICCT study, proposed a software fix to CARB.
'Clean diesel'
VW has been airing TV commercials lauding its "clean diesel" cars for several years, including ads that ran last November, even as the company was aware of the emissions controversy.
VW on Monday said there was no intention to misinform the public with its clean diesel ads.
In December, VW issued a voluntary recall of all its U.S. diesel cars from model years 2009-2014.
The recall didn't end the matter. CARB, in cooperation with EPA, said it wanted to do "confirmatory" tests, and it ran those beginning in May 2015.
In July, CARB notified VW that the test vehicles still showed emissions that exceeded state and federal limits. California shared those results with federal regulators.
VW attributed the excess emissions to "various technical issues" and "unexpected" real-world conditions.
It wasn't until EPA and CARB threatened to withhold certification for the automaker's 2016 diesel models that VW in early September revised its explanation.
"Only then did VW admit it had designed and installed a defeat device in these vehicles in the form of a sophisticated software algorithm that detected when a vehicle was undergoing emissions testing," the EPA said in its September 18 letter to VW.
The EPA on Friday said that it "intends to compel VW to issue a recall" once the automaker has developed a satisfactory fix. But as of mid-day Monday, company and EPA officials said there was no recall.
VW executives were scheduled to unveil the 2016 Passat - including a "clean diesel" version - in New York City on Monday evening. The company late Monday said the 2016 Passat diesel has not yet been certified for the US by the EPA.