Mahindra and Mahindra (M&M) is going all out for a comprehensive electric vehicle (EV) play, with passenger vehicles (PVs), e-three wheelers as well as niche e-farm products.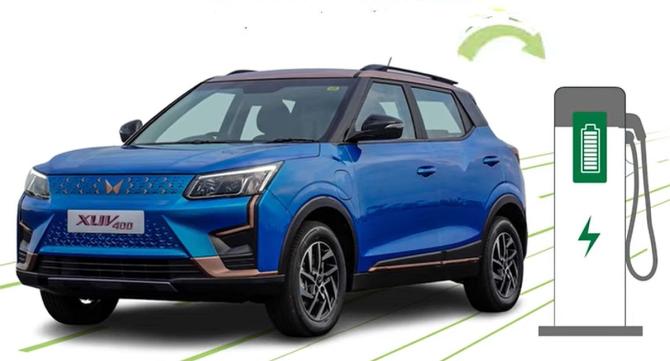 Analysts have predicted a 23 per cent volume growth for the auto segment between FY22 and FY25, riding on the company's differentiated EV and SUV plan.
M&M is already a market leader with a 36 per cent share in electric three-wheelers, and its Zaheerabad plant in Telangana is ready to cater to demand.
In the farm segment, the company plans to focus on niche electric products.
However, M&M's prime play will be electric SUVs.
It has already started expanding its PV capacities, which is now 39,000 a month.
This is to be scaled up to 49,000 a month by FY24.
Besides, it is setting up a Rs 10,000-crore EV facility in Pune that will roll out its new SUV on the INGLO platform, the XUVe8.
This will be followed by four more EVs on the INGLO platform till October 2026 and beyond.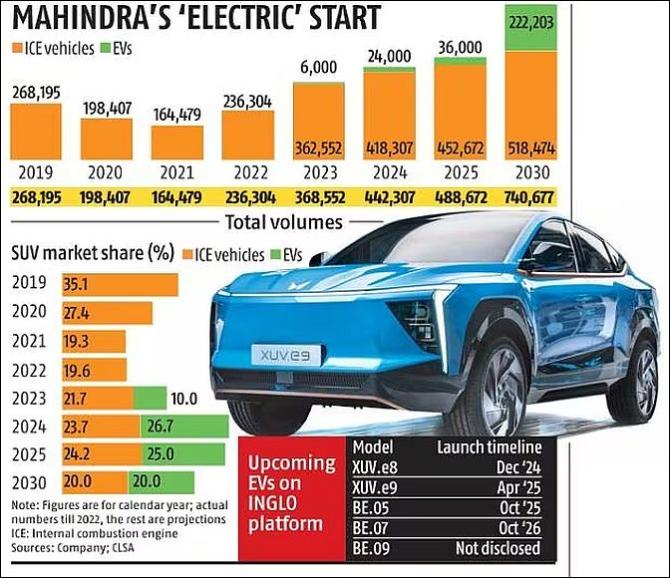 M&M's tryst with EVs started with an electric three-wheeler called Bijlee back in 1999.
The 10-seater vehicle was launched at a price of Rs 330,000 in Delhi in 2002.
In 2013 it launched the e2O on the Reva platform that it had acquired in 2010.
M&M discontinued the product in 2019 amidst flagging sales and tightening regulations.
Now with a refreshed EV plan, the company is eyeing 20-30 per cent of its overall sales from EVs by 2027, roughly translating to 200,000 units a year.
But has M&M come a bit too late to the party?
After all, its peer, Tata Motors (TML), has had a head start in EVs.
Rajesh Jejurikar, executive director and chief executive officer of auto and farm sectors, M&M, disagrees: "The EV penetration in C segment SUVs is less than 1 per cent, and in B segment SUVs it is around 1.5-2 per cent.
"You cannot be a late entrant in a segment which has such a low penetration.
"We think that by the time our key products are out, the market will be at an inflection point.
"We are not late to the party at all."
Analysts, however, feel that a 20-30 per cent share of overall PV sales coming from EVs is a very ambitious target.
TML, for example, sold 38,322 EVs in retail in FY23 out of its total sales of 484,843 PVs that year, which is around 7.9 per cent of its PV sales, according to data from the Federation of Automobile Dealers Association (FADA).
"When you see the adoption cycle of EVs, we feel that the SUV customer would adapt to an EV faster.
"Many SUV customers are multi-car households, as are our M&M customers.
"Therefore, we think that while EVs will be 20-30 per cent of our overall portfolio, we don't think the market would have moved that fast," Jejurikar said.
M&M has consciously chosen to focus on only e-SUVs, giving entry-level small electric-cars a miss.
Recently, MG Motors launched the country's cheapest EV, Comet, at Rs 798,000, which is lower than the price of its nearest rival, the Tiago-EV, priced at Rs 869,000 (ex-showroom).
Nikunj Sanghi, a long-time dealer with M&M said that the decision to buy an electric four-wheeler is seldom influenced by the total cost of ownership (TCO), unlike buying an e-two-wheeler.
"Buying an EV is more of a statement," Sanghi said.
Another M&M dealer said that the company has already launched the XUV 400 EV as a 'filler' product to mark its presence.
"The real game changer will be the BE range of EVs coming later," he said.
The XUV 400 has more than 15,000 bookings till February, and the company has started deliveries already.
Industry sources say that M&M is not looking at selling more than a 1,000 units of this car every month.
Jejurikar said that with SUVs accounting for 50 per cent of the PV market as of now, they are a mainstream play for every auto-maker.
He added that since M&M has a differentiated product offering, it is able to get volumes.
"We are not trying to define our brand purpose by size, we are defining it by a certain design philosophy which is an unmissable presence and adventure capability," he said.
In any case, the utility vehicle (UV) space is heating up – M&M had a 17.8 per cent share of the UV market as of FY23. For the April-January period, Maruti Suzuki had an 18.5 per cent share, while TML had 16.59 per cent.
Experts say that the fight for a share of the electric UV market is going to be a close one.
"Partnerships are going to play a key role – M&M has an advantage here with a tie-up with Volkswagen for the supply of MEB (modular electric drive matrix) electronic components for the INGLO platform.
"But it will have to work on a localisation plan soon," one analyst said.