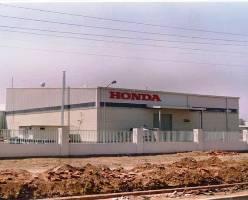 Two-wheeler maker Honda Motorcycle & Scooter India said on Friday it would hire about 1,500 people for its second plant at Tapukara in Rajasthan, which will commence operations from July-August this year.

Besides, the wholly-owned subsidiary of Japanese auto major Honda Motor Co will announce setting up its third manufacturing unit in India very 'soon'.

"We will start production at Tapukara from July-August, with an initial capacity of 6 lakh units annually. We plan to hire 1,500 people, including permanent and contract workers," HMSI president and chief executive officer Shinji Aoyama told reporters in New Delhi.

The capacity of the facility is expandable up to 12 lakh (1.2 million) units annually and HMSI will have a total workforce of 3,000 people at Tapukara then, he said without giving any timeframe.

HMSI has invested Rs 600 crore (Rs 6 billion) on the first phase of the Tapukara plant.

Aoyama said the total investment will come close to Rs 1,000 crore (Rs 10 billion) in the second phase, when the overall capacity will be expanded up to 12 lakh (1.2 million) units.

The company has so far cumulatively put in about Rs 1,300 crore (Rs 13 billion) in India, he added.

HMSI currently has a plant at Manesar in Haryana which can produce up to 16 lakh (1.6 million) units every year.

It employs a total of 7,000 people, including contract labourers.

Aoyama, who will be leaving India after a four-year stint to join the parent Honda Motor Co next month, said under his tenure HMSI was able to bring down the number of unpleasant instances arising due to labour issues.

"I believe, we can somehow manage the issues as we are not squeezing people. Still some issues are pending. . . Workers will never stop demanding and management will
never stop listening to them," he added.
About 2,500 casual labourers went on a two-day flash strike in December last year after one of them was 'manhandled' by a security staff, thus resulting in production loss of over 5,000 units.
In 2009, HMSI suffered a loss of over Rs 300 crore (Rs 3 billion) after workers went on a go-slow strike, which had resulted in an output dip of over 50 per cent for nearly three months that ended in October.
In 2005 also, the firm witnessed a violent strike by workers that rocked Gurgaon-Manesar industrial belt.
HMSI said on Friday it is targeting to dethrone Honda's erstwhile joint venture with the Hero Group from the No 1 two-wheeler maker position in India within the next 10 years, with focus on the rural areas and plans to introduce its first 100cc bike next year.
Asked if the company would consider a third plant in future, Aoyama said: "This is just the beginning of our expansion and we will expand our capacities. We are currently under deep study (for setting up a third facility), which will be disclosed soon."
The company will add capacities over the next 10 years in a step-by-step manner, he added.
HMSI expects to sell a total of 16.5 lakh (1.65 million) units in 2010-11, a jump of 30 per cent over the last fiscal.
It is aiming for an increase of over 27 per cent in its sales to 21 lakh (2.1 million) units in 2011-12.
On the other hand, Hero Honda crossed 40 lakh (4 million) units sales mark last fiscal and is aiming for 50 lakh (5 million) units sales in 2010-11.
In December last year, Honda had decided to sell its entire 26 per cent stake in India's largest two-wheeler maker Hero Honda to the other promoter -- BM Munjal-led Hero Group.