India can become one of the world's automotive export hubs of the 21st century, says Nigel Harris.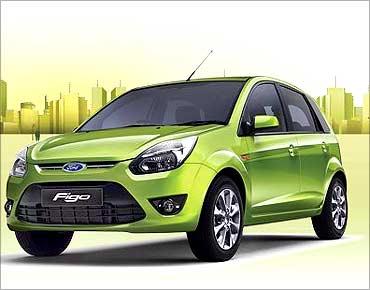 Today is a very special day in the history of Ford Motor Company as we officially open our Sanand Automotive Facility in Gujarat.
We are increasing production to meet the demand of the Indian consumer and what is equally exciting is that we will be building vehicles in India for export to consumers around the world.
It is our belief that India can become one of the world's automotive export hubs of the 21st century. The path to this is through the launching of a new ambitious trade agenda that would truly lead to Make in India for the world.
The Ford Sanand Automotive Facility will open a new chapter in our almost 90-year history in India.
The facility sits on a campus that is over 400 acres and today we are launching production in not one but four all-new plants including a stamping, vehicle assembly, engine assembly and a parts production plant.
The Sanand Automotive Facility, when fully operational, combined with our already very successful assembly operation in Chennai, will double our manufacturing capacity in India to over of 600,000 engines and 440,000 passenger cars.
And, when you add the business services centres Ford operates in Chennai, Coimbatore and Gurgaon, we will employ over 16,000 people in India.
Much is being written today about the 'Make in India' strategy. The successful development of our Sanand Automotive Facility is a testament to an early version of this pro-manufacturing strategy that was implemented by Narendra Modi, the then-chief minister in Gujarat.
Tamil Nadu is another state that deserves special mention for their work to implement a pro-manufacturing agenda to bring investment and jobs.
Policies in Tamil Nadu led us to open our manufacturing facility in Chennai 20 years ago.
It is very encouraging to learn that one of the federal government's first steps to implement 'Make in India' was to look to the best practices already in use in states such as Gujarat and Tamil Nadu.
At Ford, we can vouch that those policies are working and this makes us all the more confident in the success of 'Make in India'.
Virtually, no other industry has the same job-creating benefit of the auto industry. Over the last century, the auto industry has generated millions of jobs in countries that have developed a domestic auto sector.
That same promise holds true for India. In addition to Ford's direct jobs, Ford purchases from Indian parts suppliers already exceed $1 billion, and these purchases from local companies also generate thousands of additional jobs.
There is no doubt that an expanding auto sector will play an important role in delivering jobs and economic growth in India.
A central factor in unlocking the real potential of India's auto industry and generating millions of jobs is to set a new course on trade policy.
All major auto companies are now assembling vehicles on global platforms and all have the ability to produce a number of vehicles for different markets in the same plant location.
One important criterion used to decide where to invest is whether a country provides the export opportunities that will maximise the output of the plant.
The time is now for India to look at every necessary policy innovation and accelerate its auto sector growth.
The global auto industry is undergoing an unprecedented expansion, from approximately 86 million new vehicles built this year to almost 110 million per year by 2020.
This is a historic increase in new factory capacity that will be installed within the next few years, and much of it in the Asia-Pacific region. India has an urgent interest to signal to the world its intent to pursue a large share of this new auto investment and the jobs that will go with it.
A new Indian trade agenda to expand automotive exports should be a strategic component of India's manufacturing strategy.
Policies such as reforms to the current export regulations combined with the completion of trade negotiations already underway, such as the Eurpoean Union-India free trade agreement (FTA), the India-Thailand FTA, and the India-ASEAN FTA, all with a clear commitment of including automobiles, would underpin India's high ambition to be a major player in the global auto industry.
The Indian economy's time has come. Implementing policies that transform 'Make in India' to Make in India for the world will set the nation on a transformational course.
The path is not without challenges, but the results will be well worth the journey. Now is the time to say yes, and boldly embrace a 21st century free trade agenda for India.
The author is, President and CEO, Ford Motor Company India.