Joint crack team of Maruti, Tata Motors, M&M to develop hybrid cars in India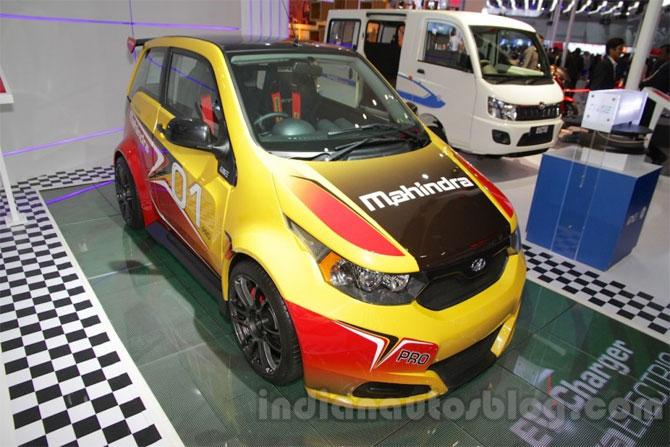 India's electric vehicle development programme got a shot in the arm last month, with three of the country's biggest carmakers signing a pact to jointly develop critical parts for an all-electric hybrid car.
The research & development teams of home-grown Maruti Suzuki, Tata Motors and Mahindra & Mahindra are seeking one another's expertise in areas like motor, transmission and other components to develop solutions for captive use later.
The tripartite alliance, which is open-ended and technical in nature, entails an investment of Rs 22-25 crore, and the government will invest an equal amount under the 'faster adoption and manufacturing of hybrid and electric vehicles' (FAME) programme it announced last year.
Mahindra Reva chief executive Arvind Mathew said: "It will take at least one-and-a-half years before we see something. The software and integration part will remain exclusive to the three companies while motor and transmission knowhow will be shared."
Motor, transmission and batteries are the hardware part of an electric vehicle but the software controls the vehicle's critical systems like engine and battery to name a few.
Hybrid or electric vehicles make use of on-board computers to distribute the right amount of power to the vehicle.
But now software for cars - these get updates similar to mobile phones or computers - will determine a lot more. US-based Tesla, for instance, released Version 7.1 software that expands the autopilot functionality. The update allows a car to open the garage door, enter the garage, park itself, and shut down. In the morning, the car can be summoned to the doorstep.
Developing an all-electric or hybrid car that is both practical and affordable at the same time, though, is an expensive affair. Costs of batteries, which have to be imported from China, make up for 50 per cent of the vehicle cost. Mahindra Reva e2o, for instance, costs Rs 676,667 (ex-showroom, Mumbai) - that is the cost of a petrol-fired mid-sized sedan.
Issues regarding range (distance of travel) of the vehicle and top speed will have to be closer to a conventional internal combustion engine while keeping prices affordable. A compact hatchback which typically has a 35-litre fuel tank can cover a distance of 420-525 km (mileage of 12-15 kmpl) before refuelling. But the four-seater e2o, the only electric car on sale in India at present, can travel a maximum of only 120 km.
"But a full charge of 10 units will power the car for 120 km but will cost you only Rs 60 - a fraction of the cost that you pay for petrol or diesel cars," added Mathew.
Coming together will help the three companies keep pace with foreign competitors like Renault, Nissan, Ford and General Motors, which have already made substantial investments in this area. Ford Motor Company, for example, is investing $4.5 billion (Rs 30,000 crore) in an electric car programme and plans to have 13 vehicles on the road by 2020.
"Foreign companies need not participate in our local programme since they are already developing their own," added Mathew, who is currently overseeing the launch of the electric version of the Mahindra Verito and Maxximo, to start in April.
Following a ban in Delhi on diesel vehicles with engines greater than 2000 cc, and amid a growing activism against the cheaper fuel, there has been a three-fold rise in electric vehicle demand in Delhi, according to Mahindra Reva.
"Compared to average monthly sales during the rest of the year, Delhi saw a three-fold increase in December. January, too, has been a very good month. Next year, it will double again," added Mathew, without disclosing absolute sales figures.
While most vehicle manufacturers believe electric cars are the future, lack of infrastructure to support such initiatives remains a concern area. "I do believe full electric cars need infrastructure development. Hybrids have a role to play here in India. Demand for petrol and diesel vehicles in the country will stay in the near term, as the battery packs for electric vehicles are very expensive", said Jurge Stackman, member of the board (head sales & marketing), Volkswagen Passenger Cars.
Powerful partnership
The tripartite alliance, which is open-ended and technical in nature, entails an investment of Rs 22-25 crore
The govt will invest an equal amount under the 'faster adoption and manufacturing of hybrid and electric vehicles' programme it announced last year
Developing an all-electric or hybrid car that is both practical and affordable at the same time, though, is an expensive affair
The cost of batteries, which have to be imported from China, makes up for 50 per cent of the vehicle cost
A full charge of 10 units will power electric cars for 120 km but cost only Rs 60 - a fraction of the cost paid for petrol or diesel cars