Commercial vehicles however declined by 2.83% to 614,961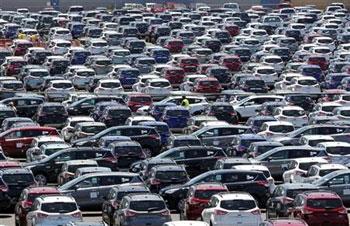 Backed by the hopes for economic revival and positive sentiments surrounding the new Government's proposed initiatives, sales of passenger cars in India have increased for the first time, after decline in the previous two fiscals, by 4.99 per cent to 1.87 million in fiscal year ended March 2014.
In the previous two fiscal years, car sales have dropped by 7.74 per cent and 4.65 per cent respectively, according to data published by industry body Society of Indian Automobile Manufacturers (SIAM).
"During FY15, general sentiment improved in the car industry. Investment cycles restarted and the worries which people were having was greatly diminished," SIAM Director General Vishnu Mathur said. Besides, interest rates and fuel rates came down during the last fiscal thereby reducing the overall cost of ownership, he added.
However, the growth is not satisfactory as the absolute number is still far below the level of the total number of cars sold in the fiscal year ended March 2011. "The overall yearly performance is far from satisfactory," said S Sandilya, former president of SIAM.
During the year, automobile makers launched 27 new models, 26 refreshed models and 37 variants of new models as part of the strategy for fresh customer acquisition.
According to SIAM data, overall passenger vehicle industry, that includes sales of cars, utility vehicles and vans, grew 3.9 per cent to 2.6 million units in 2014-15.
However, commercial vehicles declined 2.83 per cent to 614,961 while sales of medium and heavy commercial vehicles increased 16.02 per cent to 232,755 units during the year under review. Mathur said sales of heavy trucks have gained traction due to start of various infrastructural activities like mining and construction of roads, while sales of light commercial vehicles have still not picked up. "Total volume of medium and heavy commercial vehicles is far lower than 2011-12," Sandilya said.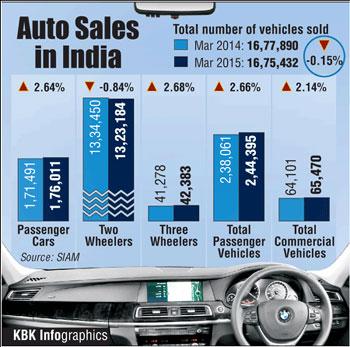 Sales of two-wheelers grew 8.09 per cent to 16 million, backed by strong scooter sales. Scooter as a segment grew by 25 per cent to 4.5 million in 2014-15. Motorcycles sales, however, fell 2.5 per cent to sell 10.74 million.
"Motorcycle sales were impacted due to moderate demand from rural markets, which saw limited rainfall last year. Even now the rural markets have been impacted by unseasonal rains," Mathur said.
During 2014-15, overall automobile exports from India grew by 14.89 per cent to 35,73,806 units compared to 31,10,584 units in 2013-14.
Speaking on the outlook for the fiscal year 2016, Mathur said the industry is "hoping for a moderate growth".
In the passenger vehicle segment, Honda, Huyndai and Maruti Suzuki attracted most of the customers with fresh launches. During FY15, Honda's domestic sales grew by40.74 per cent, Maruti Suzuki by 11.11 per cent, Hyundai by 10.63 per cent, according to SIAM data. Sales of Fiat, Ford, General Motors, Renault, Skoda, Tata Motors and Volkswagen declined during the year.