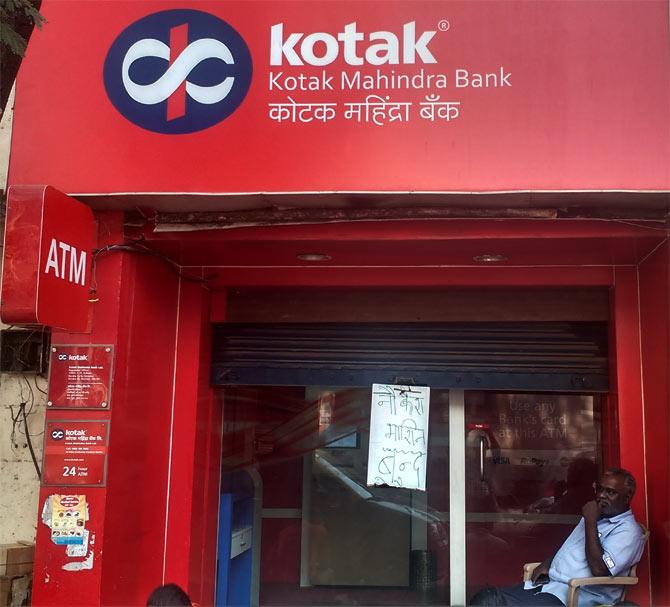 IMAGE: A security guard outside a bank ATM in Mumbai, November 14, 2016. Photograph: Prasanna D Zore/Rediff.com
Day 6.
Rediff.com's Prasanna D Zore discovers ATMs at Mumbai banks have stopped dispensing cash.
"I expect four times the lines (queues) we had on Friday, Saturday, Sunday," a security guard outside a bank's ATM says, expecting chaos and bigger crowds on Tuesday, November 15, even as the government announced setting up micro-ATMs across the country and increased withdrawal limit from ATMs and banks.
"More than 200 people must have gone back without withdrawing any money since this morning," the guard adds.
Five ATM machines at the ICICI Bank, HDFC Bank, Bank of Maharashtra, DCB, Bank of India and Kotak Mahindra Bank had shut shop, four of them since November 8 after Prime Minister Narendra Modi scrapped Rs 500 and Rs 1,000 notes in his address to the nation.
Most ATMs had this sign -- 'No Cash, ATM Closed' -- welcoming customers who wanted to try their luck.
"I was told our ATMs will be recalibrated and replenished with Rs 500 and Rs 2,000 notes, but no van has come," a guard outside the DCB ATM reveals.
The guards are at the rough end of customers' ire.
"Most customers have an expression that their world will come apart if they fail to withdraw money from the ATM," says a guard at a bank ATM.
"They then give us their piece of mind in frustration," he adds.
"Are we responsible for there being no cash in the ATM machines?" asks the guard outside a Bank of Maharashtra ATM.
"I hope we will have our ATMs refilled either today or tomorrow with new Rs 500 and Rs 2,000 notes," he adds.
When acquaintances complain to a security guard outside a bank ATM about the long queues and drying up of cash, he helpfully suggests, "Why do you bother? Give me as much cash as you have and I will deposit it for you or will get your notes exchanged."