With banks struggling to cope with rush to get alternative currency, the government has extended use of old defunct Rs 500 and Rs 1,000 notes for paying household utility bills, fuel, taxes and fees and purchases from co-operative stores till November 24.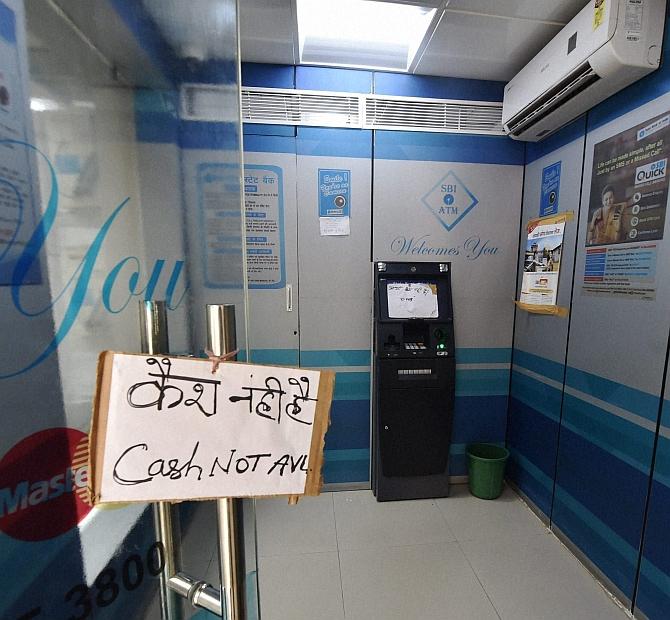 IMAGE: View of an ATM at South block in New Delhi on Sunday. Photograph: Vijay Verma/PTI photo
While withdrawing Rs 500 and Rs 1,000 notes from the night of November 8-9, the government had allowed use of the old currency at government hospitals, railway ticketing, public transport, airline ticketing at airports, milk booths, crematoria/burial grounds and petrol pumps for 72 hours.
This list was later expanded to include payments for metro rail tickets, highway and road toll, purchase of medicines on doctor prescription from the government and
private pharmacies, LPG gas cylinders, railway catering, electricity and water bills and ASI monument entry tickets.
As banks struggled to give alternate currency, the deadline was extended by another 72 hours. That deadline was to end at midnight tonight, but has now been extended till November 24, official sources said.
Old currency can also be used for purchases at consumer co-operative stores like Kendriya Bhandar with valid ID proof as also for paying court fee.
But payments towards utility bills will be restricted to only individuals or households for arrears and/or current bills. No advance payments will be allowed.
Queues get longer at ATMs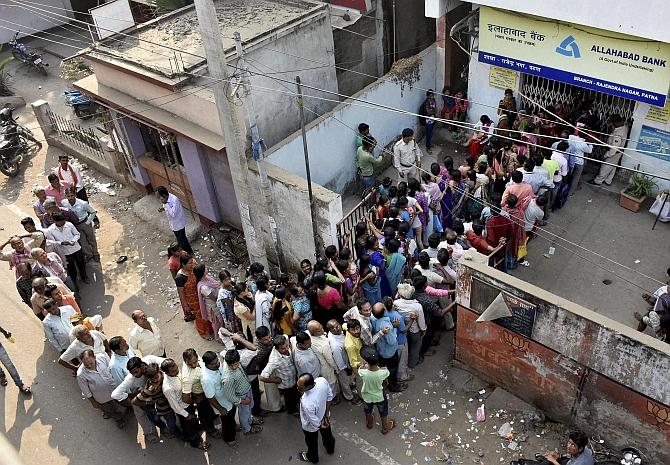 IMAGE: People queue up outside an ATM in Patna. Photograph: PTI Photo
With banks closed in many parts of the country, cash-strapped people started making beeline outside ATMs from early morning but with limited success as most of cash vending machines are running dry.
Scuffle and heated exchanges were reported from ATMs and banks from many parts of the country.
Many sections of the society including small traders, restaurant owners, transporters etc started feeling the heat as the dependence on cash is very high.
Banks are unable to service as heavy rush making it difficult to handle the situation.
After government issued advisory banks have started making special arrangement for elderly and physically challenged.
In a bid to provide convenience to people, the Centre yesterday eased key restrictions including raising daily withdrawal limit from bank accounts and ATMs as well as
increased the amount of old and now defunct currency notes that can be exchanged.
To augment cash supplies, newly printed hard-to-fake Rs 500 notes were also released in market.
Prime Minister Narendra Modi on Tuesday night announced the surprise demonetisation of higher denomination notes. After a review by Finance ministry, the limit of old and now defunct Rs 500 and 1,000 notes that can be exchanged for freshly minted Rs 2,000 and a new Rs 500 notes was increased from Rs 4,000 to Rs 4,500 on Sunday.
Cash withdrawal limit at ATMs was hiked to Rs 2,500 from Rs 2,000 a day.