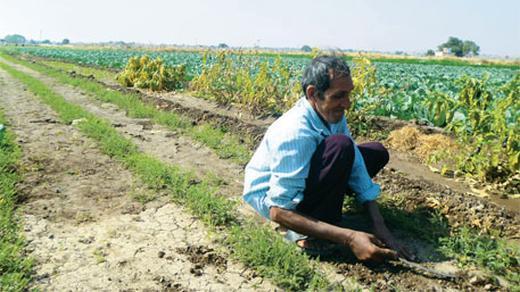 Crops including fruit, vegetables account for 60% of GDP in agriculture, forestry, fishing sector.
The country's gross value added (GVA) for agriculture and allied sectors in 2016-17 is expected to grow by 4.4 per cent, higher than the 0.8 per cent of 2015-16 but much less than the earlier market expectation of over five per cent.
Growth in the December quarter is expected to be six per cent, with record Kharif foodgrain production after a good south-west monsoon.
The ministry of agriculture estimates Kharif grain output at a record 137.51 million tonnes.
The GVA has been computed taking into the account the second advanced estimate, issued on February 15, which included the rabi harvest estimate of 134.47 mt. This would push the total foodgrain harvest to 271.98 mt in 2016-17.
GVA is a function of price multiplied by output. It seems the sharp fall in horticulture and livestock prices in the aftermath of currency demonetisation has impacted the earlier estimate.
According to an official statement, crops including fruit and vegetables account for about 60 per cent of gross domestic product in the 'agriculture, forestry and fishing' sector.
Around 40 per cent of GVA here is based on livestock products, forestry and fisheries, which is expected to see combined growth of 4.2 per cent.
"People expected agricultural growth in 2016-17 to rise to over six per cent on the back of a record Kharif and rabi harvest but it seems the price fall due to demonetisation might have had some impact on the estimates," said Mahendra Dev, director of the Mumbai-based Indira Gandhi Institute of Development Studies.
He said it was unrealistic to expect the farm sector to grow by six to seven per cent in a year unless growth in the previous year was around negative five per cent.
"Agricultural growth of 4.4 per cent in a financial year is fairly good, considering that growth in 2015-16 was less than one per cent," D K Joshi, chief economist at rating agency Crisil said.