A resurgent SpiceJet is spreading its wings and Vistara is set to challenge Jet on long-haul routes in the coming years.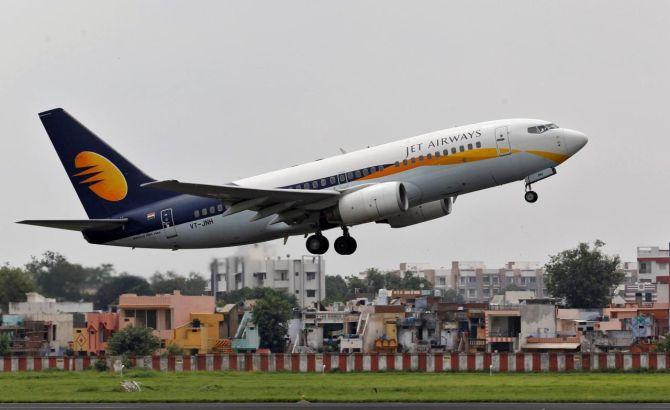 On the eve of its 25th anniversary, Jet Airways is planning to put the airline back in the reckoning.
The Naresh Goyal-promoted airline is hoping to wrestle back business on domestic and international routes from its more nimble rivals through a slew of measures.
On the cards are a brand refresh with new products on board its Boeing 737 and 777 planes and a revamped website and mobile application for better customer engagement and revenue gains.
"The introduction of Boeing 737 Max planes will change on-board experience. We are changing the interior of Boeing 777 and will elevate business-class seats, which we feel would be a game changer," said Vinay Dube, the airline's chief executive officer.
Jet will also revamp its mobile application and website with different capabilities both for commerce and customer service.
There would be more changes.
"We are also looking at other aspects like (check-in) queue times, speed of first bag delivery and so on," Dube said.
The airline had 85 per cent of its flights on time in April, its best punctuality performance in the last three years.
Asked about customer stickiness, Dube said that although the vast majority of air passengers in India are price sensitive, there is no single type of customer.
"Schedule, network, frequent flyer recognition and rewards are still important for a number of people. We are addressing the challenge on how to deliver to different consumer expectations," he said.
There have been concerns about Jet's partnership with Etihad Airways going south. But Dube said their partnership with Etihad "remains strong".
"We have great co-operation with them and we continue to feed each other's network," Dube said.
Jet's alliance with Air France-KLM and Delta had displeased Etihad, leading to speculation that it may pull out its investment.
Dube said Jet was not in talks with Air France or Delta to sell stake and was not planning to join Skyteam or any airline alliance at moment.
However, he said the airline would continue to expand by deepening existing partnerships.
While Goyal and his wife Anita are actively involved in airline operations, son Nivaan is being groomed for a bigger role.
"Nivaan continues to play an important role at Jet and is part of our transformation team. He is smart and capable young man. He does not take his place, his position or legacy for granted. What the future holds I cannot say right now, but I think it is going to be bright," Dube said.
When Jet's first flight 9W 321 took off from Mumbai to Ahmedabad on May 5, 1993, it did more than just transport 132 passengers.
The flight changed the face of Indian aviation long accustomed to drab and unreliable service.
"Jet's high level of service quality in the first 15 years made India proud - at home and globally," said Kapil Kaul, CEO-South Asia of Centre for Aviation, a consultancy firm.
With its stylish uniforms, fresh feel in aircraft cabins and focus on customer service, Jet dominated the domestic skies till June 2012 until IndiGo sped past.
Now, it faces even more competition.
A resurgent SpiceJet is spreading its wings and Vistara is set to challenge Jet on long-haul routes in the coming years.
Jet is the only surviving airline of the era. East West Airlines started in 1992 and closed four years later. Damania Airways and NEPC folded up, too.
With new competition from no-frills brands like IndiGo, GoAir and SpiceJet and Kingfisher, two significant decisions during that period - the acquisition of Air Sahara and aggressive international foray- hurt its finances.
Good news came in the form of Kingfisher shutting down in 2012, but it was not able to capitalise on its legacy, loyal customer base and the acquisition of the low-cost Air Sahara.
A stiff opponent of foreign airline ownership in Indian carriers, Goyal changed tack in 2013 and on-boarded Etihad Airways, which bought 24 per cent stake in the airline and infused much-needed capital.
Capital remains a concern as its net worth is negative, while its debt stood at Rs 8,400 crore in December 2017.
But things could get better according to Kaul.
"With the new and stronger leadership in place and possibility of recapitalisation, Jet can recover and restore its earlier leadership position," he said.
The airline's former CEO Steve Forte also said: "While low-cost carriers are seemingly successful in present times, Jet is very much an airline to be reckoned with."
Photograph: Amit Dave/Reuters