At a face value of ₹2,893 and interest payout of 2.5 per cent, sovereign gold bonds offer the best route to invest in the yellow metal, says Tinesh Bhasin.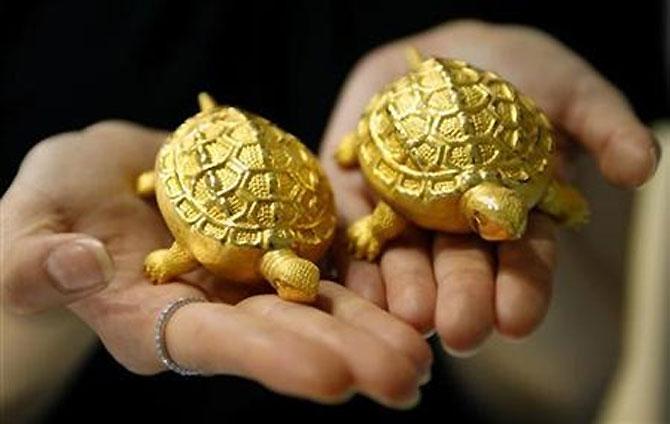 Investors who had put money in sovereign gold bonds (SGBs) in the past four issues would be sitting on losses at present. That's probably why the government has tried to sweeten the deal in the new tranche by offering a discount of ₹50.
The new SGB has a face value of ₹2,893, a price that many analysts feel is attractive.
The last four tranches of SGBs came at a price higher than ₹2,900 a gramme. The third tranche issued in March 2016 had a face value of ₹2,916 a gram.
The fourth, fifth and sixth tranches were priced higher at ₹3,119, ₹3,150 and ₹3,007 per gram respectively.
According to a note from HDFC Securities, the returns on these would be negative, ranging between four per cent and 11 per cent, based on the trading price on the National Stock Exchange (NSE).
"We expect the price of gold to remain range-bound in 2017. Any buying below ₹2,900 a gramme is attractive. We have a strong rupee at present, which automatically brings down gold prices marginally, as it is an imported commodity," says Bhargava Vaidya of B N Vaidya Associates, an independent bullion analyst.
The rupee is trading at 66.71 against the dollar. Vaidya feels it can depreciate to 68.
Ajay Kedia, director at Kedia Commodities, says he expects gold to remain between ₹27,500 and ₹30,500 this year. The price can rise in the second half of the year as demand soars due to festivals and marriages.
The price will also depend on the tax rate levied under the goods and services tax, which many expect to be higher than the current rate.
Investors have gradually started shifting to SGBs instead of buying physical gold. This trend is evident if one looks at the amount of gold that could be bought with the money mobilised through SGBs.
Money mobilised in the first tranche was worth 916 kg of gold, while in the sixth issue it rose to 3,550 kg worth of gold.
The government has made the bond attractive for investors by letting them invest in as little as one gram of gold, on which the government pays an interest.
Until the fifth issue, the interest rate was 2.75 per cent a year. It was brought down to 2.5 per cent in the last tranche, which is still an attractive rate, according to analysts.
The tenure of the bond is eight years but investors can exit after five years without paying a penalty.
Redemption of these SGBs by an individual will be exempt from capital gains tax. Long-term capital gains earned by a person on transfer of SGBs will be eligible for indexation benefit.
To provide liquidity, these bonds are listed on the BSE and the NSE. But the transaction volumes are low.
Investors may therefore have to sell at a slight discount. However, they can also borrow against these bonds.
Note: The lead image is used only for representational purpose.