Gift Nifty will provide Indian investors cues on how domestic markets could react to global events.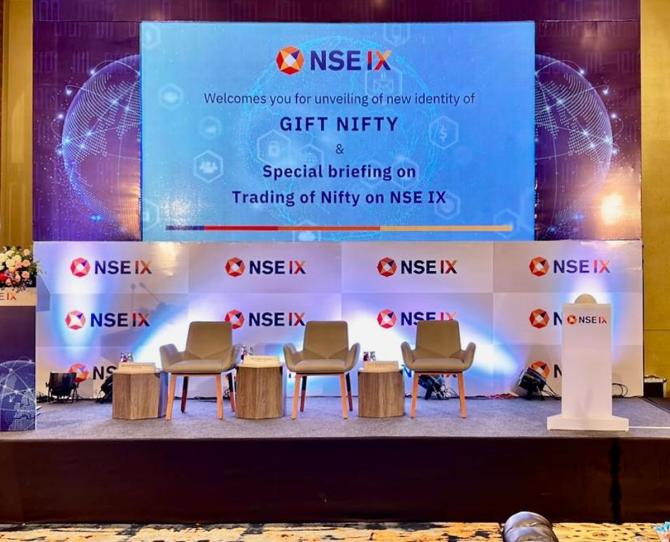 The term Nifty has become synonymous with trading.
The Nifty 50 and Bank Nifty indices are most-tracked by traders and are barometers for market sentiment.
Starting July 3, market participants will hear another term more often: Gift Nifty. Who is this new kid on the block? Let's find out:
What is Gift Nifty?
Well, it is not a kid. It was already very popular in its earlier avatar: SGX Nifty.
Nifty derivatives contracts traded on the Singapore Exchange (SGX) were referred to as SGX Nifty.
Trading in these contracts will now take place on Gujarat International Finance Tec-City (GIFT City) under a special arrangement between SGX and the National Stock Exchange (NSE), which owns the Nifty-branded indices.
The arrangement is popularly known as NSE IFSC-SGX Connect.
NSE IFSC stands for NSE International Financial Service Centre (IFSC), the exchange's arm operating out of Gift City IFSC.
Essentially, all the trades emanating from SGX will be routed and executed at Gift City.
When will Gift Nifty trading go live?
The NSE IFSC-SGX Connect–it has been in the works for over four years -- will become fully operational from July 3, 2023.
All fresh contracts will be issued for Gift Nifty instead of SGX Nifty.
Meanwhile, all outstanding SGX Nifty will be fully transferred to NSE IFSC at Gift City for order matching.
Why is trading moving from SGX to Gift IFSC?
In 2018, Indian bourses terminated data-sharing pacts with their foreign counterparts in a bid to prevent export of domestic markets.
The move could have technically put an end to Nifty contracts getting traded at SGX as the Singapore bourse couldn't have used the Nifty nomenclature.
This led to a lengthy legal dispute between NSE and SGX. Both the exchanges were engaged in arbitration proceedings under the Arbitration and Conciliation Act.
In the interim, Nifty derivatives will be allowed to be traded on the SGX.
The solution emerged out of the arbitration was the NSE IFSC-SGX Connect programme.
How do both exchanges gain from this?
NSE gets a license fee from SGX for use of Nifty-branded indices.
Nifty trading has gained popularity on SGX, where it is one of the most-traded derivatives contracts.
At a recent analyst call, NSE MD & CEO Ashishkumar Chauhan said the entire revenues generated from Gift Nifty trades will go to SGX for the initial few years.
Thus, SGX will be able to protect its revenues as long as trading in Gift Nifty remains as popular as SGX Nifty.
How does it benefit domestic investors?
Trading in Gift Nifty will be cheaper from a tax and transaction cost point of view compared to onshore Nifty.
However, domestic investors will not be able to trade Gift Nifty.
Only those registered with SGX will be allowed to deal in the index.
Anyways, Gift City IFSC is like an overseas jurisdiction from an Indian investor's standpoint and is primarily aimed at foreign participants.
The Gift Nifty index, however, will provide cues for Indian investors on how the domestic markets could react to global events when our home markets are shut.
Trading in Gift Nifty is likely to take place for 22 hours, while domestic derivatives markets are open between 9.15 am and 3.30pm.
As a result, the Gift Nifty will act as a near all-day indicator of where Nifty is.
Feature Presentation: Rajesh Alva/Rediff.com