A look at the financials of some of the key companies in the Sasikala clan's business empire.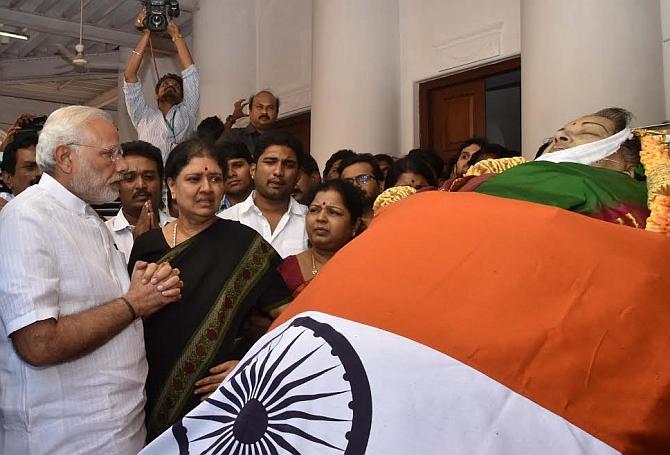 IMAGE: Prime Minister Narendra Modi with Sasikala at the late chief minister's lying in state.
On December 6, when former Tamil Nadu Chief Minister J Jayalalithaa's mortal remains were kept at the Rajaji Hall in Chennai for the public to pay their respects, many were wondering who the middle-aged man in chocolate-coloured shirt and spectacles standing to the left of her body was.
Meet Koothaippar Sathiyamoorthy Sivakumar.
Not many know that Sivakumar's prominence in those final hours of the former All India Anna Dravida Munnetra Kazhagam supremo was an indication of the key position he holds in the business empire of her confidante and heir apparent V K Sasikala.
Sasikala, who herself did not have any children from her marriage to former state government official M Natarajan, seems to be relying on her extended family to manage these interests.
'Chinnamma' now to some AIADMK cadre, Sasikala was born with five siblings -- brothers Vinodhagan, Dhivakaran, Sundaravadanam and Jayaraman; and sister Vanithamani. The children of these five and their spouses form the extended Sasikala clan.
While Sasikala herself is not on board of these companies, she has shareholding in Jazz Cinemas and Mavis Satcom. Sivakumar, son-in-law of Sasikala's elder brother, became the director of several companies run by her family in June 2012, corporate affairs ministry records showed.
As on date, Sivakumar, married to Sundaravadanam's daughter Prabha is on the board of 13 companies. The business interests of these companies are spread across media, liquor, movies, finance, steel and real estate.
The son-in-law of Jayaraman, K Karthikeyan, is also on the board of most of these companies. Karthikeyan was seen standing on the far right at the Rajaji Hall.
Business Standard looked at the financials of some of the key companies in this empire. An e-mail seeking comments sent to the official e-mail IDs of these companies did not elicit any response.
Midas Golden Touch Distilleries
Set up in 2002, during the second term of Jayalalithaa, Midas Golden, as the name suggests, is the cash cow for the group.
Based in Sirumathur village near Kancheepuram, Midas manufactures Indian-made foreign liquor and is a major supplier to the Tasmac shops run by the state government.
The firm had a bumper year as its operating profits zoomed four times to Rs 48.79 crore up from Rs 11.25 crore in FY15. It clocked a net profit of Rs 27.36 crore on sales of Rs 680.86 crore in FY16. No wonder, prohibition was one of the key planks of rival Dravida Munnetra Kazhagam's M K Stalin in the campaign for the assembly elections concluded in May 2016.
Midas had a capital of Rs 3.1 crore. Of this, Jazz Cinemas and Signet Exports owned 48.4 per cent each, while two individuals -- M R Anbukkarasu and S Nagaiyan -- owned the remaining shares. These two were the original directors when the firm was launched 14 years ago.
A person named R Kittappa was the managing director of the firm briefly between 2003 and 2004 before Sivakumar came on board in June that year. Karthikeyan joined Midas in 2012.
Mavis Satcom
This is the broadcasting company established in 1998 that runs Jaya TV and other television channels. Sivakumar and Karthikeyan are not on the board of this company.
However, Sivakumar's wife Prabha Sivakumar is its managing director. Prabha's sister Anuradha also plays a key role in managing the affairs of Jaya TV.
Anuradha is married to T T V Dinakaran, an AIADMK Rajya Sabha member and the elder son of Vanithamani. Mavis recorded a profit of Rs 51.09 crore in FY15 on an income of Rs 136.64 crore.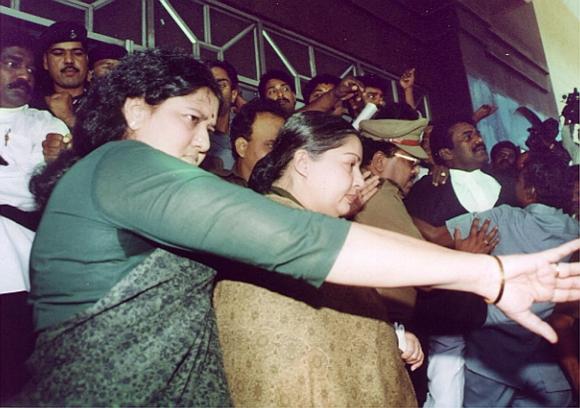 IMAGE: A file photograph of Sasikala with Jayalalithaa.
Mavis, with a share capital of Rs 86.94 lakh, had 67 shareholders as of March 2015. Sasikala herself was the largest shareholder in this company with close to 81 per cent holding. Signet Exports and Jazz Cinemas held four per cent each in Mavis, filings showed. The rest was held mostly by individuals including members of the extended Sasikala family.
Jazz Cinemas
Originally established as Hot Wheels Engineering, this firm rose to prominence when it acquired an 11-screen multiplex in Phoenix mall in Velachery, early in the last tenure of AIADMK that began in 2011. It has since got into other property acquisitions across the state.
Jazz made a net profit of Rs 4.54 lakh on a turnover of Rs 1.48 crore in FY14. It earned Rs 1.09 crore from ticket sales for cinema shows. Rent from agricultural land brought in Rs 16.52 lakh. The company had fixed assets of Rs 8.2 crore and investments of Rs 5.2 crore.
The balance sheet refers to properties in Bodinayakkanur, Pattukottai and the Cauvery theatre in Chennai, which was worth about Rs 3 crore. Its key investment includes the stake it holds in group flagship Midas Golden Touch.
Much of this seemed to have been funded by long-term borrowings, which stood at Rs 14.5 crore. According to the latest annual return of Jazz filed in 2014, Sasikala herself owns 41 per cent, while her sister-in-law (Jayaraman's widow) J Ilavarasi owns 10 per cent, 49 per cent is owned by Sri Jaya Finance and Investments.
Signet Exports
Signet, which has a capital of Rs 1 lakh, did not have any major business activity. For FY15, the latest year for which financials were available, Signet did not report any sales and incurred a loss Rs 17,025.
For the year ended March 2014, it reported nil sales and a net loss of Rs 22,838. Accumulated losses on the balance sheet stood at Rs 4.35 lakh. Its shares are equally owned by V R Kulothungan and P R Shanmugam.
Kulothungan is said to be the nephew of Sasikala's husband M Natarajan.
Signet had borrowed Rs 5.72 crore of which Rs 2.66 crore went into purchase of the Midas Golden shares. It also had an investment of Rs 2.56 crore in Mavis Satcom.
Sri Jaya Finance & Investments
The latest shareholding pattern filed by this company as of March 2015 showed that Ilavarasi owned 90 per cent stake with V S Sivakumar owning 10 per cent.
Sri Jaya incorporated in 1994 had a paid-up capital of Rs 1 lakh and a turnover of Rs 8.5 lakh. The net profit was Rs 3.86 lakh. The net worth of the company was declared as Rs 31.88 lakh.
This company also owned some agricultural land in Bodinayakanur, a small town in Theni district, and the assembly seat of Jayalalithaa in the 1990s. This company also had long-term borrowings of Rs 15.97 crore. It had lent out Rs 5.2 crore. It did not reveal the identity of its debtors and creditors.
Other companies where Sivakumar and Karthikeyan are directors included Curio Auto Mark, A World Rock, Aviry Properties, Fancy Steels, Cottage Field Resorts, Sri Hari Chandana Estates and Khazana Finvest.
These companies are different from the 32 entities, which were named by the trial court in the disproportionate assets case, in which Sasikala and Ilavarasi were named accused in addition to Jayalalithaa. Although the high court ruled in their favour, the case is before the Supreme Court for final judgment.