For any airline to be eligible for restructuring, the current ratio has to be equal to or higher than 0.4, while 'debt to Ebitda' has to be equal to or less than 5.5.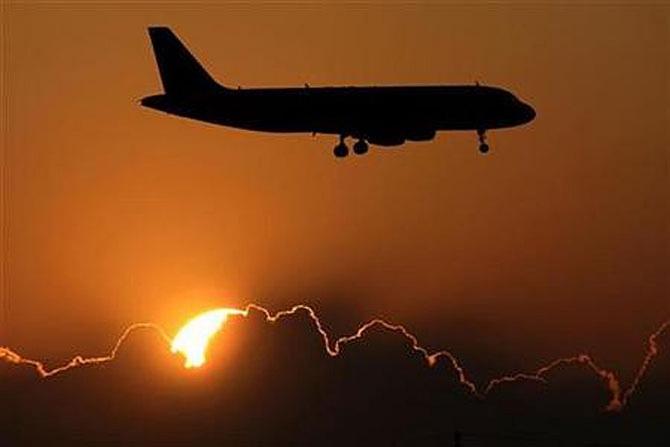 Indian airlines, struggling with a pandemic-related demand slump, have sought from banks and the Reserve Bank of India (RBI) relaxations in the K V Kamath panel's parameters on loan restructuring.
Bank executives have said while they are sensitive to the requirements of the aviation sector, unless there are relaxations at a regulatory level, airlines may not find success in recasting loans.
Sources said SpiceJet, GoAir, Vistara, and regional airline TruJet had approached lenders for restructuring their loans.
SpiceJet and GoAir have also approached banks for fresh loans as working capital.
Executives of private airlines have said while they have asked for relaxations in their negotiations with lenders, it has been conveyed to the RBI through the ministry of civil aviation that the cash flow of airlines may remain under pressure for some more time and the eligibility criteria will be difficult to meet.
They also want banks to be more amenable to giving fresh credit lines.
"In our communication with lenders, we have pointed out that airlines will require at least one more year to come back to profitability.
"While the government has allowed opening up almost 80 per cent operations, this lean quarter of the post-holiday season (January-March) will stress profitability as there will be more capacity but fewer passengers," said an executive of a private airline.
The Kamath committee had advised lending institutions to consider five ratios in restructuring: outstanding liabilities to adjusted tangible net worth; debt-to-earnings before interest, tax, depreciation, and amortisation (Ebitda); the current ratio; the debt service coverage ratio; and the average debt service coverage ratio.
For any airline to be eligible for restructuring, the current ratio has to be equal to or higher than 0.4, while 'debt to Ebitda' has to be equal to or less than 5.5.
"The current ratio of a typical airline in India will never exceed 0.3. Hence, 0.4 is a relatively high ask," said the chief financial officer (CFO) of a private carrier.
The panel had defended the high parameters for the sector, saying airlines used the cash-and-carry model for revenue, thereby creating almost zero debtors and higher current liabilities in the form of advance from customers.
These advances constitute approximately two months' sales for airlines.
"In theory, it sounds solid.
"However, in a condition where airlines have to give heavy discounts and yet remain unsure of getting flyers back, the cash-and-carry revenue model theory doesn't work.
"Airlines are selling tickets at discounted prices, while fixed costs like airport charges, lease rentals, and jet fuel cost remain high, thereby negating the theory," said the CFO.
According to the RBI, companies do not require any resolution plan in any form to be submitted to lending institutions at the time of request for invocation.
"Borrowers are required to merely submit a request to banks for being considered under the resolution framework.
"Accounts which do not meet the eligibility conditions to be considered for resolution under this framework may continue to be considered under the prudential framework, or the relevant instructions as applicable to the specific category of lending institutions where the prudential framework is not applicable," the RBI said.
While market leader IndiGo has been successful in getting a fresh credit line of Rs 600 crore, the ones with weaker financials haven't been able to do so.
According to media reports, low-cost airline SpiceJet has approached YES Bank for fresh working capital of Rs 500 crore and restructuring existing loans.
Sources say the bank hasn't yet accepted it and will insist on a commitment of fresh infusion from the promoter after restructuring.

IDFC First has agreed to increase the repayment period over a loan of Rs 50 crore, which the airline had taken in 2020-21 (FY21), despite the company failing to maintain a debt service coverage ratio of 1.25, one of the conditions set while giving the loan.
The airline had posted losses in the last two financial years.
The company's negative net worth stands at Rs 2,286.63 crore as of second quarter in FY21.
Sources said GoAir, which the Wadia group owns, had approached the Central Bank of India for fresh credit of around Rs 2,000 crore, which the banks hadn't agreed upon and sought higher collateral.
The collateral by way of land offers more comfort to banks because they can sell it in the case of default.
For the quarter ended September 30, 2020, on a standalone basis, SpiceJet's liabilities stood at Rs 14,379 crore.
Executives of banks say while in sectors like hospitality, power, and entertainment, they are open to formulating a restructuring plan even if the conditions laid down are not met, with respect to aviation, lenders are wary of making exceptions.
"Companies in the other sectors saw increased stress.
"So we have a better assessment that as demand returns, their repayment capacities will improve because they were stable businesses before Covid.
"The aviation industry was highly leveraged and the certainty of normalcy is difficult to extrapolate for all players in a uniform manner.
"So it's tough to make an exception for airlines," said a banker.
Photograph: Max Rossi/Reuters