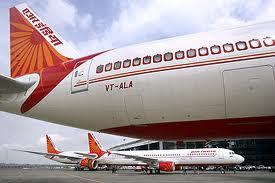 Amid the demand from the Union civil aviation ministry for induction of Rs 1,200 crore (Rs 12 billion) as fresh equity into Air India, Prime Minister Manmohan Singh on Wednesday said the government is actively considering helping the national carrier.
Along with the Air India, state-owned telecom firm BSNL is also likely to get the government support.
"Enterprises which are facing difficulties, such as Air India and BSNL, are receiving the due attention of the government," Singh said.
The prime minister was addressing an award function of the Department Public Enterprises and PSUs' body SCOPE in New Delhi.
Saddled with the loss of Rs 5,551 crore (Rs 55.51 billion) in 2009-10, Air India is seeking induction of fresh equity to improve its balance sheet.
Civil Aviation Minister Praful Patel met Plan Panel Deputy Chairman Montek Singh Ahluwalia on Tuesday in this regard.
A Cabinet note on equity infusion proposal has already been circulated among the key economic ministries, including finance.
If the proposal is approved, it would be the second tranche of equity infusion since 2008-09 when Rs 800 crore (Rs 8 billion) was released to the beleaguered carrier.
BSNL, which used to be the flagship telecom company, lost market share to the private sector operators and posted its first loss at Rs 1,822.65 crore (Rs 18.226 billion) in 2009-10.
Talking about the ailing public sector units, the prime minister said that 20 out of 39 companies revived by the Board of Reconstruction of Public Enterprises, were making profits.
"We must ensure that these improvements are sustained in the long run, and these companies do not need to come back to the government for fresh revival packages," he added.