Around 2,500 engineers and 45,000 cash management employees step up efforts to complete the target of recalibrating 12,500 ATMs every day.
Nupur Anand reports.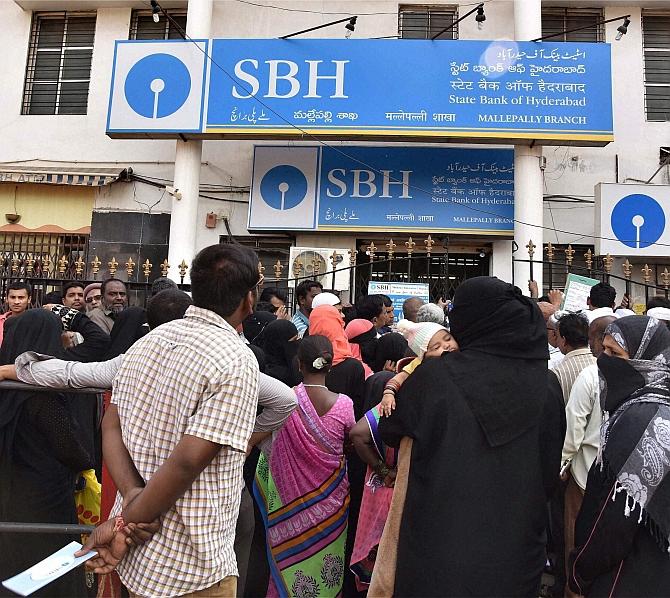 Pulled-down shutters and long queues outside ATMs had been a common sight in the last two weeks.
But as a task force of around 50,000 workers have begun working round the clock and recalibrating the ATM networks, the number of ATMs that are up and functioning has steadily increased from 3,000 on last Tuesday to approximately 75,000 by end of the day.
Last week, a task force was set up under Reserve Bank of India Deputy Governor S S Mundra with the idea to increase the speed of recalibration of the ATM network.
This task force includes members of the RBI, the ATM manufacturing company, cash logistics firms, banks etc to ensure that these ATMs can be up and running soon.
Players explain that the employees working on this mammoth task of recalibrating 202,801 ATMs (data till August 2016) is around 50,000.
This includes around 2,500 engineers and about 47,000 employees of the cash management firms.
And the total number of cash vans available for this task is only 8,800.
To make matters more challenging, at any given point of time it takes about 5 employees to come together to recalibrate an ATM and coordinating this to fix up the vast ATM network had become a huge challenge.
But now with the coming of the task force, there are about 28 employees, one representative from every organisation in the process, who are sitting in one control room stationed out of Mumbai and monitoring the situation closely.
"The resources that the industry has are limited and we suddenly can't hire people or increase the number of cash vans," explains Rituraj Sinha, President, Cash Logistics Association of India.
"Therefore," he added, "this timely intervention by RBI and government of forming a task force has been extremely beneficial as we are all able to pool in the resources and collaborate."
He explains that with the coming together of these players, the resources can be exploited more effectively. " For instance if a cash van is in Sangli, then he will know which particular engineer can be available for an ATM near them, he will know that person's address and can reach them without wasting time. This helps us in avoiding any duplication of sorts as we know which ATM has been recalibrated and cash vans can rush there instead of waiting," explains Sinha.
This task force has also been zeroing in on high footfall areas such as hospitals, stations etc and is ensuring that the ATMs are recalibrated in these areas faster.
There has been a gradual decline in the number of people waiting outside ATMs in the last two days and the bankers and the ATM manufactures expect this numbers to go down steadily.
Experts explain that typically in one ATM cassettes (cash tray) 2,500 notes can be loaded and without recalibrating these ATMs could load only about Rs 2,50,000 as compared to close to Rs 60,00,00. As a result, the ATMs were running dry sooner leading to a need for quicker replenishment which had been difficult.
Vipin Jain, CEO, Logicash Solutions, a cash management solutions company explains that typically the average ticket size of a withdrawal from an ATM is Rs 2,000-2,500 and therefore if the ATMs are recalibrated in the next few days, the chaos that has been after effect of demonetization will ease.
He adds that one thing that has been critical to ensure quick progress of the ATM network is-the pace of execution.
"Now that everyone has polled in their resources that big challenge of speed has been taken care of. Moreover, our employees have been working for 16-18 hours a day since the date of the announcement, employees are not taking leaves and now with companies doing it in a more organized way we can see that more ATMs are up and running."
With the progress made in the last few days the players are hopeful that the ATM network can be restored in the next ten days at least in the urban areas. Now, the hinterland may remain a challenge and may take longer due to logistics issue.
In order to address this, the government is even using helicopters and Indian Air Force planes, to move the cash quickly from the printing press to the main distribution centres. Lenders are also increasingly encouraging the use of micro ATMs and partnering with banking correspondents to make cash available to customers. Apart from this it has also been allowed that money can be withdrawn swiping the cards at 2,500 petrol pumps (the scale will be ramped up to 20,000 gradually), which use State Bank of India point of sales.
Image: People wait to withdraw money at SBH Melapally in Hyderabad on Monday. Photograph: PTI Photo