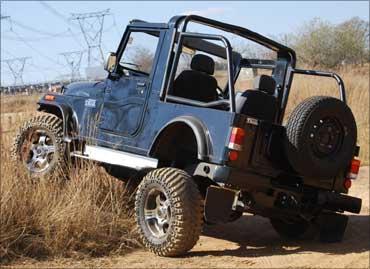 The Mahindra Group survived the oil crisis of 1973 with a simple innovation - replacing its Jeep's Hurricane engine with a customised version of its diesel tractor engine.
I (Bharat Doshi, non-executive director, Mahindra Group) joined the Mahindra Group in 1973, just before the oil crisis hit the world.
At that time, Mahindra had a monopoly on jeeps, selling about 14,000 vehicles a year, costing about Rs 35,000 each.
We were cruising nicely and then the oil crisis hit us. Oil prices zoomed up from $3 a barrel to $12 a barrel as a result of OPEC countries from the Middle East (West Asia) proclaiming an oil embargo by significantly curtailing oil production.
Our only product, the Jeep, was running on a 1955-designed Hurricane engine - a petrol-guzzler.
Due to rising petrol prices, the overall auto demand just crashed in the country.
From selling 14,000 Jeeps in 1973, we slipped to selling just 7,000 vehicles within just three-and-a-half years by 1976.
Add to that, the way the government controls worked, it was anti-business.
There was industrial licensing, MRTP Act requiring permission from 17 ministries before a company can propose expansion plans or start production in a new unit.
This was also a time when inflation was very high and there were dark political clouds as government had imposed emergency in 1975.
We realised that in order to survive, we had to fit diesel engine instead of petrol engine, as soon as possible because diesel cost was one-third the cost of petrol at that time.
But if we wanted to import engine technology, say from Peugeot, then it would have taken us two to three years just to obtain permission, because foreign exchange was scarce and the government was very tight fisted in approving payments for technology.
It was one of the toughest periods for us. For the first time, pink slips were handed out at Mahindra - something which was unheard of.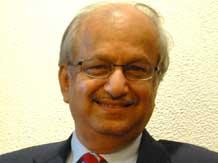 The company offered VRS package to its officers and 75 of them left the company under that scheme.
But Mahindra has been a resilient company and resilience was in our DNA. We realised our survival depended on a new engine - running on diesel.
Our first strategy was try and improve the petrol engines, as we could not wait to acquire imported technology.
Our executive director at that time, Kumar Sardesai, who was earlier heading International Tractor Company of India (ITCI) - led a project team to convert the high-power, low speed, diesel tractor engine into a high-power, high speed diesel engine for Jeep application, within a period of six months.
The team did it and we were back in business.
It was an ingenious innovation. In 1979, when we got advanced petrol engine technology from Peugeot and its localised version was launched in the market, it was popular but yet, a large portion of the rural market still wanted the customised tractor engine which we had introduced.
This is because the rural market found it easier to service as mechanics and service centres in rural areas were very familiar with the Mahindra tractor engine.
That engine continued in operation in our Utility Vehicles as late as the year 2000; so, an innovation born out of necessity actually became a long-term demand and competitive advantage for us.
The tractor arm was a separate company in the Group - then called International Tractor Company of India (ITCI) - an equity partnership of Mahindra (providing manufacturing and management), International Harvester (providing technology) and Voltas (providing marketing and sales). In 1972, the tractor company was competing against five players.
On the one hand, we had a monopoly with Jeeps and on the other hand, we were neck-deep in competition when it came to tractors.
At that point, the government imposed a price control on tractors. During price control period, the cost kept on increasing even before our price increases were cleared by the government.
Inflation was running at 14 per cent in 1973-74. It took the Bureau of Industrial Costs and Prices (BICP) one year to examine the cost, and then grant the price increase.
By the time one proves the increase in cost to the government officials, another 14 per cent gets added to the cost burden which remained to be recovered.
There was a one-year lag, and a point arrived when the tractor had to be sold at lower than the variable cost.
The government declared tractor as essential commodity under the Essential Commodities Act and took away the option of the manufacturers to cut production.
For every tractor we sold, we were losing Rs 5,000. The suppliers were not supplying us components and we knew that at this rate, our tractor company was bound to become sick.
In the meantime, International Harvester had a major strike in the US and were unable to put in any more capital into the tractor company.
The other promoters of the tractor company, Voltas, also backed out from investing more.
Because of the price controls, Voltas felt that it was no longer remunerating enough for them to take on the marketing responsibilities as the marketing margins had become very thin. The baby was then left for us to manage.
The suppliers too were not willing to supply components to ITCI due to substantial delay in payments.
The tractor company though struggling, survived, as it got a lifeline by using its idle capacity to supply diesel engines to Mahindra for its Jeep application.
This strategy ensured survival for both - Mahindra and ITCI. Thereafter, in 1977 the merger of ITCI into Mahindra was proposed.
At that point, had we gone to the government for permission to make other types of vehicles, we would not have got it.
But here was a company where the technology and innovation could work for both tractors and jeeps - we really managed the tough period. Post 1979, the market picked up and contemporary diesel engine technology also came in.
In the aftermath of the oil crisis, we had two companies - the auto company suffering from the Hurricane petrol engine and the market demand going down, and the tractor company suffering from the regulatory requirements, price controls, idle capacity and constraints of the Essential Commodities Act - surviving by helping each other.
This is the ability and DNA of the group to fight and emerge winners in a difficult environment and when odds are against us, for example.
In the second part of this two-part series from the Mahindra Group, Arun Nanda, chairman, Mahindra Lifespaces, & chairman, Mahindra Holidays, will talk about how the business evolved in the 1980s.
Image: Mahindra Thar
Photograph: Courtesy, Mahindra Group