The latest round of trouble comes at a time when Sun TV is facing tough competition in Tamil Nadu.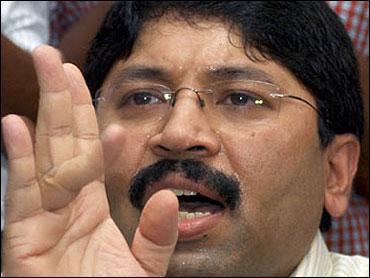 The investigation into the 2G scam hangs like Damocles' sword over Sun TV Network, one of India's largest media conglomerates, and its 50-year-old promoter, Kalanithi Maran.
A few days ago, after it was reported that the Union home ministry had denied security clearance to Sun TV's 33 channels, the company's stock price dropped nearly 26 per cent to its 52-week low of Rs 257.45.
Though the stock recovered some lost ground after the company's management said that it had not received any such communication, its volatility and vulnerability were exposed one more time.
Maran subsequently made a spirited defence in a letter to Union Finance Minister Arun Jaitley.
According to reports, Maran said that "Sun TV was singled out unjustly" for such treatment and added that it was questionable whether the home ministry should be making this judgement call.
He went on to say that there are several TV companies controlled by business conglomerates that are facing cases of corporate espionage, are under investigation for the 2G scam or are accused in cases of disproportionate assets, but their security clearances have not been revoked.
Maran pointed out that all telecom companies were allowed to bid for the recent 3G and 4G spectrum auctions and all power companies were also allowed to participate in the recent coal auctions, despite pending cases with various investigating agencies.
Analysts say the company's fundamentals may be sound but the troubles faced by Maran have caused a lot of volatility.
It was not Sun TV alone - even SpiceJet (owned by Maran till a few months ago) felt the pressure.
Sources close to the family say private equity funds were at the verge of infusing money into the low-cost airline but pulled out because of the Central Bureau of Investigation probe into the Aircel-Maxis deal.
In September 2014, CBI began proceedings against Dayanidhi Maran, younger brother of Maran, for forcing C Sivasankaran, promoter of Chennai-based telecom firm Aircel, to sell his stakes in the company and two subsidiaries to Maxis of Malaysia when he was the Union telecom minister.
It is alleged that Maxis, in return, invested in Maran's DTH business, Sun Direct.
Dayanidhi denied the allegations. "No one can arm twist Sivasankaran. He is a multi-billionaire. No one can force him to sell stake."
He questioned Sivasankaran's decision not to seek legal redress against the pressure and gave a political colour to the CBI investigations.
"CBI should be a fact-finding machine and not a fixing one…. I am being singled out. CBI is fixing me to please a Rashtriya Swayamsevak Sangh ideologue from Tamil Nadu," he said.
On April 1, the Enforcement Directorate announced that it had attached the properties and shares of the Maran brothers and Maran's wife, Kaveri, in this connection.
A petition by Sun TV Network and Kal Communications, both promoted by Maran, against the action was dismissed by the Madras High Court on June 10.
The company's contention was that the properties attached were in no way connected with the alleged crime.
Sun TV group's CFO, SL Narayanan, did not respond to questions sent by Business Standard.
On June 6, it was reported that Sun TV had applied to the Union information & broadcasting ministry for renewing its licence for 10 years, which in turn required security clearance from the home ministry.
The home ministry was not in favour of granting permission owing to the pending cases.
While nervous investors were somewhat calmed by Narayanan's assertion on television that the company had not received any such communication from the ministry, Motilal Oswal Securities said in a recent report that it is no longer able to assign a rating on the stock, given the escalating regulatory uncertainty, and it has, therefore, withdrawn its rating.
Some analysts think shutdown of the Sun channels is "a low probability event".
An analyst says if any such event happens, the company will go to the court and the matter will drag on for some time.
He also says that one should look at the political connections behind the whole drama. Marans' uncle, M Karunanidhi of the DMK, is the main rival for the ruling AIADMK in Tamil Nadu.
"I don't have to say more about it," he says.
Kotak Securities stated that while it believed "the uncertainty regarding grant of up-linking/downlinking licences may be the biggest challenge faced by the company", a shutdown is unlikely to happen.
In the past, a similar uncertainty had stared Maran's FM radio business, when the home ministry had denied clearance, but the company managed to get relief from the Madras High Court.
However, Motilal Oswal Securities said that the diversion of management focus due to escalating regulatory uncertainty could impact Sun TV Network's business.
One analyst says, in spite of the regulatory issues, Maran remains a "smart" businessman: he knows how to run a business and if he feels he will not be able to run it, he won't hesitate from walking out of that business. SpiceJet is a good example of this.
Maran had invested over Rs 2,000 crore or Rs 20 billion in the airline, which he had bought from American investor Wilbur Ross and the UK-based Kansagra family in June 2010.
At that time, the aviation industry was doing well. The initial quarters under Maran were good. After 10 years of losses, SpiceJet made a profit of Rs 101 crore or Rs 1 billion in 2010-11.
After that came a string of losses: Rs 606 crore or Rs 6.06 billion in 2011-12, Rs 191 crore or Rs 1.91 billion in 2012-13 and Rs 1,003 crore or Rs 10.03 billion in 2013-14.
In January, 2015, Maran sold a majority stake in SpiceJet to Ajay Singh, a former promoter of the airline.
The latest round of trouble comes when Sun TV is facing tough competition in Tamil Nadu, though it is expected to strengthen in Andhra Pradesh, Karnataka and Kerala, according to LKP Securities.
The implementation of the Digital Addressable System in South India would benefit the company in its subscription revenues, even though it would be a while before that happens, it added.
How the company is going to use its capabilities and experience it gained through all these years to overcome the regulatory challenges and utilise the opportunities is one thing everybody would be looking at now.