'If you allow Walmart to operate in India, our manufacturing will finish completely.'
'What will happen to Narendra D Modi's dream then? There will be no Make in India.'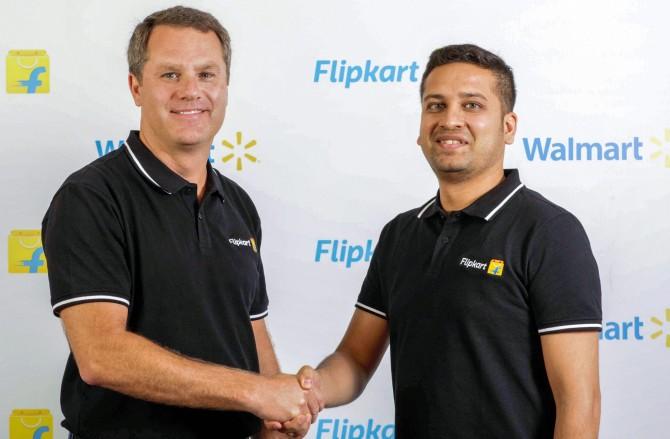 The talking point in India right now is the $16 billion acquisition of India's Flipkart by the American retail giant Walmart in what is the biggest global e-commerce deal.
With this deal, the world's largest retailer will take a 77% stake in the Indian company, in the process valuing the 11-year-old company at more than $21bn, making it Walmart's biggest acquisition.
While many feel the deal will give a massive boost to entrepreneurship and the start-up ecosystem in India, Professor Ashwani Mahajan of the Swadeshi Jaagran Manch -- the Rashtriya Swayamsevak Sangh's economic affiliate -- says Walmart is "circumventing" rules for a "back-door entry" into the Indian retail market.
"What is going to happen in India is, on one side, you have Amazon and on the other, Walmart. Both are American companies and our market will be handed over to American companies," Professor Mahajan, below, tells Rediff.com's Shobha Warrier.
Many say the Walmart-Flipkart deal marks the success of Indian entrepreneurship, but you have described the deal as 'illegal, unethical' and against the interests of the people. Why?
It is illegal because FDI is not allowed in e-commerce in this country.
But foreign investors like TigerGlobal, SoftBank, etc have invested in Flipkart...
The Swadeshi Jaagran Manch raised this issue in 2016 and said it should be stopped. People asked, why?
When FDI in e-commerce is not allowed in this country even now, how can these e-commerce companies operate like this?
How can a foreign company come and buy a company in India?
Why we raised our voice was because they were giving huge discounts and thereby killing our small shopkeepers, booksellers, etc.
In fact, even the suppliers were asking them how they could give 25%, 30%, 40% discounts.
When a book publisher supplies books at 25% to them, how were they able to give 40% discount to the customers?
The truth is they are using discounts as a tool to acquire the market. This is a cash burning model to capture and take over the market.
Indian e-commerce companies also give discounts...
I am not saying only they are doing it. All the e-commerce companies are opting for this cash burn model. Uber does the same thing, as also Ola.
When we raised our voice, they said they were not an e-commerce company; they were platforms.
Then we asked, how could platforms give such huge discounts when discounts could be given only by the sellers?
Then, the commerce ministry issued guidelines and they were refrained from giving price distorting discounts.
Another condition imposed on them was no vendor with more than a 25% share can operate as a platform.
Remember, the government issued guidelines for the platforms and not e-commerce.
So, this cash burning model continued. Now, they do it in the guise of B2B.
They started some subsidiary companies and started giving discounts to those companies.
Is it not true that ultimately all customers want discounts?
Would a patriotic customer like to sell his nation's market itself in the name of these discounts? I am sure nobody would like that.
If somebody is bringing in cash and burning it here, and in the process owning the market, it is not in the best interests of the nation.
It is for the government and the policy-makers to look at national interest first.
After the commerce ministry guidelines in 2006, they started circumventing the law by giving discounts to B2B which was against the law.
They are closely held companies and no data or reports are published and no returns filed. There are so many complaints against them with the government.
We have written all this in our letter to the PM.
Many in industry say this deal will open a new chapter in e-commerce in India and also lead to growth of the sector...
I don't know who in the industry describes the deal this way. The Vendors Association with 35,000 membership, the small-scale industries, many shopkeepers' associations, many traders' associations... all of them have been approaching us to save them.
Only a handful of corporates who are getting benefitted by this are applauding the deal, nobody else.
These people develop things in India in the name of swadeshi and then start searching for foreign players to buy them by paying huge money. Yes, it is happening all over the world. I mean, start-ups getting sold out to bigger players.
What is going to happen in India is, on one side, you have Amazon and on the other, Walmart.
Both are American companies and our market will be handed over to American companies now.
Walmart has no history in e-commerce. They are coming here to capture the Indian retail market through back door as FDI in retail is not permissible.
Many said kirana stores would disappear when supermarkets and hyper markets entered the retail market. Now, we have so many supermarkets like Spencer's Daily and Reliance Fresh. So also kirana stores.
We had opposed the entry of big corporates in retail also. They can operate as per the national law. But we object totally to the entry of multinational companies who come with big money.
Do you know the budget of Walmart? It is bigger than our national economy. So, for them, one lakh crore rupees is peanuts.
We have already seen the e-commerce companies in the name of platforms misusing the law and evading tax.
If this deal happens, there will be no dearth of discounts, direct and indirect.
And this will ruin all the kirana shops in India.
The model of Walmart, wherever it has gone, is to kill the small traders.
Why is it that Walmart is not allowed to open in New York City?
Why is Trump issuing statements against Amazon?
Now, they are coming here to destroy our employment.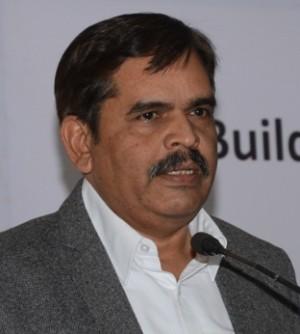 This was the argument when supermarkets sprung up here, but today, they give employment to many young men and women...
You go and ask these young people how much they are paid. Rs 5,000 to Rs 7,000! This is the kind of low pay employment they are creating.
On the other hand, our kirana stores are self-employed people and they earn good money and lead a good life.
Tell me, what kind of life do you want them to lead?
Why do you say the Walmart-Flipkart deal is unethical?
The deal is with a company that is Indian and the impact will be on the Indian market and Indian trade.
One lakh crore rupees is being invested by a foreign company in this so-called Indian company started by an Indian poster boy.
But the deal is happening in a board room in Singapore, and not on this soil. Why?
So, no tax is going to come to India. And this deal was never reported to the government.
What do you say about Indian companies acquiring foreign companies in foreign soil?
For example, the Tatas acquired steel companies in the UK and Europe.
You know what kind of company Tata is. It is a great employer.
When Tata acquired the UK company, all the employees of that company welcomed Tata.
You cannot compare Tata with Walmart. This is no value addition company, it is a cash burning company and this is a ridiculous deal.
You said it is against the interests of the people. You mean the traders?
Who are the people of this country? Only the corporates whom you can count on your finger tips?
Or, the farmers or the traders or the e-commerce vendors or the suppliers or the small entrepreneurs? They constitute 99.9% of the population of this country.
Is economics to be run for 99.9% of the population or the 1%?
What about consumers? Don't they have any choice?
Consumers are not just consumers. Can you consume anything if you don't have employment?
The whole narrative about consumers is a farce. It is against the national interest if you talk only about consumers.
Many describe the deal as a salute to Indian entrepreneurship...
We don't want to salute these small number of people, the so-called successful start-ups.
We want to salute only our farmers, workers and traders who are working hard for the country and not those who are willing to sell their own companies which were developed as swadeshi.
When this deal is between two private players and it is done, what can the government do to stop it?
Yes, the deal is between two private players, but when it has national repercussions, it needs regulatory approval from the government.
It is an illegal deal and there are issues involved in the regulatory framework, legalities, ethics and farmers.
So, the government can take a call on whether it can allow such an entity to come and operate in this sector.
We at Swadeshi Jagran Manch feel this deal is against Make in India.
Why do you say it is against Make in India?
Walmart is known for its purchases from China. All Walmart stores are selling Chinese products.
How can you expect them to sell Indian products here?
You get Indian products on Amazon like Patanjali...
There can be exceptions. We are not talking about Patanjali.
We are for the farmers and small manufacturers of this country.
In the last 26 years, our manufacturing has come down tremendously.
If you allow Walmart to operate in India, our manufacturing will finish completely.
What will happen to Narendra D Modi's dream then? There will be no Make in India.