'RCEP may be in India's long-term interest, but it is certainly not in India's short-term and medium-term interest.'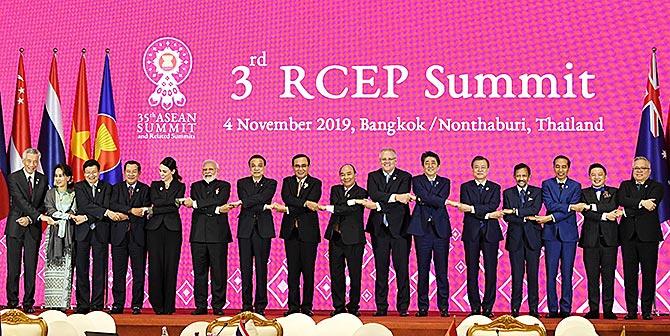 Former Union minister and Rajya Sabha MP Jairam Ramesh tells Archis Mohan that India should not rush into an agreement that is going to have deleterious effects on the industry.
Can India afford to be isolationist in an era of international economic integration and walk out of the RCEP?
We are not walking out. You walk out of something once you have agreed to it.
The RCEP is still going through the process of negotiations.
And when we negotiate, we have certain red lines which you don't cross.
Those red lines, in my view, are those that are based not just on factors of international integration, but also domestic economic realities.
If agreeing to RCEP means crossing those lines, I think we should wait.
I don't think we should rush into an agreement that is going to have such deleterious effects on an industry, which is already crippled.
It is just the wrong time to get into a trade agreement, which is going to liberalise imports from China, from various other countries, both in industrial commodities and more importantly agricultural commodities, dairy, etc.
We need to be a little cautious. I think India has enough bargaining chips. We are not so helpless.
Why do you say that?
We are a large market.
Look at the way the Malaysians are trying to negotiate.
They know without the large Indian market of palm oil, the Malaysian palm oil industry will suffer.
So, I think we have far greater leverage than we think we have.
Integration is a two-way street.
I think one of the things that the past 25 years taught us is that trade brings gains, but it also brings lots of pains. The people who gain are not necessarily the people who are inflicted the pains.
We need to step back a little and see the gains and pains in their totality and put in place the systems to deal with the pains.
For example, the US has this whole mechanism for trade adjustment.
Do we have a similar mechanism? We don't.
The only safeguard mechanism we have is the safeguards duty, which is for when there is a surge in imports.
But this is not just about surge in imports that we are talking about.
Look at the long-term trend in import where our entire machine tool industry has been decimated.
I have been pointing this out since 1986.
How can India be a major economic power without a strong machine tool industry?
Take the case of natural rubber.
In 2005-2006, imports of rubber accounted for 7%-8% of our domestic consumption.
Today it is 5%. Trade is all very well, but not at the cost of domestic industry.
You said you pointed this out in 1986, but while others like China prepared, we didn't...
We should prepare ourselves. This is not an argument for autarky.
It is not an argument for saying that we are not going to integrate ourselves.
But we have to integrate on our own terms.
Are we going to have liberalisation in services? Do we have an FTA with ASEAN in services?
The signing of the FTA with ASEAN in goods was predicated that very soon we will have FTA in services, which we haven't till today.
This RCEP is almost exclusively on commodities and goods.
We are asked to take a cost now for a future benefit, the goalpost for which keeps changing.
The Surjit Bhalla-headed high-level advisory group has said signing RCEP will particularly benefit India.
And Mr Bhalla has been appointed as our ED (executive director) to the IMF (International Monetary Fund).
So, you can imagine what the intellectual quality of that report is.
I don't need to say anything more on this.
You have said signing RCEP will be the last straw that broke the camel's back.
Today the economic conditions being what they are, we go and sign a comprehensive trade liberalisation treaty, I think the timing is simply wrong.
First straw was demonetisation; second, the hastily implemented GST; and now, RCEP, which will be particularly detrimental to our dairy industry.
But it's not just agriculture, even our manufacturing sector, including our steel industry, has concerns.
It (RCEP) may be in India's long-term, 30-40 years, interest, but it is certainly not in India's short-term and medium-term interest.