'We hope there shall be more focus on existing projects and their completion rather than new projects.'
'Any new project announcements should be largely for decongesting the existing lines rather than new lines.'
Nandan Chakraborty, Managing Director, Institutional Equity Research, Axis Capital, which recently released a report Railway 360 Degree: ACTUALLY what will happen (.pdf file, external) tells Prasanna D Zore/Rediff.com that the key challenge before Railway Minister Suresh Prabhu will be to hike passenger tariffs, which, he says, 'always faces political resistance.'
The Railway Budget 2016-2017 will be presented in Parliament on February 25, 2016.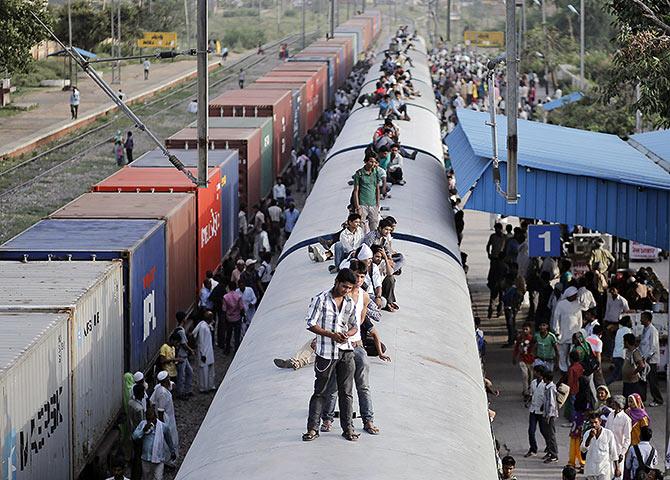 IMAGE: Passengers travel on an overcrowded train at Loni in Uttar Pradesh. Photograph: Anindito Mukherjee/Reuters
What role will the Railway Budget play in spearheading the Indian economy?
The Indian Railways are the public face of government (the single largest interface) of India, transporting the equivalent of Australia's population daily or 23 million passengers daily (2 per cent of India's population) and are a key indicator of the government's success for the public.
We hope the Railway Budget reiterates the government's continued commitment to its huge capex (capital expenditure) plan with a focus on decongestion projects.
Decongestion and increased throughput can lead to a significant reduction in logistics cost benefiting all industries.
The Indian Railways have a 5x multiplier effect on the larger economy.
What are the top three headwinds and tailwinds going forward for the Indian Railways?
Headwinds:
a. HR revamp
The Indian Railways employ 1.3 million (13 lakh) people and have 1.4 million (14 lakh) pensioners and thus any change requires to be done with kid gloves.
b. Passenger tariff hikes
Given the shortfall in volumes and the fact that DFC (dedicated freight corridor) once operational shall take away 70 per cent of the Indian Railways' freight revenue, a passenger tariff hike is a must. However, this continues to be highly political.
c. PPP (Public-Private Partnership)
Private capex is essential to achieve the Indian Railways's goals. However, the Indian Railways needs to adopt modern accounting and have an independent regulator in place in order to better align the risk reward ratio in PPP.
Tailwinds:
a. Strong support of the Prime Minister's Office which recognises the strategic importance of the Indian Railways.
b. Long term funding: With Rs 1.5 trillion (approximately $22 billion) of long term money locked in, the Indian Railways can now adopt a corridor approach rather than taking on a large number of small projects and commit themselves to outlays beyond the annual budget, which shall see interest from large well EPC (engineering, procurement and construction) players with far better execution.
c. Delegation: Tendering powers given to zonal and divisional managers with average project approval process shortened to six months versus approximately three years earlier.

Are Bullet Trains the need of the hour? What kind of benefits does this project offer for Indians/the Indian economy from such an ambitious project?
Bullet trains are expected to decongest stretches which are both passenger and freight-heavy (metro connectivity) resulting in higher throughput, improving travel experience for customers and also lowering logistics cost.
Also, it requires lesser land than roads [3.2 hectares/km (2 lines) compared to 9.3 hectares/km for roads].
It can also connect many affluent and business cities (like Surat, Vapi, etc) which don't have airports yet.
Further, in the long run, it also helps reduce the country's dependence on oil (air and road) making this a strategic consideration.
With 85 per cent of the project to be manufactured indigenously, it shall also lead to job creation.
What kind of benefits do you think Railways Minister Suresh Prabhu will offer the rail traveller?
In a recent survey conducted by the Indian Railways, it was found that what the Indian rail traveller wants is 'Timely, safe and clean on-board journey at reasonable cost'.
There has already been a significant improvement in the average travel experience with several initiatives such as e-ticketing, e-catering, cleaner stations and on board housekeeping.
With the increased capex and subsequent decongestion the Indian Railways hopes to be able to deliver all these needs of the customer.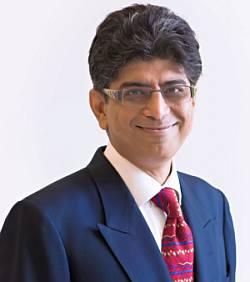 What could be those five big ticket investments/ideas that can actually make the Indian Railways an engine of economic growth for the country?
The key investment ideas are:
1. DFC (already under implementation).
2. De-congestion and safety (doubling, tripling, doing away with all unmanned rail crossings).
3. Station modernisation (however, private players need more hand holding here).
4. Bullet trains (long term strategic need).
5. Higher PPP participation, which requires more favourable risk reward and transparency for which modern accounting norms and independent regulator is a precursor.
Your expectations from the Railway Budget for 2016-17...
We hope the forthcoming budget increases capital allocation to the Indian Railways in keeping with their capex plans.
Further, we hope there shall be more focus on existing projects and their completion rather than new projects.
Any new project announcements should be largely for decongesting the existing lines rather than new lines.
What are the challenges the railway minister will face while presenting his budget?
The 7th Pay Commission shall have an impact of Rs 320 billion ($4.65 billion) on the Indian Railways. Also, with freight and passenger volumes falling short of estimates YTD (year-to-date), the railway minister has his work cut out for him with regards to balancing the budget.
The key challenge he would need to address would be in increasing passenger tariffs which always faces political resistance.